Make it Rain Lighting
Scott Robert Lim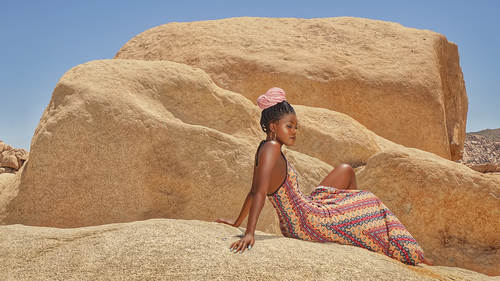 Make it Rain Lighting
Scott Robert Lim
Lesson Info
44. Make it Rain Lighting
Lesson Info
Make it Rain Lighting
Now we're gonna do it the make it rain shot, okay? And so, let's, what we're gonna do is put the flash behind her, okay? And what I did on this shot, I used two gels on one flash. So I put one half red and one half blue, and so what does red and blue make, purple, right? So you're hoping that some of that light will cross into each other, and so I was trying to, you know, create red, purplish, blue feel, whatever. Now, I know from doing different shots and using backlight, whenever you have water, let's say it's raining outside, in order to see the rain you have to have backlight, okay? And so, and I, like there's several ways to do this shot. I was considering bringing in baby powder, corn flour, and I'm like, you know? Or even aerosol, and I'm doing the ix-nay on aerosol because you can't travel with aerosol cans of, you know, that's just not cool. 'Cause I was thinking about that, and so I'm traveling all over the place, but what is available everywhere? Water, right? And yeah, I mi...
ght put a little mist in the, wherever you are, but generally water is harmless. It's like, but if you do flour, then it gets all over the place and you know, you can just really mess up the whole area, especially if you're in a hotel, they're not gonna like that. If you spray a little thing in the hotel, you just do a couple shots, you're fine. So, I said, okay, same thing. I'm on half power there, right? Lighting 'em up from behind, 'cause I'm still shooting at F11. Here I've got 1/32nd power still on my subject, and it's, if I get them to spray that water on top, that backlight is gonna show me what that water looks like, okay? So, let me make sure everything is right. 1/32nd on B, right? One half there, and we turned off C. Let's turn off that one. Okay. And so, I, okay, you gotta know the limitations of your spray bottle, too, but my daughter said the pink one was the best, so I trusted her. So, move in close, well, make sure, move in as close as you can without being seen, but I see your hand there, not unless you want the hand in there for, let's do one with your hand in there so they know we're using a spray bottle, how's that? That's good BTS right there. I'm gonna do a whole, okay, okay. So let's, uh, okay, and I'm gonna take a little lower position so I can see above her, okay? And get that rain in. Alright, so can you look right at that flash there, Elena? Okay? And actually, turn your head a little bit more this way, and then move the flash over a little bit more. Okay, good. And go ahead and make it rain. Go crazy with that. Alright, perfect. Look at the spray bottle in there, that's so awesome. Okay, so, moving back a little bit. I'm gonna need that for my website, okay. (laughs) Okay, let's do it again. Can you move your hand back and like, out of the picture? Right there is good. One, make it rain! Alright, something like that, there we go, okay? Oops, hand's still in there. Oh, well, that's okay. But you understand how I arrived at that okay? And, so that's generally how you do it. Nothing special about that.
Class Materials
Alien Skin Software Discount Code
Ratings and Reviews
This course is amazing! Scott is extremely straightforward. He goes directly to practical problems, tips and etc. He explains every thing very clearly, and he is also very funny and charismatic, making you laugh as you learn. He shows that you don't need a lot of expensive gear to make very nice pictures. So I have saved some money as well, cause I was about to buy some gear that I wouldn't need right now. It is for sure one of the best photography courses I have ever attended to! I highly recommend! Thanks a lot Scott! You are the best!
I have purchased a number of classes, this being one of them. The quality of the information was good and the level at which Scott spoke was appropriate for me. Having a course sylibus would add greatly to the value, which usually is not part of the programs I've purchased including this one, unless I've missed it. I believe the speaker should be required to provide one. After watching the videos, much of material can be recaptured by seeing it in writing. I would like to hear back from Creativelive their thoughts. In sum, good topic, good speaker, good technical audio and video quality by Creativelive
Another fantastic class with Scott Robert Lim! The combination of his knowledge, willingness to share, passion & entertaining personality makes him a top choice for photography education. Learning not only the "what", but the "why" & "how" can transform one's entire approach towards MAKING pictures. A constant inspiration to get better & better through practice.
Student Work