Shoot: Lock Arms and Hold Hands Pose
Scott Robert Lim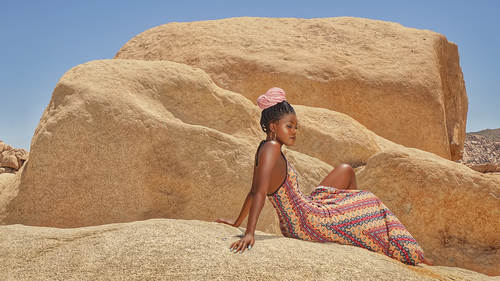 Shoot: Lock Arms and Hold Hands Pose
Scott Robert Lim
Lesson Info
31. Shoot: Lock Arms and Hold Hands Pose
Lesson Info
Shoot: Lock Arms and Hold Hands Pose
So here's another one, and this is locking arms and walking, okay? And the reason why I have people locking their arms is because that keeps them together. Have you ever had a group of people walk towards you when they're not? They're just spreading all over the place. There's one way behind, there's one way in front. So you kinda have to keep them together. If their arms are locked, they're not gonna go very far from each other, and so you can frame it up, and click, click, click, click, and start shooting, right? And so that's a great way to keep all your subjects in a nice little neat area to shoot. And so you can see some different examples of doing this. Here they're kind of holding hands together, right? But I get this broad ... and then you have them do it like once or twice, you get this broad range of emotion when you do this, okay? And so you can kinda have them ... Actually, let's just go and demonstrate it, where I want, so let's get the gals up again, and so I'm gonna have...
them get in that same order that you were. And you're gonna lock arms and then walk towards me, but you're gonna laugh hysterically as you walk towards me, and you're not necessarily looking at me. Okay? Great. Walk with the light? What's that? Oh, the light? That's okay. Can you move over to the center a bit, and move all the way back? Move all the way back towards the wall. Alright, now the exposure is gonna look terrible on this, but oh well. Whatever. Okay, so now you're gonna ... So what I want you to do when you walk, is I want you to sway your hips, look at ... "Hahahaha," you're having a great time. You're having the best time of your life, okay? Ready? Go! Best time of your life! (women laughing) Okay, perfect. Let's do it one more time. I wish I had a wide-angle lens, and I'm gonna put this on shutter. I had it on single shot. 24/70? What's that? 24/70? Uh, yeah, I'm gonna go a little wider on this. I'm gonna change lenses, and I think we can do that. Just put on there. Cool white. Okay, we are prepared. Lens cap. Lens cap. Alright, wow. Okay. I can go to 24 now. So I'm gonna take a little bit lower angle right here. I'm gonna make sure my camera's on continuous focusing. Okay, and I'm gonna line it up, I'm at 2.8 here, so I gotta ... Oh, shutter speed, you gotta make sure that you're probably about 200th of a second. 500 is real safe, but at least 200. So I'm gonna bump-bump my ISO. I'm gonna go to something great. I'm gonna go to 3200 ISO and see what I get out of this. Just so I can keep that, okay. So even right now, 'cause I'm just using the studio light, I'm at 2.8 at 1/250th of a second, at ISO 3200. What is the ... Hold on a second. Sorry about this. I'm just gonna making sure the focusing is right. Okay, it's light, on continuous, and hopefully everything will be in focus, but. Okay, you guys ready? Go ahead! (camera shutter clicking) Best time of your life! Come on! There you go! Oh yeah! Okay, good! Now guess what? That was terrible. Oh, no. You're not ... Here's how you're walking. I need some hip action in there, ladies. Okay, I need those hips swaying back and forth. Check this. There you go. Oh. It wasn't on autofocus. No wonder why. Okay. No wonder why I felt like nothing was focused. Okay, here we go, autofocus is on now. Okay, now ladies, sway back and forth, ready, go! Come on! Laugh it up! There you go! That's nice, that's nice, that's nice. Okay, good. (laughter) Alright, so these are a little bit in focus. Thank you very much, that ... I didn't have autofocus on on the first set, so sorry about that.
Class Materials
Alien Skin Software Discount Code
Ratings and Reviews
This course is amazing! Scott is extremely straightforward. He goes directly to practical problems, tips and etc. He explains every thing very clearly, and he is also very funny and charismatic, making you laugh as you learn. He shows that you don't need a lot of expensive gear to make very nice pictures. So I have saved some money as well, cause I was about to buy some gear that I wouldn't need right now. It is for sure one of the best photography courses I have ever attended to! I highly recommend! Thanks a lot Scott! You are the best!
I have purchased a number of classes, this being one of them. The quality of the information was good and the level at which Scott spoke was appropriate for me. Having a course sylibus would add greatly to the value, which usually is not part of the programs I've purchased including this one, unless I've missed it. I believe the speaker should be required to provide one. After watching the videos, much of material can be recaptured by seeing it in writing. I would like to hear back from Creativelive their thoughts. In sum, good topic, good speaker, good technical audio and video quality by Creativelive
Another fantastic class with Scott Robert Lim! The combination of his knowledge, willingness to share, passion & entertaining personality makes him a top choice for photography education. Learning not only the "what", but the "why" & "how" can transform one's entire approach towards MAKING pictures. A constant inspiration to get better & better through practice.
Student Work