Retouching Images in Adobe Photoshop
Retouching with the Clone Stamp
Ben Willmore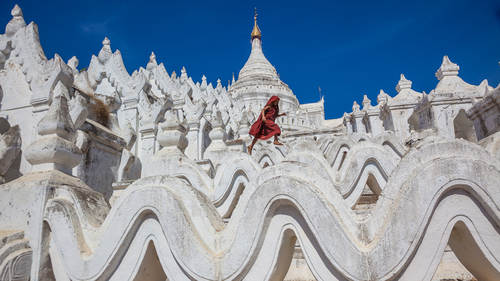 Retouching Images in Adobe Photoshop
Ben Willmore
Get access to this class +2000 more taught by the world's top experts
24/7 access via desktop, mobile, or TV

New classes added every month

Download lessons for offline viewing

Exclusive content for subscribers
Lesson Info
3. Retouching with the Clone Stamp
Lesson Info
Retouching with the Clone Stamp
In this image, unlike an organic scene of nature there's a very specific background that's here and it's got a grid of these kind of tiles in the background. And over on the left side is a sign that's suggesting you take a photo here. So I followed directions and took a photo there. But I'd rather not have the sign there. Well if in this case it doesn't copy from the exact right location, then those grout lines will end up becoming broken and therefore we might not be able to use the spot healing brush. Let's give it a chance though. Gotta go all the way around that shadow that's there. Yeah so you see how we now have broken grout lines and the wood floor now extends up in a way that it shouldn't. So I'm gonna choose undo and let's tackle this with other tools. I'm gonna now switch to the clone stamp tool and remember before I mentioned I usually work on an empty layer? We might at well start that now so I'll create my empty layer by clicking the new layer icon at the bottom of my laye...
rs panel. I'm gonna make sure that this tool is set to work on not just the current layer up here there's a choice called sample, I'm gonna set it to current and below. Now I'm in the clone stamp tool that's this tool right here. If you don't see that tool directly below the paintbrush tool click and hold on that slot cause' there's two versions of it. You wanna be in the top of the two. Now with that tool, it's the most manual tool available. All it does is copy from one area and apply it somewhere else. So this is the tool I don't wanna be using every day because it would make me make sure that one area I'm copying from is the right brightness to match another. Is it the right color to match another? Is the edge of my brush soft enough to get it blend in? I have to think about those kinds of things. So we'll use a combination of that and other tools. So in this case what I wanna do is just extend the wooden floor, because I think it's gonna have difficulties figuring out what needs to be done there. I'm gonna start by going over here a little bit to the right. I might go to where one of the seams are in the floor and see right where it joins the wall that's here I'll option click there, that's alt click it in windows and you do that to indicate where you wanna copy from. So when I option click I just told it that that's where I'd like to copy and then you move somewhere else and you get a preview right inside your brush of what you're about to apply. And therefore when I get over to here I can move up and down to see if the horizontal line that's inside my brush lines up with the bottom of that wall and if it does I can click and then drag to apply this but when I do this there is no attempt whatsoever for it to match the brightness of my surroundings. It's just blatantly copying what's over towards the right. And you can see where it's copying from. There's a little plus sign that there. It's moving along with my mouse and if I get up to high I'll eventually hit that leaf graphic and it's gonna start puttin' it in here, like it is right now cause' the crosshair's right on top of it. But you notice that down here it's a little bit too bright. And that's because we were copying from over here which is closer to a light source, applying it over here where we're further away. Well what can I do about it? If it's sitting on it's own layer I can always adjust the contents of that particular layer. I can come in here and use any adjustment that I'm comfortable with. Since this particular lesson's not about adjustments I'll just use brightness and contrast because it has a brightness slider. And so I could move this down and see if I can get that to be approximately the right brightness for this area. If I'm only looking at the floor down there I might be able to get it a little bit darker otherwise I'm gonna need a more sophisticated adjustment which would be something like curves or copy form an area closer that would end up not being quite so bright, which is I think what I'm gonna do I'll copy from about right in here ... Put that in. All right now I need to, you know I got some good material over here on the edge. I need to extend it up here and then we need to get rid of the rest of the sign. So I'm gonna try to decide where I'd like to copy from. This has got a shadow on it so I don't think it's gonna be appropriate area, but I need a connection of both a horizontal and a vertical grout line in order to fill this area. Looking for the closest one. Over here I'm really close to a light source so that doesn't quite look the way it should but I think this grout line might be appropriate. I'm gonna go over there, option click right where those two grout lines intersect. I'll come up here, try to get them to line up if at all possible. Click and then just drag over towards the edge. I'm just trying to get it so we have good material all the way to the edge of the photograph. Now I'm gonna break this up so that it's not quite as tall, because if I end up using something with the word healing attached I need to paint over the entirety of the area that needs to be removed but if I can break it up into smaller chunks then it'll be easier to work. So I'm just gonna break through here a little bit. I can copy from somewhere over in this area where I have a grout line, I'll option click, bring it over here and just try to fill it in. I'm gonna end up replacing that area in the end so it's not gonna be absolutely critical if it perfectly matches. Now you can see when I use something like the clone stamp tool it's not attempting to match the brightness. This looks to be a little bit too bright. I can always choose undo and create a brand new empty layer. Then, put my retouching on that layer because then if it's too bright I can adjust it. You can use any adjustment you're comfortable with. My favorite is curves. We have a separate lesson on that topic so for now I'm just going to get in there and attempt to adjust this. Yup, just wanted to make sure it was workin'. Somewhere around there. Click on okay. But, if I do it on multiple layers like this I can end up with a bunch of layers. If I think it becomes the proper brightness and I like what I have, then I'm just gonna simplify things by choosing merge down. But what I wanna do is make sure that the tool I'm using is gonna handle the blending for me so I don't have to make adjustments like that.
Class Description
AFTER THIS CLASS YOU'LL BE ABLE TO:
Work non-destructively so any change you make is easily undoable in the future
Use the content of multiple documents
Determine why Content-Aware Fill often produces disappointing results
Understand the fundamental differences between Clone Stamp, Healing Brush and Spot Healing Brush
Formulate an effective strategy for comingling tools when a single tool cannot tackle a problem
WHO THIS CLASS IS FOR:
Beginner, intermediate, and advanced users of Adobe Photoshop.
Those who want to gain confidence in Adobe Photoshop and learn new features to help edit photos.
Students who'd like to take ordinary images and make them look extraordinary with some image editing or Photoshop fixes.
SOFTWARE USED:
Adobe Photoshop 2020 (V21)