Shooting in Small Spaces
Jeff Rojas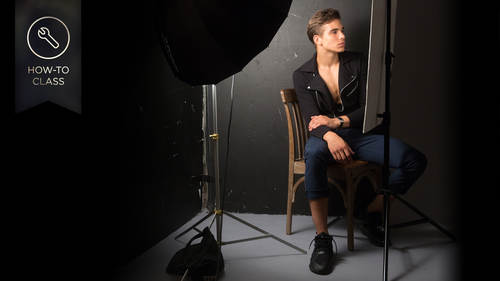 Shooting in Small Spaces
Jeff Rojas
Class Description
Space is a luxury that many photographers simply cannot afford. Learn how to make big images with limited square feet in Shooting in Small Spaces with Jeff Rojas.

Lots of photographers begin their careers working in garages, second bedrooms, or even their basements. When you're shooting in small spaces, every decision you make – from your lens to your lighting style will ultimately impact your final image.

Join Jeff Rojas as he dissects the art of shooting in small spaces and shows you how to get a great image, no matter how little room you have.

Ratings and Reviews
I'm not sure why so many rip on this class. This is exactly what I needed to know (after I pulled my head out of my rear about wanting highly technical explanations). I do have an unusually small studio and really listening to him taught me loads of goodness, which I immediately applied and earned several awards by doing so. Thank you! Although a very calm video (which I also appreciated), it paved the way for deeper understanding of small locations and how to use them for great portraits.
He had some good ideas like using corners, light modifiers that emit focused/directional light, and dealing with color casts. Showed some excellent fashion portraits shot in really small spaces. Wish he had gone more into shooting in a room with average ceiling height.
I was at a shoot the other day, lugging in so much equipment, and found myself crawling on tables to get the shot I needed. Jeff's course shows exactly what you really need for effective and impressive portraits in small areas, a huge help and my next shoot will be much more efficient and powerful.
Student Work