Social Media and Web Graphics Made Easy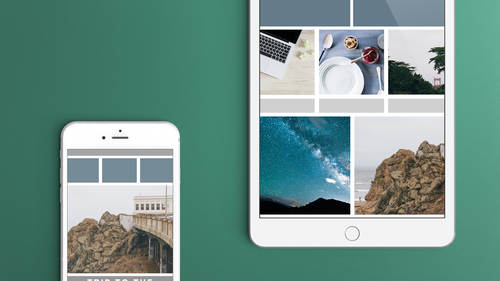 Social Media and Web Graphics Made Easy
Class Description
Do you want or need to create graphics for use on your website, blog, and social media accounts?  Thankfully, there's no experience required with Erica Gamet's new Social Media class.  Erica is a seasoned Adobe instructor, and she'll show you how to make beautiful graphics, easily, quickly and at a low cost.You'll also get an overview of software tools that are free and easy to use. 
This class covers: 
Design basics for digital graphics, such as file types, color and resolution
Using Adobe Spark's suite of free tools to create social media posts and web pages 
Choosing photos and type to get your message across
Software Used: Adobe Spark 2016, Apple Keynote 6
Reviews
I learned about some great free apps that make it easy to create images for social media. You can make some great images with text really quickly after taking this class. I actually made a little animated image during class and posted it Instagram. I also learned about some good places to go for free images. Erica's very personable and fun, which made it an enjoyable class. The apps are easy to use and you can start making images right away. There isn't a steep learning curve.
WOW this course is jam-packed with information on so many apps - not just Adobe Spark Post. I love how easy Erica makes everything plus she's very funny and has an approachable style. Thanks CL for another great class!
I really liked how informative and helpful the class was, even do Ive worked with some of the programs used in class I feel like There was so many new things I learned. Thanks to Erica and the whole crew for such an awesome experience
Explore More Free Classes
THE
CREATOR

PASS
Enjoy the free classes? Get 2000+ more Classes and watch it anytime, anywhere.
Get The Pass