Camera Settings: Shutter & Steady Shot
John Greengo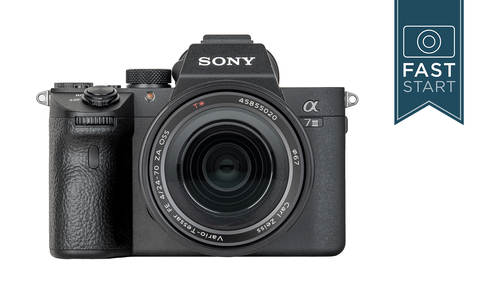 Camera Settings: Shutter & Steady Shot
John Greengo
Lesson Info
22. Camera Settings: Shutter & Steady Shot
On the Sony a7 III, users can adjust the way the shutter works. Learn what a second curtain shutter is. Dive into how to turn the Sony camera on silent mode using a global shutter, and when you should avoid using this feature.
Lesson Info
Camera Settings: Shutter & Steady Shot
Next up is silent shooting. And in this particular case we get to talk about how the shutter works on the camera and there a number of interesting options. So let's talk more about the different options in here. First off, let's talk about the normal shutter on a mirrorless camera. And that is, it has a first and a second curtain for the shutter. And because you are needing to view through the viewfinder, and have the sensor open, the shutter is completely open as its native natural state on the camera. When it's time to take a photo the first shutter closes and then it opens and that is your exposure. And there has been a problem in the past not with this camera but on the first generation of the Sony cameras, that shutter opens with such speed it caused a vibration during the exposure which was a problem. And so there is the possibility that in some situations in certain macro or telephoto set ups that it could cause a vibration in the camera. That's the downside to this system. Now ...
of course, in this normal shutter operation the second curtain comes in and finishes off the exposure right there and that's a normal shutter operation. This camera has three different options. The other extreme, or the next step in this is the e-Front Curtain Shutter which means in its electronic first shutter curtain. And so, the pixels, what happens here is the pixels turn on records the image and then the mechanical shutter comes in and turns off the exposure if you will ends the exposure. So it's electronic to start, mechanical to end with. And that reduces that vibration during the beginning of the exposure. So the big advantage here is that it's a little bit quieter but it's very very steady and doesn't has any vibration with the photographs that you're taking. The third and final option is the completely silent shutter. Which means it's not using the mechanical shutter at all. It's using just the electronic shutter. So what it is essentially doing is it's turning on a row of pixels and then turning it off and scanning the entire image onto the sensor. Now the downside to this is that the scan time of modern day sensors is not infinitely fast. It takes a little bit of time and it takes roughly about a 20th of a second to scan the entire image. So even though you may have a shutter speed of a thousandth of a second set it's still taking a 20th of a second to scan this. So anything that moves can possibly get distorted. So let me show you some examples. I was just shooting a test chart, a grid and moving the camera from side to side with a normal mechanical shutter and then the e-Front Curtain Shutter not experiencing any problem at all. But, with the silent shutter at 250th of a second I'm getting this warping effect. If I go to a faster shutter speed it doesn't make it any better, it still has a warping effect. When you're shooting this out in the real world if you're panning down the street with a car it's gonna make buildings very slanted because of the scanning process. If somebody rides past you on a bicycle those wheels no longer look perfectly round because they're being scanned in as the image is going from bottom to top. And so this silent shooting also causes a number of other conflicts with the camera. I'm not gonna read all these out but as you can see there's a lotta different things that just don't work well with this. So another name for silent shooting is a global shutter and this is the next holy grail of photography. And my big question is, when is the first camera that has an all electronic shutter going to be introduced? Now the Sony A9 has what they call an anti-distortion shutter. And it is the first camera that has ever been released that you can shoot with a silent shutter without distortion. It still technically has distortion. It's so small that most people will likely never notice it any photograph. But it's amazing at how good it is. So it really is kinda the first camera to have a global shutter. It still has a traditional shutter in it if you wish to use it. But there are still some issues at this time with using completely silent shooting. When would I want to use silent shooting? Anytime I had to be really really quiet, like at a wedding. And I'm not really shooting really quick. If I'm shooting natural light I can probably work around all these other conflicts and problems. Being at a wedding or at a courtroom or at a playhouse or at the symphony or something like that. Where you really wanted to have dead silent. And the only noise is gonna be your finger pressing down on the shutter release and possibly the small amount of noise of the aperture closing in the lens. That's the only noise you're going to hear. So it's pretty impressive. I would like to leave my camera on that all the time but there's just too many problems with it so I don't think it's something that's smart to leave on all the time. It's something that you can go to when necessary. So normally I would leave silent shooting off but the next one which is the front curtains the electronic front curtain shutter that one I would leave on. There appears to be virtually no downsides to using this system here. And it will help to reduce that shutter shock that you might get in the camera. So works very well, you can also use this with flash shooting as well. Release without lens, and so if you're gonna hook your camera up to a telescope or some sort of funky adapter for different lenses you would want to put this on enable. Normally with it on disable it just disables you from firing the shutter in case your finger happens to be in there. Don't stick your finger in there on the sensor. That could really damage the sensor and the shutter in there. So that's just kind of a safety setting in there. Same with this one here, release without card. I like to leave this on disable which means if I don't have a memory card in the camera it just disables the camera and won't allow you to shoot. The people who want to leave this on enable are people who are working in camera stores showing how the camera clicks and how much noise it makes without a card in the camera. The camera has a built in steady shot system. It has five stops of correction and is a very handy system. I love it because you can use manual focus lenses this and it still does the steady shot. So you can hold the camera very steady under very low light conditions. As many of you will know a lot of Sony lenses have an optical stabilization system built into the lens itself. And so there's lenses that have a pitch and yaw system when you match those up on the camera you don't get really any better stabilization than with just the camera. But the two systems do work together. Where some are working on roll and pitch and some are working on an x and y axis. And in either case, whether you turn the stabilization off electronically here in the camera or on the lens itself cus some lenses have that wherever you turn it off then it's turned off. And so if you turn it on it's using both systems and so be aware of that. SteadyShot settings, this is really good for anyone who is adapting lenses to the camera and the camera doesn't recognize what type of lens is on the camera. You can have the camera automatically adjust so that is uses a slightly different stabilization protocol for a wide angle versus a telephoto lens but if it doesn't know cus it's an adapted lens on there you can go in the focal lens settings and you can choose whatever focal length you have and it's gonna set the stabilization accordingly. Now, I adapt a lotta lenses to my Sony camera and I remember one time I put a lens on and the stabilization just looked horrible and that's because I had a telephoto lens set on eight millimeters and if it's not set right, you're not gonna get proper stabilization. And so if you do adapt lenses this is a feature that you can put in the shortcut of the function menu so that you can quickly adjust it very easily on the fly.
Class Materials
Sony A7 III Recommended Settings
Ratings and Reviews
John GreengO! What a wonderful teacher! As always to the point. You do all the testing for us and we get an amazing tour of the camera. Really thrilled with your class once again. Thanks a lot!
Thanks John. Another great class! I appreciate the thorough explanations. I many never use all of the features on this camera but at least I know what they do. Love all of your classes and would definitely recommend them.
Wonderful class. John is a great instructor. Learned a lot. Only wish he'd include a bit more on using a7iii to shoot video, such as using Clear Image Zoom, and including video in the ending Camera Operation settings section. Loved the course though.
Student Work