Camera Settings: Zoom & Display Auto Review
John Greengo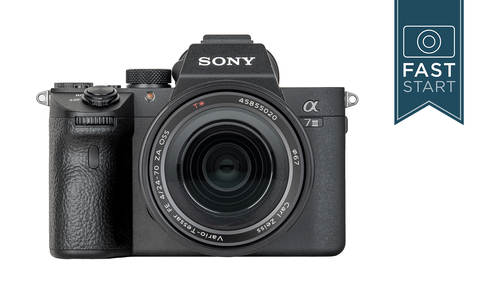 Camera Settings: Zoom & Display Auto Review
John Greengo
Lesson Info
23. Camera Settings: Zoom & Display Auto Review
The Sony camera menu has several zoom and display options. Digital zoom is available but should be avoided because of a loss in image quality, leaving the menu option set to optical zoom only. Inside this submenu, learn how to adjust the display options to review your images.
Lesson Info
Camera Settings: Zoom & Display Auto Review
Zoom is gonna allow you to zoom in digitally, which should have you screaming and running no, no, no not digital zoom. This is only on jpegs. It's basically just a crop. Sony seems to have found many different ways to digitally zoom in on their subjects, and so in a variety of Sony cameras you're gonna see this zoom setting for optical, smart zoom, clear zoom, digital zoom. And it just how much the camera is digitally magnifying the image. All of these should be just turned off. Don't use these. It's gonna lower your image quality when it comes to still images. There's a few unique lenses out by Sony. Some of them you can change the zoom ring rotation. Which direction you turn that ring. Some people prefer it to be one way or the other. So if you have one of those you can change it here. Alright looking at some of the display options on the camera. So when you press the display button you can jump in here, this is actually a little bit of a sub-menu we're gonna jump into. You can unche...
ck all the options that you don't want to use. So this is more customizing of what you see. This is what you're gonna see in the monitor of the camera. Then we're gonna do the same in the finder of the camera. Which ones do you want to see. Like if you don't like that graphic display. You can uncheck that box. Finder/monitor. Normally the camera uses the eye sensor to determine which one of the screens turn on. If you don't like the way it's working, or you just have something else you're trying to do and you want to force it to go from one to the other. You can come in here and change it to the viewfinder or the monitor, or you can assign this to one of the buttons on the camera. Alright, zebra settings is gonna send us into a little sub-menu in here. Zebra settings are gonna show you areas that are overly bright in the photograph. This is great for exposure control. So you can turn this on and off. Then you can have this set to different levels in here. So let me show you what this looks like in here. I'm gonna set this on manual exposure. Obviously we've got things a little hot in there right now. So let's go up to the tab we're on. I think we're on page six of nine. Woops, passed it. Right here, six of nine. Wait. Zebra settings right here. Let's turn this on. Let's turn this on at a level of 80. We're gonna adjust our exposure. You can see areas that are blown out are kind of... Let's zoom in over here. Are showing us these zebra levels. What we wanna do for the ideal exposure is reduce this down so that there is either no or very small areas in brightness. That's telling us just about the right exposure. We still have a little bit down there on the bottom. We're getting the reflection off the front of that camera. So if I go back into the menu under zebra settings. That was showing us at a level of 80. Let's take it up to a level of and see how that changes things. So as we... It's not getting, it's not showing the zebra's quite as quickly here. So, it depends on how quickly those zebra's come up when brights are getting close to that 100 percent level of brightness. That can be really handy for making sure that you're not losing any areas of important exposure. Grid lines, and these can be turned on and off here. We have a few different options. The exposure set guideline is an enlarged shutter speed or aperture that tells you where you're at. It's all well and good, but you know what that exact information is about three millimeters below it in the viewfinder. And it's taking up space over your image. So it doesn't seem to make a lot of sense to me. I would turn that one off. Live view display. When you look in the viewfinder, or you look on the back of the camera. One of the advantages of the camera, for the most part depending on how you have this set, is that it shows you exactly what you're gonna get in the final image. If you want. So let me show you how this is gonna work. If you have this setting effect on, the LCD mirrors the real exposure. In the example on the left you can see that I'm changing shutter speeds and apertures. You can see the indicator that I'm overexposed, or that I'm underexposed, and it clearly shows you in the frame. This works good for most photography, but it works absolutely terribly for anybody working in the studio or working with flash photography. Over on the right hand side you might want to turn it off if your working in the studio. That way you have a consistent image that comes through the camera, but you'll use the metered manual indicator down at the bottom as to whether you are overexposed or underexposed. So it depends of what type of photography you're engaging this in is to what is the best setting here. I generally like to leave it on, unless I'm doing flash photography. Alright, the continuous shooting length. This is a little display. It shows you the buffer in the camera as you are shooting high speed sports action type stuff. It'll show you how much is left in the buffer to shoot. How many images you can shoot before the camera is gonna lock up with all the memory full on it. For anyone who does a lot of shooting with sports and they want to make sure that they don't use up all of their shots on something that's not too important. It can be a handy feature to have, but once again like a lot of graphics sometimes you don't want it there, because you just want a nice clean view of your subject. Auto review let's you review images automatically on the camera after you've shot them. I have found that with a mirror less camera. I've tended to want to turn this off, because when I've framed up the image I pretty much saw what the image is gonna look like in final. So it speeds up the shooting process, because you don't have to review images like with an SLR. Because you're not sure exactly what the digital version of what your eyes saw. So I think a lot of people can turn this off, or at the most just leave it on two seconds so it doesn't take up too much time and too much battery.
Class Materials
Sony A7 III Recommended Settings
Ratings and Reviews
John GreengO! What a wonderful teacher! As always to the point. You do all the testing for us and we get an amazing tour of the camera. Really thrilled with your class once again. Thanks a lot!
Thanks John. Another great class! I appreciate the thorough explanations. I many never use all of the features on this camera but at least I know what they do. Love all of your classes and would definitely recommend them.
Wonderful class. John is a great instructor. Learned a lot. Only wish he'd include a bit more on using a7iii to shoot video, such as using Clear Image Zoom, and including video in the ending Camera Operation settings section. Loved the course though.
Student Work