The Power of Idealism
Samantha Power, Chase Jarvis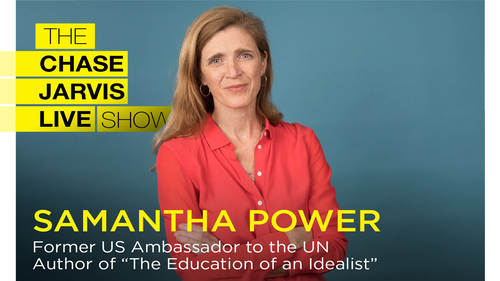 The Power of Idealism
Samantha Power, Chase Jarvis
Class Description
There's a common misconception that artists have a monopoly on creativity...But the very act of making waves - no matter the career - is a creative one. The Chase Jarvis Live Show is an exploration of creativity, self-discovery, entrepreneurship, hard-earned lessons, and so much more. Chase sits down with the world's top creators, entrepreneurs, and thought leaders and unpacks actionable, valuable insights to help you live your dreams in career, hobby, and life.
ABOUT THIS EPISODE:
Samantha Power started as an outsider, a war correspondent who wrote impassioned pieces for the Washington Post, Economist, and others about the failings of the American government on an international stage. That voice led to her Pulitzer Prize winning book "A Problem from Hell": America and the Age of Genocide and earned her a job in the cabinet of President Barack Obama helping to shape the very policies she was once a harsh critic of.
Samantha has served both on the National Security Council and as an Ambassador to the UN. Most recently she was nominated as USAID Administrator. She is also the author of the New York Times bestsellers Chasing the Flame: One Man's Fight to Save the World and The Education of an Idealist: A Memoir, which is now in paperback and was named one of the best books of 2019 by the New York Times, Washington Post, Economist, Vanity Fair, National Public Radio, and TIME.
What I love about Samantha's story and her wisdom from navigating the halls of power, is her winding path to get there. In this episode, we get into:
How being an outsider, starting something new, or feeling like an imposter can help us to deconstruct the world around us
How being mission driven can help focus and motivate your work
The importance of setting modest goals instead of seemingly intangible ones. World changing happens in the smallest bites.
The X test: Using "if all I get from doing X, will it be worth it?"
and so much more
Ratings and Reviews
Student Work