Build a Successful Creative Blog
April Bowles-Olin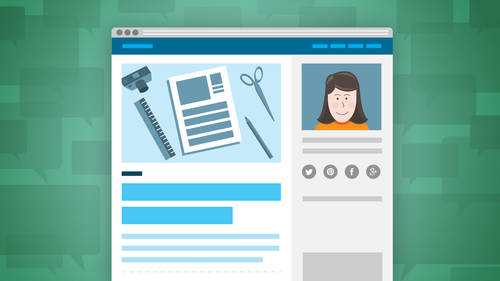 Build a Successful Creative Blog
April Bowles-Olin
Class Description

There are over 200 million blogs on the Internet, so how do you cut through the noise and stand out in the crowd? A quality blog boasts great content, a powerful voice, and relevant, useful information. The problem is, putting all of those pieces together, understanding how to find the right audience, and marketing your blog is no easy juggling act.
Join the founder of Blacksburg Belle and author of Marketing for Creatives April Bowles-Olin for a comprehensive course dedicated to teaching you how to write, create, and market a successful blog. Drawing on the same methods she's used to help successful entrepreneurs around the world grow their online presence, April will teach you how to find your own voice and get more comfortable writing like yourself. You'll learn how to develop a strong editorial strategy, attract the right readers and write engaging headlines that will drive traffic to your site. April will also explore some of the key problems that hold bloggers back -- from writer's block to boredom to insecurity about what you're writing -- and explain how to overcome them. Best of all, April will teach you how to save time and have fun while contributing to the success of your blog.
After just three short days with April, you'll possess the perfect foundation for better copywriting and creating a powerful, traffic generating blog.
Class Materials
Done For You Resource Pack
Ratings and Reviews
This course is absolutely amazing. April is so enthusiastic and inspiring. It is clear she has spent a lot of time preparing for this course with a wealth of useful information in the videos and the workbook and the resource pack. Having just launched my new photography website, I have been looking for ideas and help with the blog- a new area for me. This has made me feel excited about my business. It's helped me plan my blog posts for the coming months and highlighted the importance of a good blog for keeping a website fresh. I found myself excited for each new video and sad when it was all finished! I've purchase a few courses through Creative Live but this is my favourite so far and April has a lot to do with that.
Where to start? ... Um I took my blog to the groomer ha! you guys must be thinking how on earth you take a blog to the groomer pretty easy actually you just go and click where it says "Build a Successful Creative Blog with April Bowles and you are taking it to the groomer. Now leaving my pet-related talking if you are creative and have no idea where to start in blogging this is your place to start she (April) will teach you everything about the blog world with a touch of joy, fun and creativity. She will take you from Zero, Nada, Nothing to Something or better say to a brand new groomed blog. And if you need more to convince you to get this workshop you just read April Bowles "26 post you gotta read - blog tour" and if that doesn't make you get it, then you are totally not ready to Blog. Thank you so much April for everything you shared with us.
This course gave me both the impetus to begin the blog whose domain I was sitting on for nearly a year and the skills to do it well. April was - and still is - supportive and helpful to all of the people who participated in the course. It became a community of people, supporting and helping each other to follow through with the amazing instructions that she gave us during the course itself. The resources she gave us are still useful, and the connections I made on her site and the sites she pointed us to have made my blog successful in only a few months. AWESOME course!
Student Work