30 Days of Photoshop
Dave Cross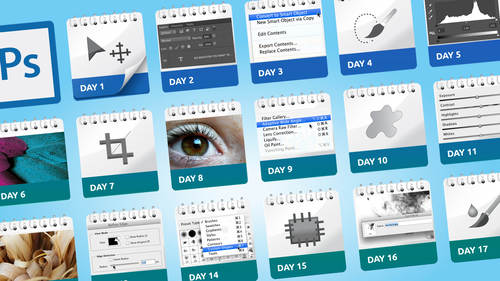 30 Days of Photoshop
Dave Cross
Class Description
Photoshop is an essential tool for all working professionals, no matter what industry. Join legendary Photoshop pro Dave Cross for an intensive 30-day series on everything you need to know about this unparalleled — and often overwhelming — program. Dave will teach one hour every day for 30 days, covering everything from setting goals to expert retouching strategies. Taught in bite-size chunks, this series will help you improve your skills, efficiency, and creative ability. At the end of this intensive series, you will understand basic techniques for every photo editing task, innovative hacks to improve your workflow, and which tools to use (and which ones you never have to learn). In addition, you learn how incorporating a non-destructive workflow will boost both your productivity and creativity. This is not just a passive, sit-back-and-watch class: you will be encouraged to actively take part by completing assignments and participating in live Q&A and feedback sessions. If you want to take your Photoshop skills to the next level, join Dave for 30 Days of Photoshop.
Software Used: Adobe Photoshop CC 14.1

Class Materials
30 Days of Photoshop - Bonus PDF Supplements
Q&A Check In with Dave Cross
Ratings and Reviews
Very good teaching. I really liked how clear Dave was with everything, the order he taught the material, and I thought the stories were very helpful. I REALLY wanted to understand photoshop and extremely thankful for his wisdom and knowledge. Thank you so much! This is what was holding me back from getting my photography started! :) It just seemed so intimidating and now I have a greater understanding.
I'm a beginner and have found that the information Dave gives is great, although a little to fast at times. I'd like to buy the course but am curious. If I purchase can I watch it and pause it and rewind it? That would be extremely important to me. Thanks for a great service CreativeLive...
Lots of information! Initially I thought I'd just watch the free version as I already have several Creativelive videos on Photoshop but I really like how the classes are broken into subjects and shorter, 1 hour sessions-it will make reviewing much easier! I love Dave's teaching style-he covers everything very well. (Plus the fact that he's Canadian, eh?) :D Thanks for offering such a great course! I'd would love to see Dave do a similar one on Illustrator.
Student Work