Maximize Template-Based Sharing
Tim Grey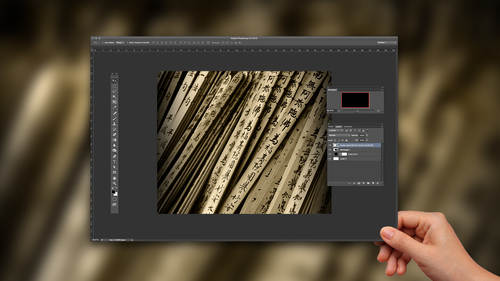 Maximize Template-Based Sharing
Tim Grey
Lesson Info
8. Maximize Template-Based Sharing
Lesson Info
Maximize Template-Based Sharing
what about actually sharing our images with others? And here? One of the things that I really want to underscore is the ease with which we can define our various sharing inside of light room. So let's just assume that we want to create a slide show so we'll switch to the slideshow module and I've got some images. How many images? Here. We've got 35 images from the Southwest road trip. Let's assume I want to include all of them in my slideshow so I could just go over and let's go find. Oh, yeah, that looks nice. I just want something really simple. I wanna have a widescreen presentation for my images, and that seems to be a pretty good start. But let's go take a look any time. I'm using a template in any of my sharing modules. Whether it's books slideshow, print Web, I can use a template as a starting point, but I can always find tune things later. So let's just kind of go through here. I don't want to put a stroke border on the images, the guys I'm not worried about. Maybe I want an in...
tro and outro image. I'm not sure, but I think I'd like toe have a different background color. So let's override that background color, and I'm gonna use like, a middle gray color. Now I'm not suggesting that you always need to use a middle grade backdrop. I'm just deciding on whatever random things I think I want to change cause it's my slideshow. And so I'm also gonna add a color wash. I can choose the density of that color wash. I'll go ahead and change this color. Actually, let's make it black. And what's my angle said to Let's make it a little more of top right corner. So I've got this wash going from top left. Or, you know, maybe I'll make the shadows, so to speak, down at the bottom. Whatever. I'm going through all these different things in deciding How do I want to present my images? Whatever I've decided makes sense for me in terms of, in this case, a slideshow presentation. I might have been printing images or creating Web galleries or creating a book I could even be sharing via Facebook once I've the thought defined, specific settings I want to use for sharing. So let's call this the gray Grady Int slide show format. Well, theoretically, I hope once I've gone to the trouble of defining all of these settings for my slideshow in a way that I like, let's see if it looks really good actually gonna play it right here in our little preview area. And so we're transitioning very easily from one image to the next. I think it was set to five seconds. Look, that notice how the gradation from top left the bottom right really draws out the colors in the photos or some other artistic lingo that makes it sound like I did a really good job defining this slide show. Well, once I've defined a slide show that works for me, Of course, now that I've defined this wonderful slide show that I love, I'm going to want to use the same format for all of my other slide ships. And so let's get back. Well, first off, we have to save that template that we just defined. So I've defined a bunch of settings remember I had used the widescreen template is a starting point, but then I made changes, So now I need to save that template. Let's call this the Tim Gray gray gray deviants. Maybe the tongue twister template. So the Tim Greg Greg radiant slideshow template. I'm gonna save that in user templates. I create that template and there it ISS. So now what is my workflow for? Going back and finding some or images? Oh, let's take a look at those Seattle photos. Lovely. You know what we should do with these pictures? We should present a slide show with that Tim Greg, Greg. Radiant templates gonna go back to slideshow. And all I have to do is choose that Tim Gray Gray Great. And I can go through all these other options and see, Is there anything better than the Tim Gray Gray Grady in slideshow presentation? I doubt it. So we'll go back to the Tim Gray Gray Grady int slideshow template. But we can use the exact same presentation style, so I've got consistency in terms of the overall presentation of my images. More importantly, I've got a super easy workflow because I just go find the images that I want to present in a SLA Joe. Let's go show the Croatia images. No, let's not do that because that has that image that just wasn't working. Let's do some underwater photos, and we go back to the slideshow module and boom to fund our templates. We've gone to our images. We've put the images we want in our slideshow onto the filmstrip by going to a folder, maybe defining a filter. Whatever the case might be, define our template. Play the slide show. And that same basic concept applies across the board in terms of sharing images inside of light room. In that we're able to simply specify the photos, specified the template and move on. And because we're changing all of our settings for sharing our images over on the right panel and when we save a template which goes over on the left panel, all it's doing is saving the settings from the right panel. And so it's preserving exactly what we had accomplished in terms of that overall style, for whatever that sharing might have been. In this case, I'm using a slide show is an example could have just as easily been creating a Web gallery. For example, we can pick and choose among the various styles of Web galleries that are available when I find something I like as a starting point. I could make whatever changes I'd like define that template. And that's one of the things that I like about this template driven workflow in light room is that we can go through and do all the work of figuring out the different things. We like the different settings who want to use the features we want to take advantage of, and then save that as a template in the context of sharing or is a pre set in the context of the develop module. And it allows, allows us to greatly speed up our overall workflow and all that applies really in both. Organizing our images, optimizing the photos in the develop module and then sharing our images in a wide variety of ways. And there you have it, Jim, what do you think? I think it's awesome. Light room libraries. Great. You know, labour is great. Um, little notes, those folks out there. But you know, we have a lot of a lot of instructors here. Creativelive. Yes, and I want encourage everybody out there who's watching, and it's interesting light room to keep an eye on the books because I think we might have. We You know, we often do boot camps, which is an entire month of one particular subject. And I think we might have a boot camp coming down coming down the pipe soon, So I'm kind of teasing that out. Hey, Tim. So we got we got time for a couple of questions. Uh, do you mind? Absolutely Anybody, are you? How are you guys feeling? Do you have any? There have been, you know, usually about this time the head start to explore. There's so much information. Information. Information is coming in. So let's start with this one from Catherine, and this one has always kind of been tricky for me. You mentioned using a separate travel catalogue, which you merge into your master catalogue when you get home. Can you describe the how to merge the separate? How to merge its catalogue in concept? It's super easy. There's a couple of things that might be challenging, depending on your comfort level with the computer. But essentially, let's assume that you've got a desktop computer and a laptop computer that stopped his home, your laptops traveling with you. So while you're traveling, you've got a traveling catalogue on your internal hard drive on your laptop, and maybe you've got your photos either internally or externally. Whatever the case may be, when you get home to your desktop computer, the most important thing is to get the catalogue and the photos from your traveling set up. And so there's a variety of ways you could go about doing that. One approach that I generally recommend just because it helps make sure that you've got everything in the right place is to export as a catalogue. So go to your traveling catalogue, select all of the images. So if this were my traveling catalog, I could go toe all photographs, select all and then just go to the file menu and I'm going to export as a catalogue. I can specify a location what I need to make sure to do. Let's just open this onto the desktop and we'll call this, you know, traveling catalogue. And I'm exporting to my in this case desktop. Really, I'd want this onto an external hard drive so I can hook it up to my desktop computer. Most importantly, right down here, export negative files. I love this check box because what is a negative file? I assume that whoever made the name for this was referring to film negatives as opposed to slides. But that's just a guess. That means export also your original photographic images. So by this process, you're copying this traveling catalogue, plus all of the photos to your external hard drive. Connect that external hard drive to your desktop computer, and then we've magically transported ourselves to the desktop computer that looks an awful lot like a laptop. Then I would just open up my master catalogue and choose the option to import from another catalogue. I can then import the entire catalog, my traveling catalogue, into my master catalogue so that all of the information my star ratings even pick flags because that is a light room feature. Any keywords that you've added develop adjustments you've applied. Everything you've done to those images in your traveling catalogue will come into your master catalogue, and you have the option. During that process of importing. Do you want to leave the photos where they are or copy them somewhere else? In that context, you would probably be copying them from that traveling external hard drive for example, onto your normal external or internal whatever the case might be so again in concept, it's very simple. You take your photos in your catalog from your traveling set up, and you import that catalogue into your master catalogue, using the import from another catalogue command. The trick, of course, is that you need to have that traveling catalogue. Plus, you're traveling photos available to your desktop computer, so that might be a little bit of a wrinkle, depending on your comfort level with the operating system. But by and large, it's a relatively simple process. Um, if you can, you sort for no stars. Yes, filter by no star filter by No sir. Absolutely So, for example, let's see where we assigning star ratings in our Croatia full that we were assigning star ratings and some of those images we did not assign a star rating to. So if I turn on my filter for on the filmstrip, for example, I can specify that I want a rating that is equal to, and I can turn off the stars. And now here are the images that have a zero star rating or not a star rating. If you will. And so then I could review and just make sure. Well, okay, let me before I delete these images. Or maybe I was too rash. Let me review the images that I sort of rejected by virtue of not giving a star rating to and make sure that I really don't want to give any of them star. So, yes, you absolutely can filter based on a no star rating. Perfect. I think we have a question from the audience, and we're Mike, that I was just curious. If you have, like, an I have an older laptop and maybe a faster desktop. Is there a way that you can work on your laptop without working at the highest resolution? But then have all of those settings go back to your main computer or in terms of the develop module? Yeah, No one slight work around there would be to use smart previews in lieu of your original images because of smart previews are smaller there say there's a DMG file at a lower resolution. Eso In theory, you could have your smart previous available on your laptop and disconnect the hard drive for examples of the originals aren't available. It's starting to get a little bit tricky in terms of actually working with those photos. It's actually a little bit of a challenge. Trying toe work across multiple computers with white room light room really wasn't designed for you to share a single catalog across multiple computers. So there's a synchronization issue like Room doesn't have built in synchronization that way. For the catalog, you can synchronize specific photos to a mobile device, for example, using light mobile. But in terms of two computers running light room as a desktop environment, that's a little bit of a challenge. And so in that type of scenario, what I would generally do is use the catalogue on an external hard drive along with your photos. But now it's a challenge to try to not have your original photos available so you can use those smart previews to speed things up because you know, to your point in the develop module, in particular, light room is rendering on the fly a full resolution preview, if you will, of your raw capture based on your adjustments that could bog things down. Certainly, that's where it does make sense to have a little bit of a faster laptop with lots of video memory cause, like room is taking advantage of video memory lots of standard Graham as well. Standard memory in the computer task Hard drive obviously can make a big difference in certain contexts as well.
Ratings and Reviews
The Advanced Workflow class was very helpful. I appreciate the extra material that come with the class, i.e. Tim's presets and the 8 lessons I have downloaded. However, I needed help with the downloading of the presets and there were no directions. I figured out how to download them to Dropbox and/or to a folder on my desktop, but I don't know how to install them in my current version of LR, which is Adobe Lightroom CC. I needed a help button, and there is none.
I found this class to be helpful with workflow techniques but it's almost identical in content to Tim Grey's Beginner Workflows and his other Lightroom courses. I would recommend the course but not to watch all of the courses as there's lots of overlap.
Student Work