Understand Noise Reduction & Correct for Distortion
Tim Grey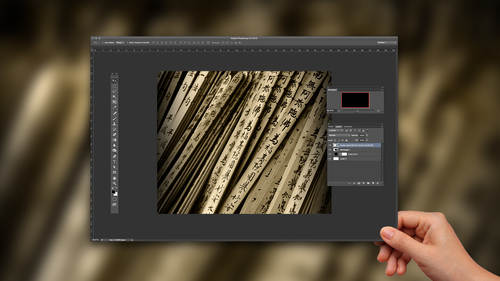 Understand Noise Reduction & Correct for Distortion
Tim Grey
Lesson Info
6. Understand Noise Reduction & Correct for Distortion
Lesson Info
Understand Noise Reduction & Correct for Distortion
noise. You can avoid noise altogether just by buying a very, very expensive camera. I haven't You seen the ads? They'll tell you that this camera will get no noise all the way up the 64 million. I s O reality is sometimes a little bit different. But speaking of reality, sometimes much of the time you're actually not getting a good sense of noise in the photo. Zoom in on this image. Actually, maybe I'm Maybe my memory fails me. I thought this was high. I said, Yeah, this was captured at 6400. I s O. There should be some noise here. I'm seeing rock texture. I think I might see a little bit of luminous noise, but I'm just not seeing anything in the way of color noise. So maybe we don't have to worry about color noise after all. Oh, wait. Like rooms trying to trick me, get rid of my hissed a gram here so we can see a little bit more of our details and in the details section. Speaking of details, you'll find noise reduction. A. Wait just a minute. We've got some noise reduction applied to t...
his image. Let me reset that somehow I apply this noise reduction without even wanting to a Wait just a minute. I reset the noise reduction settings and light room is still applying noise reduction to this image by default. Light room applies some color noise reduction to your photos. Generally, that's a good thing until you're trying to evaluate how good your camera does in the noise department. If we turn off our noise setting and then let me just zoom in to a 4 to 1 setting. And some of this will be a little bit difficult to see because we're dealing with some very fine details within the image by turn off noise reduction. I don't know how well you can Necessarily said, We've got green pixels and yellow pixels and blue pixels and red pixels and magenta pixels and all sorts of colored pixels that we were not seeing before. So here, with our default settings for light rooms, noise reduction, there's with the noise. There's with light rooms, default noise reduction. That's cool, except it tricked me and I thought, my camera is doing so much better. But if you look really close and again, it might be difficult to see on the screen here. But if you look really, really closely, I still have some noise. Essentially, it's what I refer to very technically as blobs of color. So with no noise reduction, we have essentially what I would think of as pixels of color. Random pixel variations, random color variations at the pixel level. But then we still have, and again they're faint. So it's not exactly easy to see, but let me bring my smoothness back down. And now, if you look closely, you'll see that we have right in here is a yellow area, and over here is a red area in here, some green. It's a little difficult to see, in part because noise appears most in our dark shadow areas because there is less light in those areas. There's less information in those areas, but the noises there will. Once I've reduced the color noise, I still get these blobs of color because noise reduction occurs by averaging out pixel values. So we're averaging out color values in the case of color noise reduction. So as I increase the value for color, I'm smearing essentially the color, averaging out colors. But I might start to have my colors bleed out into other areas of the photo, so I don't want to just be really aggressive with that color noise reduction I want to use on Lee as much as is necessary to start to change the pixels of color noise into blobs of color noise. Once I'm up to blobs of color noise, then I'll use that smoothness slider to smear away the blobs to smooth out those blobs of colors, though they hopefully disappear altogether. If I'm starting to get too high above about 75 or so for smoothness, then I'll start to consider maybe increasing the color, setting that strength of the color noise reduction. So again, color slider. That's the strength of our noise reduction. Smoothness is blending with a little bit more sophistication. It's a wonderful addition to light rooms, noise reduction, and in fact, it's one of the features that, when it was added, got me away from using third party software for reducing noise in my images. Now I do, almost without exception all of my noise reduction right inside of light room because light room has gotten more advanced and therefore my workflow has gotten more advanced in light room as well. Now the detail slider. I'm very careful about If I increase the value for detail too much, I'm starting to bring back some of the detail. I'm starting to bring back some of the noise. And so, if anything, I'm gonna air on the side of a lower value for detail details, trying to bring back some of the detail that might have been averaged out with that noise reduction. But you need to be very careful that you're not actually bringing back some of the noise. Absolutely. Of course you can take a drink. Just one of the folks know out there when you purchase either this individual class or really any of the any of the big bundle for Photoshopped Week 2016. We have a ton of great bonus materials and you have a noise reduction filter. If I'm not mistaken preset in your bonus materials, that is correct. It three of them. In fact, small, medium, large. You might great in terms of the intensity of the strength of the effect included. Perfect. All right, thanks. Thank you. All right, So we got that color noise taking care of pretty well, What about Luminess noise? Well, compromise, compromise, compromise. If you raise your eyes so setting on the camera you're compromising in terms of your capture settings, you're introducing noise into the capture. If you're applying luminous noise reduction, you're really compromising your photo. Can we eliminate luminous noise reduction? Yes, we can. And I'm here to prove to you, with one quick slider move that we can absolutely eliminate luminous noise from our images. There you go. To exaggerate the effect, I'll take detail down a little bit further. Look at absolutely no luminous noise in the image. What so ever? Also, no indications of any sharpness or detail in the photo. What so ever so luminous. We have to be very, very careful with, and even just a small adjustment right about there. For example. We still start to see, because we're now averaging tonal values together because we're smoothing out thes tonal variations. Now we're also smoothing out texture, so you need to be extremely careful with luminess noise. Quite honestly. In many cases, I'll just skip it because it's not worth the loss of perceived sharpness in detail in the photo. If I'm going to use luminess noise reduction a value of 10 for Lou Minutes, which is the strength of the luminous noise reduction. I consider that a strong setting, all things considered. Once again, we'll be careful with the detail slider, because that will bring back some of that noise. Contrast. We don't have to worry about quite so much. You can sort of think of. This contrast is being similar to clarity in terms of adding a little bit of mid tone contrast in detail into the image. So the key really is to understand how noise reduction works and, perhaps more importantly, to be very careful in your application of noise reduction. Now want to show you some lens correction while technically, actually we're not talking exclusively about lens corrections here because a lot of what we call lens correction is really photographer correction. But in this case, sitting, you know what is this like 1000 feet above the Grand Canyon, safe distance away from the ledge, Of course. Most importantly, I check behind me to make sure that nobody was there to push me before taking this picture which needed to be captured. I mean, you know, I was hoping to sell this to a shoe manufacturers. I wanted to include my shoes in the shot mostly wanted to prove to people just how stupid I am to sit on the ledge here. And so I'm using a wide angle lens, I believe, was this 10 year, 10 millimeter lens. This is on a crop sensors, so it's the equivalent of 16 millimeter focal length. We get a little bit of distortion. Are we sure? Yeah, I'm pretty sure that vocal and we've got some distortion. Even with a very expensive wide angle lens, you're likely going to see at least a little bit of distortion. Fortunately, we can apply a correction pretty automatically. So in the lens correction section, I go to the profile section profile tab and turn on enable profile corrections. I like to go. I'm paranoid. I want to make sure that I'm using the correct profile for this lens. I'll start off by going toe auto so that light room will look at my metadata, see which lens was used and if a profile exists for that lens will set it as the profile. But we can also just go in double check that the profile was established correctly in this case, 10 to 22 millimeter lens. What did you notice? The change? Look at that. We're correcting person vignette ing, some darkening around the edges. The horizon line, which had been a little bit curved, is now straightened. You're seeing that barrel versus pin pin cushion, distortion, correction. That's amazing. I should have a preset for exactly that. In fact, I, too, have a preset for exactly that so that we can apply that basic lens correction very automatically to images that were captured, especially with wide angle lenses, is when it's most prevalent. But also, obviously, some other lenses can suffer from these issues as well. But what about a situation where it's not the lens so much as it is the photographer in this case? For example, why is it that the building looks like the top spires, air leaning inward? Is it the lens? I wish I could blame the lens, but it is not the lens. It is actually the photographer. Me. I neglected to bring a ladder or a helicopter or drone now would be the you know, the cool thing to do is to have the drone go up so that we're exactly orthogonal to our subject, not looking up at it, not looking down at it, not from the side, but that were nice and orthogonal were at a right angle to the front of that subject. But I neglected to do that. So now what am I going to do? Well, let's get back over into the develop module. Let's see of lens. Corrections can help us turn that off. I mean, there's a little bit of an improvement, but I was trying to blame the lens, and clearly it's not the lenses fault. Clearly, it's my fault. Well, let's take a look and see what we can do with some automatic these air, the upright controls we have auto, which is applying a full three dimensional transformation to the image. Try to get things perfect. We could just level the image rotated to level the horizon. We have also vertical perspective. So we're correcting the horizon and now leaning the building toward us or away from us as needed to correct for that perspective and then full, which takes those two items and now adds that horizontal so I can kind of rotate the building left and right. So here's level. Okay. Probably my horizon was absolutely perfectly level. I just neglected to jump or climb a ladder. We go to vertical. That seems to be a good improvement. Full. You see, just a little bit of a rotational change. Their with full. I wasn't quite on center and Goto audit. Well, that looks pretty good, actually. Is the perfect Maybe, but probably not. It's probably really close, but we can always go into the manual section now and apply that barrel versus pin cushion. Distortion correction. In this case, I need a bit more in the way of that vertical correction, that vertical perspective corrections will ride about their paying careful attention to the grid lines that appear. When I'm working with these controls with these sliders, I don't think I need to rotate it all scale. Shall I zoom in to crop? No, I actually want to zoom out a little bit so I can customize my crop later because hopefully I left enough room etcetera. That's looking pretty good. I like to go kind of back and forth between all of these manual controls. That's looking pretty good. What about aspect aspect is my favorite of all these controls because as we're manipulating this building, we're taking the building that looked like it was leaning away, and now we're leaning it toward it might get stretched out or squished out, depending on what sorts of adjustments I need to apply. Now we can change the aspect ratio of the building as it were. So do we need to stretch the building to make it taller or squish the building to make it shorter? There's only one problem with this really, really cool and helpful slider. Now I have to remember what the building looked like in real life. I have to remember. Was it kind of a tall, skinny building or a short, stout building? I can't just look at my other pictures to try to remember what it looked like, cause they're probably wrong to, and so that's the only challenges. Takes a little bit of memory and think right about there, not too much of a difference that's looking good. And then, of course, I confined tune with the crop, and I do want to crop directly on the image. I don't want to use that zoom setting for the crop. This does hopefully underscore the importance of shooting a little bit wide. Notice that in fact, let me reset the crop here real quick. Notice. How were our king? This image, And as a result, we got this building over the side. We've got this white area that I need to crop out. If I didn't leave myself enough room around the building toe, actually crop those areas. Obviously, I could have a little bit of a challenge on my hands. So I confined. Tune that crop as needed, etcetera, etcetera. And now we have what is, hopefully a much improved interpretation of the image.
Ratings and Reviews
The Advanced Workflow class was very helpful. I appreciate the extra material that come with the class, i.e. Tim's presets and the 8 lessons I have downloaded. However, I needed help with the downloading of the presets and there were no directions. I figured out how to download them to Dropbox and/or to a folder on my desktop, but I don't know how to install them in my current version of LR, which is Adobe Lightroom CC. I needed a help button, and there is none.
I found this class to be helpful with workflow techniques but it's almost identical in content to Tim Grey's Beginner Workflows and his other Lightroom courses. I would recommend the course but not to watch all of the courses as there's lots of overlap.
Student Work