Adventure Photography Pro
Alex Strohl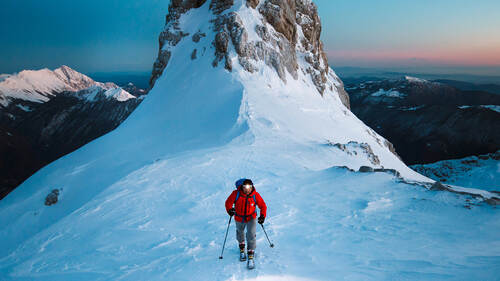 Adventure Photography Pro
Alex Strohl
Class Description
ABOUT ALEX'S CLASS:
This Wildist workshop is everything but ordinary. Alex shares actionable guidance from years of working as a professional photographer. Learn what it takes to make iconic work.
ThIS WORKSHOP IS NOT FOR:
Beginners who don't know how to use their cameras.
People who don't want to take action to improve their skills.
Those who want to stay comfortable inside when the weather is sh*t.
People who want to pretend they're somebody else.
Those seeking to do the least amount of effort.
Negative people.
Ratings and Reviews
Not What I Was Expecting Let me just start by saying that the workshop was very good. There were lots of things that I learned and many insights I took away. Perhaps the greatest bit of wisdom imparted to me was not anything Alex said but how he approached every subject he talked about. I felt that he was talking to me as a friend, very personal and open book. This was both a blessing and a curse as the course tends to meander around and is not as structured as others I've taken. Alex's passion for the highest quality, and craftsmanship in every aspect of his business, is very evident. From the premiums he charges, to the attention to detail in client deliveries. This is where my review is going to give some hopefully constructive criticisms. For someone so focused on a premium experience I was a surprised to find the course a bit sloppily assembled, and the videography and editing lackluster. This is coming from a videographer and someone with a lot of experience in online training. A few short examples to illustrate my point include: repeating segments of the edit (in some instances the exact same segment), poor framing. Colors changing between cuts, and my biggest pet peeve, not leaving photo examples on for long enough to see them. These are all small things, but they add up, and along with the topics meandering, left me a bit disappointed. I'm curious who you would say this class is aimed towards. Amateurs, mid-level, or experts? The assumption of who you are addressing changes throughout the course. I feel like with a bit of work from an instructional designer, and some editing cleanup, you could help hone this course to be one of the best out there. I feel like I need to do a more in depth review than will fit here, to actually explain this well. Let me know if that would be helpful to you. One other note: When I signed up for a workshop on Adventure Photography, I honestly thought it would be more field focused. The field examples were all shoots for products, and not shoots documenting an adventure. I guess I had just hoped to learn that side of the storytelling process more. Getting into the nitty gritty of being wet, cold, and dirty, and still shooting bangers. The section on filters (going out and building the snow cave) was more what I thought this course was going to be. Anyhow, with all that said, I still found it valuable and worthwhile. To summarize, the course feels a bit unpolished and in some ways unfinished though there is still great value. I've taken Jimmy Chin's Masterclass on adventure photography and it felt very structured and highly polished. I purchased "Adventure Pro" on the "finish in a month" discount. I would have felt ripped off if I had paid full price with the course in its current state. Thanks for reading and I hope my criticisms come as helpful. As I've already mentioned I'd be happy to further elaborate.
One of the best photography investments I'm only 1/4 of the way through Alex's course and I feel like I already have a loose plan on how I can move forward in my own career as a photographer. I felt like my work was lacking a specific feeling. The way that Alex articulated ideas on how to convey emotion in your imagery and building that overarching story arc for your own life narrative were super helpful to focus on how to make my work better. Super looking forward to the rest of this course. Thanks Alex and team!
Sergi Mas de xaxars Rosell
Great Workshop I learned quite a lot with this workshop. Because I'm in the industry for 5 years now, there were a few things I already knew. On the other hand, Alex showed me different and more effective ways to improve my business. I like the way he gives the lessons, always in a personal and close way. This is the knowledge I wish I had when I started. Totally worth it!
Student Work