Canon 5D Mark II Fast Start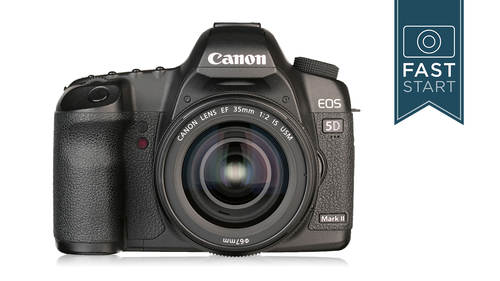 Canon 5D Mark II Fast Start
Class Description
Now that 
Canon®
 has released the new 5D Mark III, you can get a bargain on the older 
Canon
 5D Mark II. Join John Greengo for an in-depth step-by-step tour of this popular camera. With a hands-on introduction to your camera's operations, detailed instructions on how all the menus work, and instruction on how to shoot great photos with this specific 
Canon 
camera model.
Reviews
Having used an XTi I was familiar with the basic Canon layout, but when I bought my 5D MKii used from my wedding photographer who updated to the MKiii, I knew there would be a ton of features I'd never really understood. This video series is fantastic. I've learned so much about my camera, many tips on best practices when planning shots and I've seen an increase in the quality of all my photos as a whole vs. just taking a ton of pics to try and capture one or two that turn out nice. I'm excited to try out so many new things I learned from watching these videos. I'd recommend these videos be the required guide to anyone who owns a 5D MKii.
Excellent instruction. The instructor is very knowledgeable and a very effective communicator. Great photo examples and "SLIDES for that". Creative Live and John should both be commended for providing in depth and pertinent information. The Canon 5D MkII is a great camera however without a body of knowledge to fully utilize it you might as well have a low end point and shoot. I would recommend this class to anyone who has a 5D MkII, no matter your skill level. Great job!
Any sensible photographer, whether beginner or pro, will make a very astute investment indeed when purchasing John's courses before impulsively purchasing the more fanciful CreativeLive courses such as 'glamour, fashion, wedding, baby photography' etc. John's courses are incredibly effective in super fast-forwarding ones skill set simply years ahead of what would have been. Once he has taught you all you need to know about how to get the very best from your very expensive photography gear, then by all means do invest in specific courses in your chosen field. But the time and effort spent learning the ins-and-outs of the tools of your craft will no doubt pay ten-fold dividends when you transfer these skills to your specific subject; whatever your subject. John Greengo's methodology of teaching is of the highest standards. His class materials are exemplar and if printed/laminated are fully usable in the field if required. I own his very much humbly titled 'Fundamentals of Photography course, 'Canon Lenses: the complete Guide' and more recently this course which as ever has proved excellent. Mr (aka Dr.) John Greengo is without doubt the supreme unsung hero of CreativeLive. Thank you John for all you have taught (and helped me earn) thus far. Keep it coming...