Class Introduction
John Greengo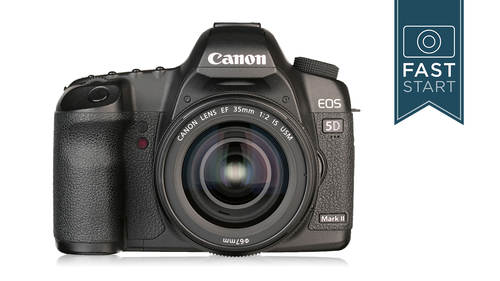 Class Introduction
John Greengo
Lesson Info
1. Class Introduction
Lesson Info
Class Introduction
All right, well, I guess this class is kind of in a long time coming. I mean, the camera was introduced many years ago at this point, but there's still so many people using it on don't know there's a lot of people who just want to get the most out of their camera, they spend this much money on it. They wanted they want to make their money's worth worth it. So hopefully this class could be able to help you out. When I was putting this class together, I was thinking about how popular this camera wass and susan lorraine, if you think back to some of the more popular courses here, a creative, live like soup, rice and jasmine, what camera were most of those people using? Can you remember specifically guests and what camera they used? I think almost all of the teachers that have come to credible I've has have used the five d mark to think the majority of them by far, yeah, yeah, absolutely, it's amazing to me and how popular it's been. And so I've been shooting seriously for about twenty fiv...
e years, and I would say this is the second most popular professional camera in that period of time, and I kind of want to throw the challenge out to the internet, and maybe we'll come back at this to see what was the most popular camera over the last twenty five years. Now, I am a little biased is, in my opinion, it's, kind of from the world that I saw. But if you were to gather a hundred people who shot professionally, more people had that camera than anything else. This is the camera that it is amazing how many people have this camera in a variety of places now, there's some places where you're not going to see it as often, for instance, maybe at a sporting event because it's, not quite the perfect sports camera, still could be used for a lot of different things, but there's so many different areas from landscape portrait, I see a lot of news news people using it, general purpose, it's just hugely popular and there's still a fair bit of stuff in there. I know now we're kind of dealing with the fact that actually the five d mark three has come out and, uh, anthony, you were just mentioning that even though you you checked out the five d mark three and you kind of looked at this and, uh, kind of tell me more about that decision because there's, something better out there, why didn't you go with it? Well, I had a good experience with the fifty d so I knew I wanted to stick with cannon and move up and moved to a full frame. I really did wait until the five d mark three came out to check out all the specs and see if that was the way I should move and the truth is if it were a little less expensive I probably would have gone with it. But I also knew that moving up to the five demark too would be such an advance over what I was using that for the fifteen hundred dollars difference, I would probably get a lot of life for a very long time out of the mark two vs jumping in with both feet and spending that much more money on the mark three right? So that was sort of my decision process that makes sense very, very reasonable decision in my opinion and so myself I own a five day mark two and of course you know, I looked with great interest when the mark three came out and I haven't made made a decision yet and I'm kind of with you, you know, thirty five hundred dollars it's, you know, this was about twenty, six hundred and now you can buy a brand new for about twenty two hundred dollars and so it really represents a very, very good value and I would be kind of interesting because I know the internet will start flaming up, you know, starting on the topic of the two versus the three and I have no qualms and saying that the three is better than the two, but the question is this how much better and how much is that gonna impact your photography? And what could you do with another fifteen hundred dollar lens? You know, with that difference, but this class is on the five d mark to so we will we will concentrate on that one s o it is my hope that by the end of the class today you're going to know how the camera works, where all the basic features are you're going to know how to get in there and customized the camera for yourself and that you'll have the confidence for being able to go take this camera out in the field and have one hundred percent confidence that you can set it up and have it work perfectly for anything that's going on. So here's, what I have planned for today, I have kind of the schedule set out where we're going to talk about his little product overview, where it fits in with the whole canon lineup and other things about it we're going to go in just a few photo basics I imagine that most people who have this camera already know those photo basics, but just to make sure that everyone's up to a certain level we're going to go for a little bit of those and then we'll spend a fair bit of time just going through every button and little nook and cranny on the camera, talking about everything that's going on with it on, then we'll take a little bit of a break, but then we'll come back and get into the menu system. We're going to go through the menu line, item by line item I know it sounds a little tedious, but it is it's good to do at least once. You don't need to go into the menu system all the time, say again in the menu system, I think there's kind of two types of things, and there are things that you need to check and set once and then there's a few other things that you'll go back to from time to time. But it's, good to susan says, walking around the grocery store it's good to walk up and down those aisles at least once to make sure, you know, what's there, and then at the very end, we're going to go through kind of a camera operation practice we actually going to be using the camera, setting it up in different ways with my recommendations and how to set it up, so I see some of you brought in your instruction manuals all right, now these air fun little things, aren't they? This particular one is about two hundred sixty pages, and I would figure you could spend about nine hours reading every word as you go through it and it's still a valuable device because this glass that we're in right now? Well, I guess that we're gonna be here for probably about five hours talking about the camera, and I cannot cram nine hours worth of information into five hours. And so what I've done is I have gone through the instruction manual I've been using the camera for the last three years and trying to pick out what most people need to know about the camera. And so one of the things that I've discovered about these cameras is that it is partially designed for people who don't have access to a computer, and I imagine that's not very many people in the audience see there are things that you can do here. You can print directly from the camera to a printer that's, not the way that you're going to get your best prince. You can do slide shows from it directly onto a tv, you can process pictures, you can make him look black and white, and a lot of that stuff is just going to be better done on a computer and so I'm not going to spend a lot of time on those types of things. I'm going to concentrate on most of the features that most of the people want to use most of the time.
Ratings and Reviews
Having used an XTi I was familiar with the basic Canon layout, but when I bought my 5D MKii used from my wedding photographer who updated to the MKiii, I knew there would be a ton of features I'd never really understood. This video series is fantastic. I've learned so much about my camera, many tips on best practices when planning shots and I've seen an increase in the quality of all my photos as a whole vs. just taking a ton of pics to try and capture one or two that turn out nice. I'm excited to try out so many new things I learned from watching these videos. I'd recommend these videos be the required guide to anyone who owns a 5D MKii.
Amazing class, I walk away feeling like I've made this machine my own. Like getting a new car and adjusting all the seating and mirrors and radio stations to your comfort, then giving it a name because its officially yours. My camera now feels more comfortable to use and I can't wait to use it again with these new found tweaks. Thanks John, always a great class!
Excellent instruction. The instructor is very knowledgeable and a very effective communicator. Great photo examples and "SLIDES for that". Creative Live and John should both be commended for providing in depth and pertinent information. The Canon 5D MkII is a great camera however without a body of knowledge to fully utilize it you might as well have a low end point and shoot. I would recommend this class to anyone who has a 5D MkII, no matter your skill level. Great job!
Student Work