Nikon D850 Fast Start
John Greengo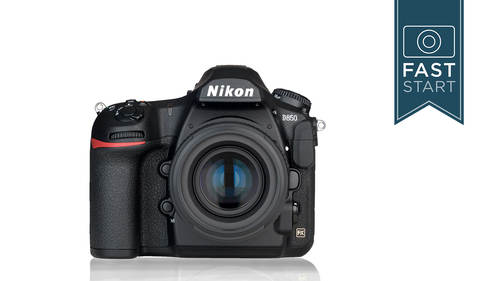 Nikon D850 Fast Start
John Greengo
Class Description
AFTER THIS CLASS YOU'LL BE ABLE TO:
Capture images expertly with the Nikon D850
Set up a custom menu on the Nikon D850
Find the best lenses to pair with the Nikon D850
Uncover hidden features on the Nikon D850
Shoot movies with the Nikon D850
Edit in-camera and share with Wi-Fi and Bluetooth using Snapbridge
Use shortcuts to format the SD card instead of digging in the menu
ABOUT JOHN'S CLASS:
Great design is invisible.
The Nikon D850 ($3,300 body-only) is one of the best full-frame cameras on the market, mixing a high-resolution sensor with a speedy burst mode. But the D850 is so feature-packed, you may not know even half the features right out of the box. From the new multi-selector tool to setting up the Wi-Fi, the D850 has a steeper learning curve than entry-level cameras. Sure, you could spend days going through the entire 360+ page manual -- or you could spend a few hours with some hands-on experience lead by a professional photographer.
In this class, you'll learn how to control the Nikon D850, from the physical controls to the settings inside the menu. While watching the class, you'll be able to create your own custom menu and get the camera set to your shooting style. You'll learn valuable time-saving shortcuts and uncover features you didn't realize the camera had.
John's straightforward teaching style is easy to follow along with and fun to watch. Ditch the manual drawings and learn from live demonstrations, including questions from students like you.
WHO THIS CLASS IS FOR:
Photographers new to the Nikon D850
Self-taught photographers that haven't yet uncovered all the D850 has to offer
Photographers on the fence about whether to buy the D850 or another camera
MATERIALS USED: Nikon D850, Nikkor Lenses, SD Card
ABOUT YOUR INSTRUCTOR:
John Greengo has spent the better part of three decades building a photography career -- and using all different kinds of digital cameras. His experience has lead him to teach others how to best maximize the camera they have. John has taught classes on Nikon DSLRs like the Nikon D810, Nikon D7200, Nikon D7500, Nikon D3500, Nikon D5600, Nikon D500, Nikon D750, and several others. His CreativeLive class list also includes classes on DSLRs and mirrorless cameras from Olympus, Sony, Canon, Panasonic, and Fujifilm.
Along with teaching, John works as a travel and landscape photographer, a passion that has won him several awards. His work allows him to shoot around the globe at several "bucket list" locations, including Iceland, South America, and Alaska.
Class Materials
Nikon_D850_Recommended_Settings.pdf
Ratings and Reviews
Excellent class. Very fast paced which I loved. I have had my D850 for a few months and thought I had it all figured out. I learned some awesome tips and tricks that I am eager to start using. Thanks John:-)
This is a great class with an exceptional instructor, and I learned so much about my new D850 camera! I especially appreciated the opportunity to follow along at a perfect pace with the instructor while being hands-on with my camera. The content was understandable, logical and enjoyable. This is my first class through CreativeLive -- thank you!
82 yrs old. Been an avid photographers since 5 yrs old. Read and listened to all types of photo teachers. Greengo is the best of all. Every so called photographer can still learn from a master on the D850. Fantastic camera and fantastic teacher.
Student Work