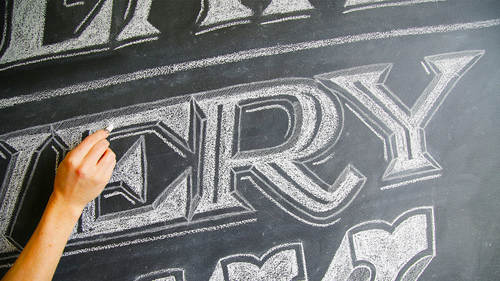 Class Description
A typographic mural uses words to produce a stunning and highly communicative piece of art. In Chalk Lettering, Annica Lydenberg will take you through the process of completing a large scale installation as she makes a chalk mural on-site at CreativeLive's San Francisco headquarters.
Besides being artistically gratifying, chalk lettering is an in-demand service that can bolster your client work. In Chalk Lettering you'll learn the many ways to turn a small sketch or something you designed on the computer into a piece on a wall. Annica will discuss methods you can use to create temporary or long-lasting chalk murals and demonstrate freehand sketching and grid mapping. 
You'll learn:
How to prepare your surface
Multiple options for transferring an image to a wall
Techniques for stylizing letter forms
The pros and cons of chalk, conte crayons and paint markers
Annica will help you develop a system for choosing type styles that work well together while enhancing the message of of your mural. She'll also discuss the benefits of chalk and how practicing facilitates fine-tuning and makes murals less daunting.
Bending words into art, typographic murals are visual powerhouses. Watch one come to life and learn the techniques and process that go into making one in Chalk Lettering.