Make Things Make Money: The Business of Illustration and Lettering
Dina Rodriguez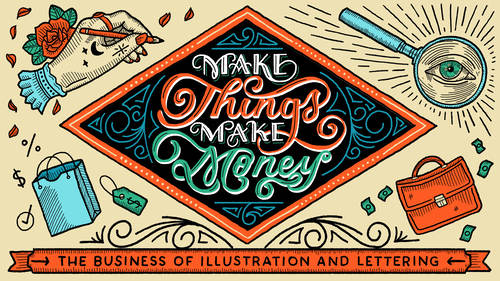 Make Things Make Money: The Business of Illustration and Lettering
Dina Rodriguez
Class Description
Do you have a passion for drawing and dream of turning it into your next full-time gig? Hand lettering artist and commercial illustrator Dina Rodriguez will show you how to create a career doing what you love. Dina shares lessons learned from her path to becoming a successful freelance artist–so you can grow your business without wasting your time or resources trying to get there.
In this class, Dina covers: 
Honing your craft through passion projects and social media 
How to attract clients through your online presence 
Three ways to make money for your business: Commercial Work , Commissions, and Products 
Creating a process that will get you the job every time 
How to charge what you're worth
She'll provide detailed strategies, new ways to repurpose your work, and talk about planning for the future. After this class, you'll know how to create a successful career and skip all that nasty trial-and-error.
Class Materials
Make Things Make Money Keynote
Make Things Money Money Resource Guide
Ratings and Reviews
Wow! This class was fantastic! Dina did a great job at providing relevant information that I can use right away. I was particularly impressed at how she was able to explain licensing and royalties, she really broke it down into easy to understand pieces. I think this course would be a great foundation for any artist/freelancer but I liked the focus on lettering and illustration. Creative Live must convince Dina to provide more classes!
This class is full of excellent information, and Dina did a great job covering everything from building a webpage to working with clients. She has a engaging delivery style, presented the information in a succinct and well-organized manner, and the pace of the course was perfect - not too slow! I highly recommend this course to anyone who wants to start or boost their creative business - great info!
Awesome class! Inspired and excited to improve my business with the processes and knowledge gained. Thank you Dina!!
Student Work