Using Calligraphy for Addressing Envelopes
Fullosophie, Bianca Mascorro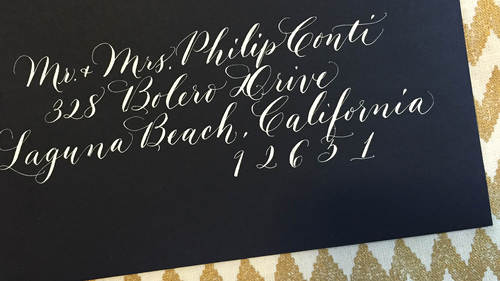 Using Calligraphy for Addressing Envelopes
Fullosophie, Bianca Mascorro
Class Description
Calligraphy is a beautiful technique for addressing wedding invitations, sending notes to your loved ones, and creating functional artwork. In Using Calligraphy for Addressing Envelopes you'll explore practical ways to put your calligraphy skills to work.
Bianca Mascorro will share inspiring techniques for addressing envelopes, creating signs, and personalizing artwork. 
You'll learn how to:
Create unique calligraphed artwork and signage
Use a variety of colored inks, both off-the-shelf and custom mixes
Address an envelope the post office can deliver
Learn how to apply calligraphy techniques to a whole range of lettered projects in Using Calligraphy for Addressing Envelopes with Bianca Mascorro. This class was produced in partnership with Fullosophie, an experiential and workshop-based business for creatives.
Class Materials
Bianca Mascorro - Introductory Calligraphy Guide.pdf
Bianca Mascorro -- Using Calligraphy Supply List.docx
Ratings and Reviews
The instructor provides some good examples of different ways you can address envelopes, with tips and tools to enhance your project. It would be useful if we could set the playback to a faster speed, since she can be a bit wordy :)
I'm trying to be patient as she gets through the list of class materials, but she seems very nervous and says, "Um," about 100 times! Fortunately, there is a PDF of the class supplies, so I will not have to listen to this part!
Student Work