Crazy Stupid Wedding Light
Scott Robert Lim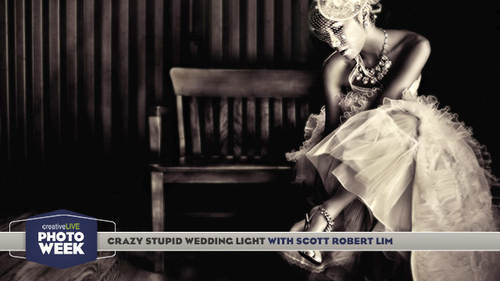 Crazy Stupid Wedding Light
Scott Robert Lim
Lessons
Class Description
This is your chance to get a high-energy, condensed version of all of the essential lighting tips that award-winning photographer Scott Robert Lim has to offer. Scott will pull out all the stops, teaching you — through live demos! — how to create sophisticated, creative lighting set-ups. Learn all about one-shot formulas and find out how Scott creates stunning results from simple techniques using backlight, side light, top and bottom light, colored light, diffused light, flash, video light and anything else under the sun! By the end of this workshop, you'll know exactly how to create your own signature lighting style within minutes.
Ratings and Reviews
Thank you! I really enjoyed this course and found it extremely insightful and very useful in a "real life situation" kind of way - and as one just starting out professionally, I can't tell you how much I appreciate that :) I have done workshops and seen a course or two where the instructor really didn't seem to be speaking to my level, but at a level that I have yet to achieve. When that has happened I found it very hard to follow along. But Scott you are so wonderful! Your delivery and instruction are both on point, and I practiced what you were sharing at home right along with you when I was watching the video and was pleased with the results. Thank you for providing information that I could begin using right away in a real setting and truly benefit from. This is by far my favorite Creative Live course that I have taken to date!
Scott is in LOVE!!!! Ive watched many of Creative live's presentations. This fella not only has a great love for the craft, but his life story just smacked me in the face and woke me up! He enjoys the blessing of what he has been given in life... even the bad, and made gourmet dinners when hes given much and made lemonade when given lemons. But, in all cases he has moved forward in a positive direction and attitude. At twice his age, he inspires me to be better as a photographer and as a person. Thanks Scott!
Great class! Thanks so much, Scott. I love your enthusiasm and tips for great lighting. Awesome! :)
Student Work