The Wedding Story: Capture Creative and Authentic Photos
Davina and Daniel Kudish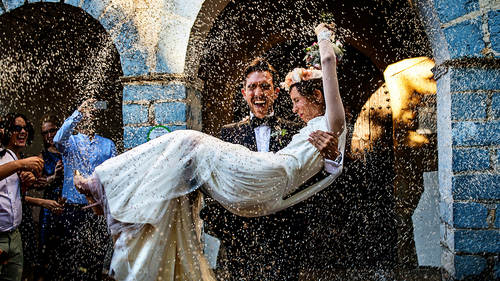 The Wedding Story: Capture Creative and Authentic Photos
Davina and Daniel Kudish
Class Description
Wedding Photography is a hard and sometimes exhausting business. Finding ways to stay creative while continuing to capture timeless and classic imagery is important. Drawing from their own life experiences, Davina and Daniel Kudish capture the subtle nuances of their client's life stories at every wedding. In this course, they'll discuss techniques to personalize each individual wedding to capture the stories and moments that make each couple unique.
They'll discuss the formula to capturing stories and teach:
Pre-Wedding Conversation techniques with clients to help build your shot list
Utilize what you know about each couple to help approach capturing the day
Research and location scouting techniques
Capture the details that matter most
How to work with various lighting situations
Preserve the mood and capture natural moments
Composition and Framing
Shooting with variety
Create personal and creative portraits
Edit a slideshow and how to create an album
Davina and Daniel are known for capturing creative portraits and important moments that tell every unique love story. Join them to learn how to implement their formula to find and capture the creative story with every client.
Class Materials
Wedding Photography Contract
Ratings and Reviews
Holy Moly! I have been very familiar with Davina & Daniel for several years and I also work closely with Image Salon for the past 3 years. I loved their relatability, raw honesty, human connection, and their teaching method. It was also super helpful to see the GoPro footage on a real wedding day and walk through their thought process with them. A refreshing wind of inspiration has now flooded my mind and attitude. I am excited to begin my 8th year of weddings with a clear mind and full heart. These two are the REAL deal and I am so happy I made this investment. Thanks, CL for always bringing the BEST of the BEST.
I've been following Davina and Daniel's work for years and suffice it to say, they are in my top 6 all time favorites. I was so excited to watch this creative live and it didn't disappoint. From their approach to shooting through the moments, to their stunning locales and minimalist gear, there is something for everyone in this class. Both Daniel and Davina have a tremendous knowledge of photography and their willingness to share and educate is second to none. Oh, and just so you know, they are also the nicest people on the planet. Super sweet, amazingly talented. Thanks for having them on.
Davina and Daniel are fantastic presenters as well as an exceptional photo team (plus they are super nice people, too!). I love their approach and methods and felt like there is so much value in this course. Even though I've been photographing for a long time, I took away a lot of great value gems from their course and look forward to applying several to my own business!
Student Work