Panorama Field Techniques
Mike Hagen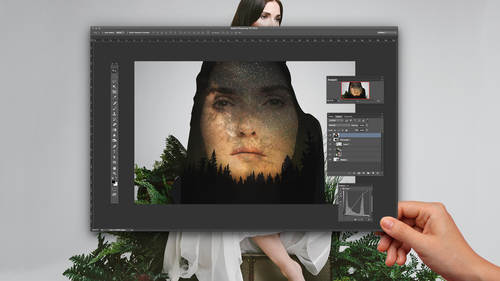 Panorama Field Techniques
Mike Hagen
Lesson Info
2. Panorama Field Techniques
Lesson Info
Panorama Field Techniques
before we get into the details with light room and photo shop. I want to give you guys some techniques and field techniques for creating the panorama is when you're out and traveling. And to do that, I've got a document that I want to show. And this is a checklists. The panorama checklist. This will be available for download for those of you who purchased the class and you can, uh, Kenya will talk about how to access that later on. But let me go through some camera settings that we need to think about. And then also, how do we take those images in the field? And to do that, I'm gonna use my camera over here so we'll start with the camera settings and I'll take the camera off the tripod to do that. All right, so the first thing is focus. We need to think about focus being fixed when we're taking the image. So in other words, you don't wanna turn the camera and have the camera keep refocusing, Otherwise it's gonna have a You have a problem when you try to merge this in light room and pho...
to shop. So what I usually do is, I focus at a place called the hyper focal distance, and all that really means is I focus where I can get the foreground to the background, in complete focus and in high resolution in the photograph. So I'll do that focus at the hyper focal distance, and then I flip my lens to manual. In fact, that's one of the keys that I want to make in this class. Key points I want to make is you should always use a camera where you can lock your settings. So maybe you lock your focus. You can lock your exposure, you can lock your eyes. So if you have a little point and shoot, make sure you can lock, you know, aperture, shutter speed, those types of things as well. All right, So speaking of aperture, let's talk about that. So we need a good aperture to get lots of stuff in the depth of field. So F 11 2 F 16. I typically will shoot that in my in my panel shots shutter speed. Well, what we're really concerned about is preventing motion blur. So if you're using a tripod, you know, shutter speeds not so important, but if your hand holding, then your shutter speed really does matter. So I'm usually thinking, you know, like I've got it. Maybe a 20 millimeter lens, some thinking that make sure make sure speeds about 1/20 of a second. And then, of course, lock it. Lock yourself, speed. I s so make sure you turn off automatic. I s o okay, you know what? Your eyes so changing because this shot over here will be kind of bright, and it's titled over There would be kind of dark if you're I s O is changing, so we're gonna lock it. All right, So the next question or the next comment is exposure, you know, What do we set our exposure for? Well, let me use a photo example here. You know, in a photo like this, there's a wide variety of brightness is across the panorama. You've got the white snow on the mountain, and you've got dark shadows over there on the right hand side. So my general approaches to meet her for the highlights and then developed for the shadows. All right, so you meet her so you don't blow out the highlights, and then you use your raw file inside of light room to pull out the shadow detail. So that means I'm gonna meet her here, and I'm gonna make sure that's like it about a plus 1. exposure value and then hopefully the rest of the scene. I can pull it out later on in light room and then lock it. You know, use your exposure lock button. Most cameras haven't eight yell button. Or maybe you're shooting in manual mode, So just lock it in and said it from manual white balance. You should always lock your white balance. It's not so important with raw files that you lock white balance because most of you guys know that with the raw file, you can change it later on. But if you're shooting J pegs and it's imperative that you lock white bones because pointed over this way, you got bright sun and pointed over that way you got shadow and your white balance is gonna shift. And that's gonna look funny in your final photo where you got, you know, kind of a warm color over here and a cool color over there. I have recommend shooting raw, you know, most most photographers now that are trying to do big panoramas or shooting raw. You get a lot more data in a raw file. J pegs. They're fine, but you just can't pull out the shadows as much in J Pegs filters. I recommend not using filters photo lens filters, especially polarizer, because a polarizer changes dramatically, depending on what angle it is to the sun. And if you use a polarizer doing your panorama, this side of the sky will be very dark and that skied will be side will be very bright. So take off your polarizer and then VR or vibration reduction image stabilization. I would just turn those off, especially for using a tripod. Okay, so now it's time. Now there are cameras all set up. Now it's time to actually execute the panorama. So fundamentally, what we need to do is take a Siris of photos like this. You know, click, click, click, click, click, click. There's a wide variety of tools that you can buy when using it tripod. But the most important thing is that you get a plate or something on the on your camera that allows you to move the lens and camera system forward and backward because you don't want to rotate around like this. You want to rather rotate around what's called the nodal point of your limbs or the no parallax point. And so what does that mean? Or how do we accomplish that? So you can see here I have this plate here and I can move the camera forward and backward. And what I'm concerned with is if I rotate the camera like this, you know, would two polls stay lined up over here with the two poles be lined up when the cameras pointed this way? Are the polls lined up And then I've got a whiting a lens here. So if a guy like that, you know, the two poles are still in the photo, Are they still lined up? Rotating around the no Parallax point allows you to keep those polls lined up so that when you merge it later on a photo shop, you don't get these funky front, you know, two poles or three polls. So that's this. That's what this plate is used for. And there's other systems, you know, like Kirk and really right stuff. They make these really great panoramic hits that I that I highly recommend. Okay, if you aren't using a tripod, I know some of us are lazy, and we like to handhold than what I recommend is to pivot around your front foot. So a lot of times I'll put my foot on the ground and I'll pretend like I've got this pull or rod going through my limbs to my front foot and I'll shoot like that. And what effectively that's allowing me to do is to rotate around that no parallax point. It's a pretty good technique. Otherwise, you have to kind of do this, you know, just rotate the camera, and that's because you can't really look very well. So use your foot as a pivot point. This really matters for interior photography. It doesn't matter so much if you're at the Grand Canyon, you know, because you know if there's not a whole lot of parallax problems, if you rotate like that at the Grand Canyon, so that's using the rotating around the Parallax Point. The last thing is, is what percentage should you overlap because you have to give the software something to work with, right from this to go from this photo to that photo to the next photo. So if you're using a really wide angle lens like this one, this is a Nikon 14 to 24 millimeter. So this was super wide the wider angle of Linz, the more you have to overlap. And so in English. What I mean by that is just don't rotate very much between shots, you know, Click then maybe rotate half the frame, click half the frame, click half frame because the software needs a lot of information to bend and worthless pixels gonna grab a different lens here. If you're using something like this lens, this is like a 24 to 70 so a little more telephoto, then you don't have to overlap as much. So anything like millimeters 100 millimeters, you only need, like 25% overlap. So wider angle overlap a lot. Telephoto. Not so much. Excellent. So that's a little bit of gear, A little bit of technique. Um, I thought that maybe before we go into the software, we asked some questions. So one question was, Why is it when shooting on a tripod that you turn off? You said to turn off the VR or the image stabilization. Why is that so? The reason I recommend turning off VR is because you know vibration reduction is designed to since movement and motion. That's what it's designed to dio. So most VR systems in your lenses are anticipating that the photographer is actually moving like this, so it's searching for movement. If there is no movement, then what you'll find especially for using the longer lenses. You'll actually see the the photo kind of doing this inside the frame. Well, one of the reasons why we use tripods for Panorama is is because it allows us to be very precise, you know, lined this up, line it up, line it up, and the VR system will actually end up creating a photo like this and then photo like that and footed like this. So there's less precision involved when the VR is turned on. So I like to turn it off on the on the tripod when I'm hand holding, though. Well, then precision is all out the window. So you need all the help you can get. Turn that VR on question. Thank you. I love your little foot guideline. in terms of when you don't have the tripod. One of the questions that came in is how do you determine that? Non parallax point of a lens. Great question. OK, so it it depends on the lens you have like every Linz is different. Okay, also depends on what focal length your lenses set to. So, like, if you have a zoom Lins, the no parallax points going to change its 70 millimeters, it's gonna be different at 24 so you can do it with trial and error. So let's say, for example, I'm shooting the interior of a building here, and I've like, got a poster, a pillar, and then a stairwell over there. This is what I would do as I get my my tripod in the general area where I need it. And then I just start rotating around like this. And what I'm watching is is that post changing in relationship to the stairwell as I rotate the camera around. So, for example, let's say that my camera was too far forward, right? So it's up here, and as I rotate around, you'll see that post actually physically move from here to the over there. It actually goes like this with the camera. So I just do this. I just move it back a little bit. Do my pan again. Oh, I went back too far, cause now it's moving the other way. And then finally, like, Okay, right there. So now I start on this side and that post is lined up with the stairwell still lined up, Still lined up, Still lined up. Still end up good. I'm good to go after you've done that a few times with this lens. This camera and this plate, you'll eventually go. OK, I got it. Most of these have these little markings on the sites you could say, OK, I'm a 13 millimeters back from the center point. Something like that. It was a great question, Mike. We have a number of questions coming in about photographing in landscape mode brushes, portrait mode and which you recommend. Okay, The truth is, I love shooting panoramas in portrait mode or vertical. I love it when the camera is up like this, And the reason why is because it technically requires more frames to get the same coverage, which means my panorama ends up being higher resolution. I can do more with it. So I love shooting vertical panoramas. Not like Well, I like she pen room is this way to think they're called vert verte Ramez or something along those lines. And I shot a bunch of those, like in churches. But vertically oriented Panorama is, I think, provide us more options. We get more sky toe work with, you know, to crop down and then, of course, higher resolution. So this little slider that I have here is really only good for horizontally based panoramas. Some of those companies that I mentioned earlier, like Kirk and really right stuff they sell these rigs that allow the camera to go vertically or horizontally moving forward and backward. So the more sophisticated you want to get. I mean, there's you could spend $100,000 on just equipment for panoramas is crazy. So I was a great question. Love it. All right. Maybe a couple more before we move in to put a shop. Got a lot of great questions coming in. So thanks, everyone. This is from Terry Richmond. How do you make sure that your camera and tripod are level and is it important to do that for great, Terry. Thank you. I just realized I forgot an important aspect of this whole thing. So, Terry Richmond, you're awesome. Here we go. You got to make sure that this rotation point here on, um, on your head is perfectly level. Okay, that's paramount. Otherwise, as you do your panorama swing, you know the camera's gonna go down like this and you have to do some hoops. You have to do some funky photo shop work to get your horizon back. So I highly recommend getting a tripod that actually has a panorama. I'm sorry. That has a spirit level right here on the top. So I'm gonna tilt this forward so the camera can get it. It's like my tripod has a spirit level right there. And I spend a good amount of time before taking my panorama, making sure that bubble level is right in the middle. If your tripod doesn't have that, then there's these other plates. A lot of times we use them in the for video work. It allows the head Teoh move in a bowl. So it's an ad on. It's important to note that if your tripod is not level. Let's say my tripods not level like that. Some people may say, Oh, well, I'll just level the camera. All right, So maybe do that. Maybe they got a bubble level here in the camera. Well, what's the problem with that? Well, is I start over here, You can see the camera's pointed up, and as I start over there, the camera's pointed down so you can't just level the camera. You have to level the base plate or whatever is rotating the camera. Great question. One more and Teoh finish up in that room. Is it possible to do panorama in HD Are? And if so, do you have to do hdr as you're doing? You're shooting eso here. You just went from kind of easy to Oh my gosh, We were just talking about HDR. Panorama is right before this class starts and the answer is yes, you can do HDR Panorama is the difficulty Now here is that every image that you create is the sum total of maybe or seven different exposures and so so that's much more difficult, much more complex. Typically what I would recommend there is you set up your camera. At this angle, you turn your bracketing on on the camera and then you shoot off your bracketing burst. So 12345 assuming you're doing five shot bracket one of you for five, and then you go here, wonder you provide, and then you just shoot that sequence just like that. Then there's a variety of different ways to composite them. But typically all the way I've done in the past is I make each each panorama I'm making in photo shop. So the dark exposure I've made that panorama, the middle exposure, I make that panorama, and then the bright exposure I make that panorama. Then I end up on my crop. Them all exactly the same dimensions. Okay, because that's important for the HDR software to work with. And then after those three Panorama Zehr built, then use the HDR software toe to build that final file
Ratings and Reviews
I enjoyed Mike's friendly style of presentation, and detailed explanations of his technique. I learned a great deal from this course, and would highly recommend it! I am very grateful to Creative Live for providing Photoshop Week 2016, and also grateful to the many amazingly talented and knowledgeable presenters for graciously sharing their knowledge and experience.
At first I was not sure if this class would be worthwhile; I've been using photo merge for several years. How happy I am that I watched this class. There were so many small tips that make all the difference - saving time and getting better results from the camera and the software. Thank you Mike and thank you CreativeLive.
Watching now. Thank you for providing an excellent instructor for panoramas providing easy to learn procedures for amateur and professionals alike. Really enjoying this presentation.
Student Work