The Camera Raw Filter
Matt Kloskowski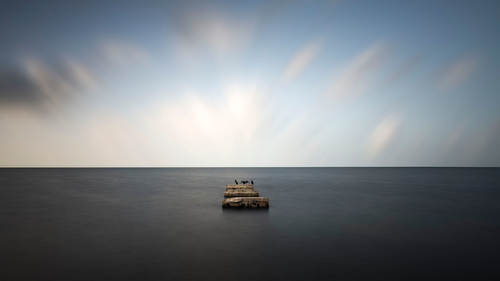 The Camera Raw Filter
Matt Kloskowski
Lesson Info
3. The Camera Raw Filter
Lesson Info
The Camera Raw Filter
This is gonna open up in Camera Raw. Camera Raw has something called transform, okay? Little transform tool over here. Lightroom also has a transform tool. Let's open up something with some lines in it. There we go. If I go into Lightroom's develop module, I have a transform panel down here. I can make things straight with this, okay? So when we do this, let's jump back over here to Camera Raw, they're the same things, when we do it, it gives us the ability to go in here and straighten one surface, and then by dragging another line, I can straighten that, and you'll see it'll go in and straighten my verticals. I could even do horizontals with it, too. So when we cancel outta here, I'm gonna open up a photo, we have something called adaptive wide angle inside of Photoshop under the filter menu. It kinda does something very similar, but it also helps us in a couple ways that Lightroom and Camera Raw don't. So you'll see here, that little tool in the top left corner, that constraint tool,...
when I click and I start dragging, 'cause it's adaptive wide angle, so it actually adapts to the photo. See as I start to drag along that surface, see how it's adapting to the curvature of it, and then straightens it, and then if I go over here, and I drag along there, it straightens that, so if you have those problems, not bad. If you don't have those problems, if you don't have the bulging type of a problem, then just stick with the transform controls that you have inside of Camera Raw or Lightroom, right? Easier, faster to get it done inside of there, so this one is one of those ones that kinda rides both sides of it, you know? It can go, you can use it and it can do the same things, but it's not one of those ones that I think you need to go into if you don't have that specific problem in there. All right, moving on to Camera Raw filter. Camera Raw we know if you shoot a Raw photo and you double click it, and you go try to open it up in Photoshop, it's gonna open up Camera Raw first, all right? We saw that before in one of my other photos. If you use Lightroom then it obviously always opens up in Lightroom's develop module. The Camera Raw filter, I have to tell you, is actually probably one of the ones that I use the most because Camera Raw is just, the Raw editing, and I don't mean the Camera Raw dialog box, I just mean the Raw editing controls, are just a happy place. It takes the place of so many different things that we can do in our photos that we really can't, it would take us so many other things to do inside of Photoshop, so let's go ahead, hold on a second, let me open up this one again. So we open up into Camera Raw. I can make my adjustments, click on open. This takes me into Photoshop, all right? At this point, I can come back up here to this Camera Raw filter, I get access to all the same tools that I had when I was in there the first time, so if you forgot to do something, something changed, look at something, whatever it is, and you're working on the file, works great. Where it really comes in handy is when you're not necessarily just working on one photo, but you're building maybe a multi-layer document. That to me is where it comes in handy. You're compositing, you're putting one image into another image, because I can go in here and I can still do almost all the same controls, so if you look at what we have here, exposure, contrast, highlights, shadows, whites, blacks, clarity, dehaze, think of how many adjustment layers I'd have to open up in Photoshop to do that to a photo, all right? Exposure's an adjustment layer, contrast is an adjustment layer. Shadows and highlights is an adjustment layer. Whites and blacks would be levels. Temperature and tint would be my color balance adjustment layer, vibrance and saturation is like, we'd be inside of Photoshop going like this. We'd be going to our adjustment panels like all right, I want to do contrast, add some contrast, and then go back over here, all right, I want to go to color balance and I want to do some temperature and tint. So I go over here and then I'd have to go in here to levels if I want to do whites and blacks. There's blacks, there's whites. If I want to do saturation and vibrance, then I'd have to open up the saturation and vibrance. You see here, look at what it's taken me to get there. All right, so that's why I love Camera Raw. Camera Raw is really just, whether I use it on a Raw photo or not, I don't care. It's the fact that all of those things are placed so nicely into one dialog box for me, sharpening, noise reduction, lens corrections, hue saturation. Again, hue saturation would be another, yet another adjustment layer that we had to do in there. So to me it's just, it's a nice filter. It's easy, it does a lot of easy things rather than diving us into 20 different adjustment layers. Okay, ah, lens correct-- So, I thought we were on liquefy. We're on lens correction. Lens correction is one of those, that's the kind of thing that's been replaced. Lightroom has lens correction, Camera Raw has lens correction, so you would be doing that step before you ever got here, and if you didn't do that step before you got here, you would just go back and do that step inside of there, 'cause the tools are newer, they're better. They're a little bit more refined than a filter that was created many years ago. Which brings us to a good topic. Question out there, I know, is Matt, why are there all these filters that are 15 years old that you're telling us not to use? They're there, Adobe left 'em there. Surely they must have a good point in there. And this is not limited to Adobe. In general, one thing to know about software, they don't like to take away features. It just doesn't sit well with people. If there is 10 million people that use, and I don't know how many people use Photoshop, but let's say there's a million people that use Photoshop, and they take away that lens correction feature, for some reason, the 0.001% of the population that uses it will uprise and revolt against Adobe about why you took it out, and the thing that's even more interesting is the rest of the population will revolt just because I might want to use that one day. Now you've taken it away from me. Now I can't use it. So if you wonder like, why do these programs grow and get 30,000 features that you know, really for most intents and purposes we're never gonna use, that's how, they just they don't take away, and it's not Adobe, it's just about every company out there. The second they take something away they just, they hear it, so a lot of these things stay. They're legacy tools. They don't necessarily have a place, but people have developed workflows around them and they feel comfortable with it, and if there's one thing I've learned over the years, it's I can sit in here and probably, we can all talk about a tool that's better today, but we still do it the way that we did it 10 years ago 'cause we know it.
Ratings and Reviews
I've always wondered what all the filters were in Photoshop. This class showed how they work, and which ones are helpful to use. I learned a lot and I recommend this class.
Student Work