FAST CLASS: Food Photography
Andrew Scrivani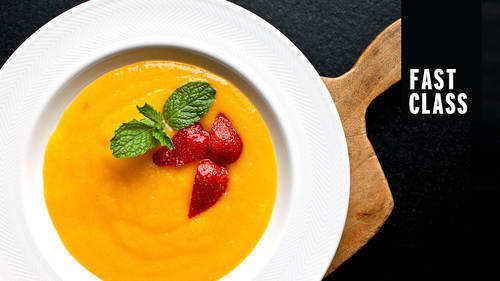 FAST CLASS: Food Photography
Andrew Scrivani
Class Description
FAST CLASS:

Try a Fast Class – now available to all CreativeLive subscribers! Fast Classes are shortened "highlight" versions of our most popular classes that let you consume 10+ hours in about 60 minutes. We've edited straight to the most popular moments, actionable techniques, and profound insights into bite-sized chunks– so you can easily find and focus on what matters most to you. (And of course, you can always go back to the full class for a deep dive into your favorite parts.)
Full-length class: Food Photography with Andrew Scrivani
SUBSCRIBE TO CREATIVELIVE and cue up this class and other FAST CLASS classes anytime.
AFTER THIS CLASS YOU'LL BE ABLE TO:
Understand the business aspects of food photography, including food styling, pricing, negotiation, marketing, and copyrights
Shoot on a budget with a point-and-shoot camera or a smartphone
Prepare for your shoot and organize your materials
Learn food styling for various types of food, from soup to pastry
Write about food and create a blog
ABOUT ANDREW'S CLASS:
The food on your plate looks absolutely scrumptious. But somehow, when you take a picture of it, the result is less than appetizing. Great food photography isn't just about taking a shot of a delicious dish, it's about carefully selecting and styling your food, appropriately using natural light or studio light, and editing your images to leave viewers hungry.
World-renowned commercial photographer, food stylist, and New York Times columnist Andrew Scrivani will teach you the essentials of preparing your food before the shoot, using the right camera and lighting gear, and performing touch-ups in post-production. He'll also give you expert advice regarding the business of food photography, so you can turn your hobby into your dream job. Special guest Shauna Ahern of the Gluten Free Girl blog and book fame will talk about food blogging, recipe writing, and growing your online audience.
This class will help you:
Select, prepare, and style your food so it looks professional and enticing.
Find and use the best gear for a food photo shoot.
Choose the right camera settings.
Create an optimal workflow and post-production process.
Deal with low indoor light by using inexpensive lighting equipment.
Whether you're a seasoned professional looking for food photography tips to expand your skillset or a novice using nothing more than a smartphone, this mouth-watering workshop will provide you with the strategies, tips, and techniques needed to captivate your viewers and reach your food photography goals.
WHO THIS CLASS IS FOR:
Anyone who wants to become a professional food photographer or a photographer who wants to add additional revenue to their business by venturing into food photography.
Those who love taking pictures of food, but aren't sure how to turn a hobby into a career or business.
Those who want to know how to choose the right food and style it appropriately for great food photography.
Bloggers who write about food but need high-quality images to go with their written content.
People who like to photograph food for their own pleasure, but want to take better, more professional-looking images.
Ratings and Reviews
I loved this fast class, the whole course was very complete but in this fast class you can easily get the idea of the business!
Student Work