Tracking Guitar
Beau Burchell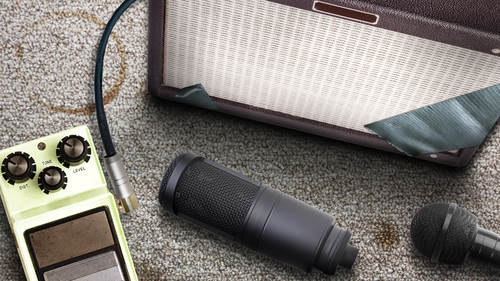 Tracking Guitar
Beau Burchell
Lesson Info
18. Tracking Guitar
Lesson Info
Tracking Guitar
Okay, so I guess we're moving on to guitars right? Okay, cool go over that scratch track okay except you're gonna play like the your real part now, right? And same thing with these I'm just going to kind of bowling ball a couple mikes up and just hope they sound decent and maybe all use even the same two mikes just for fun ana where you put him where you place the mikes like for a large diaphragm versus a fifty seven are they in the same spot on the count like sort on the edge? Um yeah I mean so for right now I'm just playing it real safe kind of trying to get, you know, getting something that is just going to be workable um and if you're doing this it out at home, I think that you need to really can I have you plug into here first and then this will go back in dear first pedal in your chain so I'm just kind of trying to getting something that like through experience I've known is kind of like a safe starting point. I'm a little bit mean and you can't really say dust cap because depend...
ing on what speaker you have, this camp is a different size so I'm normally about halfway between the center of the speaker and the outside of speaker is kind of like a safe starting point for me um if you go closer to the center, you'll get brighter outside, you'll get farther, these speakers look a little bit different like do they have like that kind of center blocking thing in the middle? Yeah, ok, so and that's another thing you have to be aware of so these particular speakers as you get closer to the center of the speaker, we're kind of like the voice, I guess the voice coil I think it gets real bright in the center and what some people have done to combat that is they have this kind of shield in front of that which kind of mellows out that that whole kind of like, beaming thing if you ever been in a concert where you're in the front row and you're standing right in front of the guitar and it's, just like all you hear is high end use like, oh my god, the worst thing ever? Well, it doesn't actually sound like that when you're standing in front of it. It sounds lott huger and thicker, but because, you know, that's just beaming out at you, then that's how it sounds so they've kind of like combated it with those, but I'll see how the sounds as it is, but that's kind of like a starting point for me um and hopefully it sounds good we'll put these as blue for base yeah you want to get gnarly with it okay gnarly tubular, huh like between nora wilde okay awesome you know you pull up the apogee mixer to yes and pulled down the mike inputs about forty percent oh probably for two my into yeah okay so getting some of that guitar um all right well let's tribe playing this and see sounds mean it's gonna get level on this what's that overall have level could go down for me we got to three d p do you want some of your guitar in your headphones actually play a little bit of that for me I just want to hear how it sounds before we jump into tracking thing and then play the super heavy part for me and I said it's just doing this all in the same room as me maybe is just a ton more work because and you guys actually have a uh at home you have a huge advantage over what I have here because as you're hearing this coming through you're hearing it before I can even hear it so if it sounds bad as you're hearing it it's because I haven't heard it yet and then you have to actually play it back because we have the big loud amp in the room you have to wait play it back then okay how does that sound okay first let me just make sure my guitar mike's there phase they are pretty good and the more you start making up guitar cabs with uh with with multiple mike's the better you'll get that just kind of like getting it the first time because it is it can be pretty tedious as you're playing playing back like him and I need to move this like you know, a centimeter or millimeter you know? And it makes a big uh fifty seven just a little bit farther out um and maybe although you said that you had to look right in the middle right because of the block yeah, I feel like that what I'm hearing in my head phones might not be indicative of the final tone but it sounds pretty bright even for my tastes or might adjust some stuff in the amperes let me try that uh right in front of the counter so this particular a position that we have now is, uh pretty specific to these speakers because it has the like those coil blockers on it. So even though it's in the center of the cone we should be getting a lot less top end so let me get some of that that same heavy roof feel better in the headphones? Um I'm about to find out yeah, the one seventy on that this latest track we did in isolation sounds great and I agree I think the fifty seven where it was previously yeah see and this is actually another something granted if you're recording your own ban it's probably you either have one of two things happening which some of you may relate with one there either really open to dialogue because they're your friends or they're also your friends and they completely don't trust you because it's like dude, I know you mad like you just want to do like this so you know, one of those, but this is another kind of, like, good lesson as far as like being able to have an open dialogue with the band and have the band tell you like what they prefer because, you know, especially as you're tracking guitar there's nothing worse than having it sound crappy and your headphones and then you just completely uninspired um, so hopefully I'll try to get this right without spending too much time on it seems that again, one seventy a lot, maybe we'll just kind of go with that for the majority. Are you feeling about the ap tone in terms of gain and whatnot? I mean, I like gain um so it's I think that's going to be up to you, you know, for this, for this particular environment that we're in, yeah, I'm gonna let that be a to you like if it's feeling like you need mortgage anymore and I don't every fish yeah, and if you feel like it's too much than dial it back so I'm going to kind of let you play producer and I'll just kind of be engineer so and then same thing like if you mess up like hey did take that you don't want take we'll see pressure yeah, all right, every got one should get one hundred eighty one he's he's been playing in this panel and I have to say I may actually take teo I don't know it's just so ridiculous to think about in the first place like you're tracking this for really, you're gonna be tracking these guitars for, like, a couple of days, you know? So here we go. Can you, when you mind bo also, I'm using this screen as a q. Would you mind just keeping it zoomed out a little bit? So you look at those markers? Yeah, say perfect. You can tell a dude that's been in the studio a couple times or a bunch, rather because they're prepared to look at the screen and use those markers to their advantage. Okay, so you want, uh, just one punch right point together. Be great. Okay, so eight clicks than urine that seems further that way. Just read it that break there with you want a break before?
Class Materials
Beau Burchell - Dos and Donts.pdf
Beau Burchell - Gear List.pdf
Beau Burchell - Guitar Reamping.pdf
Beau Burchell - Room Prep and Prepro.pdf
Beau Burchell - Song Structure LTDISMB.pdf
Beau Burchell - Syllabus.pdf
Beau Burchell - Pro Tools Video Drum - LARGE DOWNLOAD 2GB.zip
Ratings and Reviews
A lot of great info here! Awesome getting to see Beau's workflow and hear his thoughts on the methods he uses. Would love to see him do a class on micing guitars, bass and show his methods in more detail/time. He gets some of the best raw tones in the game. Feel like this was more of a great overview and would like more time for details seeing as he is a very knowledgeable dude. Thanks Beau for the great class and for sharing this info with us.
Student Work