How to Grow Your Instagram Following
Pei Ketron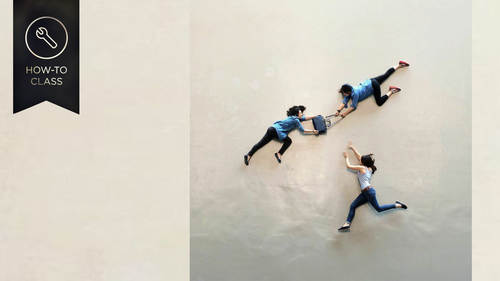 How to Grow Your Instagram Following
Pei Ketron
Lesson Info
1. How to Grow Your Instagram Following
Lesson Info
How to Grow Your Instagram Following
this segment is going to be how to grow your instagram following another first timer here on Creativelive. We are so excited. She has over 830 1000 Instagram followers. That's right. 1000 under there. You could 1000 she is a photographer. She's a travel photographer and she is a very early adopter on Instagram, and we are so excited to learn from her Pegatron. Come on up. Okay. Thank you. How are you doing? I'm good. I'm excited. I'm a little nervous, That's all right. Like a very new set up for me. But you teach you just You know, we're just teaching these way. Have 90 minutes. I know you have a lot to get through, but I want to ask you quickly. I know you are now homeless. I am. No. But you travel your traveling, your traveler, which feeds into your travel photography and your ability to bring us these amazing, amazing images. So if you're not already tell us where to follow you on Instagram and on Twitter at he catch wrong And that's p k e T r o N o k. So go check it out Right now w...
e'll get to some more followers. Not that you need any, but it's always great. All right, over to you. Great. Thank you. Okay, so let me just get my bearings a little bit. Hi, everyone. How are you? Good, good. So I'm here today to talk about how to grow your instagram following. Um, we're we're living in this really exciting day and age where, um, photography has really evolved over time. The landscape of it has has shifted in time. So the photography, what we know is photography today is so different from what previous generations new. So can you imagine taking a career photographer from 50 or 60 years ago and talking to them about what photography as a career looks like for us today? Can you imagine explaining to them that you can take ah, high resolution digital file digital photo with a device your phone that fits into the palm of your hands and then have the power to edit that on basically any way that you could possibly want right in the palm of your hand and then instantly share that out to hundreds of thousands of people without having to get the approval of a photo editor beforehand. I mean, just eliminating that barriers. Pretty incredible. We as content creators, people sharing stuff on social media There is nothing in between us and the rest of the world these days. We we have that responsibility to create content that is worthwhile worth people's time. Right? So, um, I want to talk a little bit. About where, Where Where? We are photographers today, how to use Instagram and, uh, how to really get ourselves going in the field of social media and instagram so a little bit about myself. I'm a photographer. I've been a photographer for about 13 years. I started out on film on Have evolved with Time to dio Digital photography Andi now mobile photography a lot more I still do all of it, but I like Teoh make sure that people know that I'm doing more than just mobile images. Um, I was fortunate enough to be noticed by the Instagram team pretty early on, so I was put on the suggested user list. So I did grow a following fairly quickly, pretty early on. And it's been this fantastic opportunity for me because it has helped to open a lot of doors for me professionally and personally. Andi, it's really gotten to me to be where I am today as a photographer. So everything that is going on in my photographic career right now I can probably attribute Teoh Instagram. Um, an instant was so great for so many reasons. One of the things that I love most about it is that it has turned people who never had even the slightest interest in photography into photographers. So so many people have downloaded instagram, you know, just to share photos of their friends and their food and whatnot. And then they've grown to realize that not only are they not only do they really enjoy it, but they're really good at it. I've seen so many photographers who have never taken photos prior to Instagram who really get into it, and they start to realize that they can use it as a creative tool. They can use it as a professional tool and that maybe they actually want Teoh pursue it more fully. They then, you know, go out and they buy a DSLR. They really master that they get into film, they turn it into a career. So Instagram is is creating careers for people, and it's even creating careers that didn't exist before. So there is There are people out there who are calling themselves professional instagrammers, and it sounds ridiculous, but it's actually happening. People are making a living making post on instagram, creating mobile images for that platform. So, um, I want to show you guys and sort of just to kind of start things off one of the images that I took and posted fairly recently. So this is an image that I took on my phone a couple weeks ago in at Niagara Falls. Right? It's sunrise, Niagara Falls. I took a, um, kind of like a long exposure shot of it. Um, so this is the type of imagery that I'm creating right now with my mobile phone. Um, and it's what if you take a glance at it, you don't necessarily realize that it was number one created on mobile phone and number two created intentionally to be shared solely on a social network like instagram. Um, this is where I am now, but just for fun, this is where I started, So we all start from somewhere. This is my very first Instagram Post. I've been using its ramp since the first week it came out, and I mean chocolate French toast. Who doesn't want to see and share a chocolate French toast? Right? So we all we all start from somewhere. So I want people to know that it's not like everyone just picked up Instagram and immediately was sharing this really great content. We all had had to test the waters a little bit. Get a feel for what the platform is, what it has to offer and what we how we might want to use it as photographers because obviously, we're going to use it a little bit differently. Based on what's comfortable for us, digital photography has really changed the landscape of photography, so it's really democratized photography. It's made it available to the masses, right? So in the past there were two major limiting factors that we were looking at. Photography was really expensive, you know. The gear was expensive. Film was expensive. Doing all the processing was was very, very limiting. You know, it's ah, it's so expensive that it's it's prohibitive. That's what I was looking for. Um, so the cost was high and it was also slightly inconvenient. When you think about how much gear especially like way back in the days when you had to carry, like a large format camera on a big tripod and, you know, go out and make photos in the mountains and that was just really involved, very involved process. These days, you know, we have incredibly powerful cameras right there in our mobile phones. The cost is is still high. Not everybody can afford a mobile phone, but far more people can afford that. Then, in the past, when it was like you buy these fancy cameras, you have to pay for all the film in the processing. It's just mobile photography has eliminated so many of the barriers to entry that used to exist. Um, large cameras, even DSLR these days when I go out to shoot for a day and it's I'm hiking and I'm walking around and I'm going all these places, I may not want to carry my DSLR with a bunch of lenses and have that weight on me for the whole day. Um, but I'm more than happy to have my phone with me and even on days when I don't plan to be shooting when something amazing happens when I see something great that I want a photograph having my phone, I always have my phone with me. So it's, you know, the best camera is the one that you have with you, right? So it's always there. It's always accessible and it's really done wonders for us and photography, and the fact we have instagrammed to share it is perfect. So the big question that we often ask ourselves is, um with with Instagram these days, everybody is a photographer, right? So, in an ever growing field of newly crowned photographers, how do we stand out from the crowd? Right. How do you get yourself noticed? How do you grow an audience? How do you get your name out there and really start to be successful? This reminds me of wedding photography. Maybe 5 10 years ago. Everybody, everybody with a DSLR suddenly was a wedding photographer, right? Was either self proclaimed here I'm a wedding photographer. Let me shoot your photos, your wedding now that I have a fancy camera or people would see that you had a fancy camera and automatically assumed that you were a professional and you could then take wedding photos and provide them with the Khan, the type of types of images that they really wanted. So So I am here today to sort of provide you with some tools that you can use some strategies that you can put into place. Um, that will help you stand out from the crowd. That will help you decide how best to approach Instagram in a way that will work for you. Um, there's no perfect way. There's no perfect solution. There's no one way that will work for everyone. So the things that I'm gonna show you take what you will from them, find what's good for you and then move forward. Forward with those. Okay, I want to talk first about instagram best practices. So obviously, first and foremost, you have to be sharing quality content. If you aren't posting photos that other people want to see, they're not gonna follow you if if I go to your feet and look to see whether or not you would be a valuable addition to the people who I follow if I'm not seeing stuff there that inspires me or that I find intriguing or interesting. You know, I'm not likely to follow you. Right. Um, I'm gonna go deep into quality content a little bit later. But what I want to say now about this is that it's really beneficial for you to reflect to look back on your own feed and decide what direction you want to take it in. What kind of content do you want to put out there and then think about it in terms of, um, if you looked at your own feed, would you want to follow you, right? I mean, that that has a lot that says a lot. You know, some people just they're throwing up content and they don't really think about it. You know? They're doing it without really sitting down editing and good light. You know, it's just here. This is what I'm doing. I'm not gonna straighten it. I'm going to do anything. Um, if that's not the type of photography that you aspire to do, don't put it out there for others to see, right? Um, post regularly. This is a huge thing. It doesn't have to be. It's not really a matter of frequency that you have to be doing it frequently all the time. Um, but you have to pick a schedule that works for you and kind of stick to it, right? It doesn't have to be the same time every day or every week or whatever. But if I go to your feet and I see that you haven't posted in weeks, why would I follow you? Right? You're not adding anything. You're not adding value to my experience on Instagram. And that's really what we're all looking for in terms of who we follow. Are you adding, are you adding value in my life in any way? Right. If you're not posting content, you're not really adding value. So I want to see good content and I want to see good content regularly. Um, the there is something to be said for posting more frequently on instagram. Right? The more you post, the more content you're putting into the world, the more people will see your images, and the more likely people will be to follow you. So I'm not saying go out there and just start spamming instagram with all these posts. But but think about it. You know you wanna have in order to establish your presence on Instagram. You have to be creating content. You have to be putting stuff out there. Don't let it go weeks without don't let don't go weeks without posting. Um, think about what you would like to see from your friends or the people who you follow. Um, do you want to see 10 photos in a row from their day at the beach? No. Probably not. Right. Um, be really thoughtful about how you edit your photos in terms of I took these 10 great photos of my kids at the beach today. I probably don't need to share 10 photos of my kids of the beach today by and find the best one or two and share those. Um, I highly recommend spacing out time between posts. So it's not just, um, you know, your followers don't go to their feeds and just see that it's a whole stream of your stuff. So I know a lot of people turned to look at 3 to 4 hour intervals as a fairly good interval for posting if you're wanting to post several images in a day. But, um, once a day is a great interval. You know once every other day is great. Um, but if you do want to post more than one or 200 more than one a day, I'd recommend a to 4 hour interval in between posts. When I first started Instagram I was posting probably an average of four times a day on dis was back in the day when it was food photos like selfie, mirror reflection shots Just kind of more fun, casual things. I interpreted it when I first got it as sort of an alternative to twitpic. So it's basically like, what? What? I put on Twitter just for fun. Like, let me just throw these photos out to my friends and let them see them. Um, that posting frequency is really difficult to maintain, especially as you as your standards increase right, the higher your standards are, the less likely you're gonna find that many good photos toe to meet them. So you're gonna be posting a lot less frequently. Um, but be thoughtful about your posting frequency and regularity. Learn to maximize Instagram's features. Instagram is a network that is giving you tools for discovery and for sharing so automatically you have all these things built into instagram that will enable you to discover new images and to sort of spread the word about your own images. So I highly recommend Geo tagging your images. That's a way for you know, when you guys were looking at Instagram, everybody knows what the geo tags on instagram look like. Right, OK, so is a people might not talk about. OK, so is it okay if I tether now and kind of show what that looks like? We will find out. Let's do it. Yep. Okay. So I'm gonna get my phone connected here. So let's open up. Instagram. And so the first image that shows up in my feed is from somebody I follow and automatically at the top. You see the user name and then directly below it is the name of is the geo tag of a less glacier? I'm not sure where that is, but I'm curious. You know, I open up my feet. I say, that's a fantastic looking location. I wonder how it looks when somebody else takes a photo of it or I wonder what the other parts of it look like. So then I just click into the glacier Geo tag and it shows me all these other images. Somebody had a a nice sandwich on the glacier, right? So automatically I'm going into this and finding all these like well, like this photo is fantastic. So why don't I double tap that and say, I like that, you know, that's that's a really great image, so automatically await. Now I have this new photographer whose work I might be interested in so I can click into their profile and look around to see if see if I like it. I don't know, Um, but see how that works as faras discovery, your sharing these images, your geo tagging it. So people who go to your feed can then click in and look at other stuff that's been geo tagged the same place, but all alternatively in the other direction. If you have geo tagged like, say, I went to that glacier yesterday and I posted a photo, somebody looking at this photo today clicking into that geo tagged photo will then discover my photo right? So that's a fantastic, really basic, easy way to just get your photos out there and seen by more people and It doesn't have to be something obscure like a glacier in the middle of wherever. It could just be, You know, the cafe down the street, You know, you're at the Space Needle. Something like that. Just something really simple basic. Every everybody has access to geo tags and the lake down the road. You know, this street that I'm on, even something does. Generic. Is Seattle, right? That will all get you traffic. Okay, So the other thing, the next one I wanted to talk about is, um, how shagging. And it's funny because, um when I when I first started talking Teoh the creative life folks about coming, they said a couple people told me, Well, we really want you to talk about hash tagging. So I guess how shagging is something that can be controversial. It can be confusing. So Hashtags are, um you know, when you post a piece of content on Twitter instagram even on Facebook these days, you can use the hash tag like the pound sign and then attach a word or phrase or whatever to it. So it could be you know, the hash tag for this week at Creativelive is photo week life, right? So if I post a photo and I have shag it creative life Sorry. Photo week live. Anybody who clicks on it can see all the other photos Kind of like the way the geo tagging worked. They can see all the other photos that have been hashtagged about a week life. So that's actually fantastic for us coming in. You know, I don't know a lot of the other people who are here, but I'm curious, right? What are people taking photos of at photo week and what are they sharing? So I posted a video yesterday that was behind the scenes hyper laps of the studio and I hashtagged it photo week live. So now you know, later today, I'll probably go back and click into the hashtag and see what other people are sharing. And I might might recognize you from your profile photo and say, Oh, you took a really cool photo this morning getting ready from creative creativelive or whatever. So that's another fantastic way to find people to find content. Um, the problem that I see often with hash tagging is that it is completely abused. People think of it as a way. They realize that it's a way for their content to be discovered, but they don't know the best way to go about using it. They kind of think, Well, if I just slap on maybe 50 hashtags that's gonna give, like, increase my chances of my photo getting seen and it'll be great in reality. People looking at your photo. I think that your poster kind of annoying because there are so many Hashtags and bearing it in the second or even third comment doesn't really help. So on Instagram, when you post a photo, you have your initial caption and any subsequent comments just pile and below that and when they reach a certain number, they kind of condensed so that you have to click in to expand and see all the comments. So the strategy that a lot of people employed is to put the hashtags in the second comment so that once enough people comment on them. It kind of gets smashed up in there so you don't not really visible to people looking at it. But it's available in the searches for the hashtags, and that, in and of itself is not a bad strategy that is actually a great strategy. So if you already use Hashtags, you know you can bury them in the second comment, or you can keep them in your initial caption. What I would highly recommend is that you don't go beyond, say, five at the most. If you really love Hashtags, maybe five is okay, but really think about think about why you're hash tagging an image and think about whether or not there's actually any real value being added by that hash tag. So, for instance, um, if you were to take a photo of your bike on your morning on your morning commute and you have shag it bike. So when people click into the hash tag bike, they're going to see all the other photos hashtag bike. But that is such a generic word. I mean, it's it's It's a pretty basic word that's nothing very specific about your circumstances or location or anything like that. So if you look at the hashtag bike, you'll see that so many photos are being added to it that your photo just instantly disappears, right? So even if if you were to take a photo hash, I get bike. And then I took a photo five minutes later, hashtag it bike clicked into it. And, you know, maybe I'll discover, you know, photos, other people's bike photos. I'm probably not going to see yours because so many other photos have been hashtag bike in the interim that it's shoved way down, out of the way. So when you think about it in those terms, that hash tag bike is adding zero value. Nobody's gonna discover your photo If you use the hash tag where your stuff is getting shoved so far down that no one's gonna see it, you know, immediately getting just tempted right now. Yeah, Question on them from Michael, which is Do should you search a hash tag before you use it? That that isn't That is a great question, actually, and that I can answer on a couple different levels. So, um, I would highly recommend that you search a hash tag before you use it. I know that. I can't think I wish I could think of a good example, but I know that there have been hashtags that have sort of taking a different direction from what was maybe originally intended. So um, just making sure that the content in there is sort of appropriate of for younger audiences and what not just a money levels. Right? So yesterday we were talking about what has tried to use for photo week and what we initially thought of just vote a week on. We were thinking that that would have, you know, photos from this this event over the years. But we clicked into it and they were like, 5000 photos Hashtags photo week because, you know, somebody going in their vacation to take photos for a week is gonna have to get phone a week and has nothing to do with us here. So then we went to Photo Week Live, and that had far fewer photos, and they were mostly related to this actual event. So hashtags are great for creating, um, Siris of images. So, um, I have a Siri's that I do with my niece, which is basically every time I go visit in North Carolina, I don't get your very often I take a selfie with her in the mirror. It's a bathroom mirror. Selfie. So it's not super high quality content here, but it's meaningful and it's personal eso I have that. I gave that a special hash tag, and that hash tag is paid. Plus, Ruby Ruby is my niece's name, So if you click into it, if you search for it, it shows you these images that have taken over the years with my niece. And it's just the hash tag is a perfect way to compile it, right, because without that hashtag, I'd have no way of pulling those 14 images together in one place so they can be incredibly valuable for creating your own Siri's documenting group events like this Photo Week experience. Or, for instance, I was just in Los Angeles a few days ago, and I was just hanging out with some friends who were in from all different parts of the world, and we had hash tag for that trip. So everybody who was posting photos from that trip we were all using the same hash tag, and in the end, we can kind of see like, Oh, these are all the photos that are friends took Thursday or during this week, Um, but then also for something like a wedding, right? It's perfect for something like that. So there is a good way to use Hashtags. Just use them very thoughtfully. Think about whether or not they add real value. Andi, just don't go overboard, think about the most important ones and move forward with those, um, people tagging on hash on people. Talking on Instagram is a feature where if I post an image, I can say my friend Joe and my friend Sara are in this photo and you can actually see that display the name displayed, and you can click into their accounts based on that. So, um, people are using those people tags in multiple ways. It's fantastic. Way yes, for if I take a Photo Jones era, there's Jones Sarah. They can link to their accounts and whatnot. Thea other thing that it's being used for is people are often tagging brands, thes days, brands and companies. And depending on the size of the company or the brand, there is a chance that your photo will be noticed by that company or brand. I know a lot of photographers are doing that as as a way to get noticed, you know? Hey, you know, I like your like your products. I'm clearly doing really cool stuff with it. You know, maybe a real, like people are re graham ing these days. Seems to be a newly developing trend. I'm not really sure where it's going to go, but even getting a response or a follow or mentioned by that brand is is powerful. That helps people discover you and also helps to go. You're following. Um, at mentions are another way, Teoh link to specific people on instagram. So the at mentions differ from the people tags in that they are actually in the caption versus on the actual photograph. But they act in largely the same ways, except they're not searchable. The way that the people tags are engaging with your audience on instagram is extremely critical. I would say posting quality content and engaging with your audience if you are not going to go. If you're gonna take away only two things from this experience this morning, take those two things way, post quality content and engage with your audience. It's so important to be responsive to the people who are following you, right? It works for very few people. But you have seen it where this there's this miss mysterious person who doesn't really captured much doesn't really say much of anything. They still do have a following because there's this element of mystery about, Um um, that's cool if you could make it work. But for the most part, most of us, you know, when I think about it, if I follow somebody, I want to know who they are. I want to know something about them. I want to hear the stories they have to tell. I want to read about how you know, they took that photo and they slipped in the mud and they were soaked by the end of it, right, Like I want to know those things. So when you're posting your photos, don't just post the photo with a one word caption or title and leave it at that. That can be pretty impersonal, you know, like I was saying earlier, when I go to your feet, if I look and decide if I want to follow you, I'm not likely to follow you. If you have no personality, right? If it seems like you have no personality, why would I want to follow you? Right? Shares, stories talk about stuff that's going on in your life. Be careful that it doesn't become like your personal journal or diary. We don't need to know all the intricacies of everything going on in your life. Just just be personable, be relatable. And also don't be afraid to ask your audience questions your followers questions. You know, in your caption, you can post a question and get people to feel like they can respond to you. If people ask you a question, it be really awesome. If you could answer them right, and, um, sometimes it might take some time, but I try to for the most part, if I see a comment, I tried to respond to it. Um, it's and it's a great way to just be engaging with your audience. They know that they need to be reminded that there's a person behind the photographs, right? I think sometimes, especially with teenagers of the teenagers these days, looking at Instagram, they don't realize that there's an actual person behind the images behind the feed. So it's a nice reminder that you're an actual person. Yeah, I think this is something that the reengaging after you've posted something that I know, I personally didn't do right away. I don't know about you guys, too, but how often are you going back and checking those images to see if there are more comments or what's kind of your flow with that? Because it is so important. Yeah, it is incredibly important. And the answer to that is highly dependent on what else I have going on in my day. Okay, so sometimes I'm just home for the weekend. I'm lounging around. I might be doing some work. My phone's right there. I like to get distracted from my work so I might look more often. Other times I'm doing a 10 hour drive and can't look at my phone, so I do it as often as I can on day. Try not to be too obsessive about it. It can go too far. So just make sure you're engaging and looking at Instagram and doing it to a healthy level. Stay relevant. This is really, really important. Keep up with the new trends that are happening there, New hashtags going on new places that people seem to be exploring. Just make sure that, uh, you're following along with what the rest of the world is doing, and also this could be interpreted in a different way. And I wanted to mention this as well. Um, it's it's a tricky thing to decide upon. But sharing out your instagram content to other networks, I think is convey a good and a bad thing. In my opinion, Um, I know I know why people do it and I know that it's sort of increases the eyes, the number of eyes that will see your content. But I also think about it in terms of, you know, if I'm following you on Instagram, if I know you were chance of chances are we're friends on Facebook, I'm also following you on Twitter, Probably even Tumbler. I mean all these other networks. So if you're sending your instagram photo to all these other networks, I'm seeing it four times. And then I'm just really annoyed by you, right? So that that's what it comes down to. What end of the day are you giving people a reason to follow you on Instagram? If I can see your stuff on Facebook, why would I follow you on instagram? Right. So just be maybe more thoughtful. Maybe send it out toe. One other network. If you feel like you really need to do that and people do, you know, in the early days of building your audience, you might need to sort of pull from your Facebook friends, right? You need to pull from your Twitter audience, do what you feel like you need to do, but also don't make yourself redundant. Yeah, another question. How do you How do you stay relevant in terms of what Hashtags Other people are using you personally waiting to go to find out what the relevant has checks are. I look at other photos that are being posted in the community. It's so it's so important to, you know, if you're on Instagram er and you want to build, if your photography wanna build your instagram audience, it's not just a place for you to talk at people or throw people images without then also consuming images. Right? Some. So I'm really glad you asked that as a photographer, um, it's easy if you're established to just fall into the pattern of posting great images on Instagram and then walking away from it. So if you really want to be a build, your audience and you're really committed to it. Spend time in the app not just posting your own photos but looking at other people's photos. Looking at what other people are doing. Siebel, who other people are hanging out with you, kind of get a feel for like who people's friends are and kind of what's what's going on in town in, like the local area or in New York a river. And you'll start to see trends kind of evolving if you're following There are you know, there are a lot of social media influencers who are really popular on Instagram, so that's a great way to do it as well. You know, people who are very well established, you have big followings. That's a great way to sort of start just to see what from some of the trends are, um, and go from there. So this is very closely related to what we were just talking about. Seek new inspiration, constantly seek new inspiration, recognize that your inspiration might change over time and that other people's inspiration might change over time. I follow people on Instagram for a variety of reasons, but first and foremost is whether or not. I feel inspired by the stuff that they're creating, but their inspiration might change. Their images might change, and then suddenly, I might not be as inspired by there. So it's can be a very touchy subject, the idea of on following somebody. But think about yourself. Think about what is make what makes sense for you. If you're looking at your feet and you're not really inspired, you don't really like what you're seeing. Change things up a bit. Sometimes we just need a fresh set of people to follow who are posting stuff from different places around the world. You know, like my feet used to be very San Francisco centric, because that's where I lived and that's where all my friends were. But now I'm like, you know, there's tons of great photographers in New York, in Europe and China, you know, I want to see different things like, Hey, there's somebody posting in North Korea. I don't really get to see that world very often. I'm really inspired by this that they're doing there. I'm gonna follow them instead, you know, maybe, like I'm seeing some of the same stuff over and over again in New York in San Francisco. So maybe I can kind of swap some of those people out for some new people. Totally. Not on a personal level level. It's just What am I inspired by question? Yeah. Is there a number or a limit off people you follow, like deliberately, like just not to have too much stuff within your feet. On what way will it average? Yeah, so that that number depends on the person. That's a very personal limit, and it varies. Convey area, great deal for people. And it can vary depending on sort of what purpose they're using Instagram four or what they hope to get out of it. So I know that initially I try to limit myself to following only 200 people because the reason I chose that was because that was the number of people I felt like I could keep up with, because I was that for a long time I looked at every piece of content that was coming in. I was on top of my feet all the time. There was, like never a photo that I didn't see, which is kind of exhausting eso There was a limit I could do about 200 people. I could follow about 200 people and feel good about it. Um, once it got beyond that, I felt like I couldn't keep up. I didn't know it was going on people's lives. I would see them and they say, Oh, yeah, You know, I went to Mexico last week and I'd be like, I didn't even see any photos of Mexico because there were so many other photos going through my feet. Um, I've lifted I since lifted that limit because now what? I'm what's most important for me with Instagram is making personal connections. So because I travel a lot, I meet a ton of people and I meet a ton of really interesting, wonderful people who I would love to be friends with. When I you know, if I lived in their town, we would be friends. We would hang out all the time and I want to follow them, right. But 200 is not nearly enough. Teoh encompass all of those people, so I have increased that limit. But it also means that I have accepted the fact that I will no longer be able to keep up with what's happening on my feed, and, um, I come in and out of it when I can. And then, um, I'll try to go into specific people if I'm really, like, really want to catch up about on a specific person or something like that. But it varies per person. Um, the last thing under best practices that I want to talk about is cultivating your social media voice. So this is something it's actually actually is going to turn into the next section. But it's really important for you to to find a way to relate to your audience in a way that makes them really want Teoh follow you to make it feel like your actual worthwhile person to keep up with. So before we talk about that in depth, do we have any questions that we want toe address or short? And let me know if you guys have questions in here? Sure, grab a mic. I will start with an Internet question while you're doing that. Victoria. So a question. I know where, and we're gonna talk about APS coming up so we can hold on those questions. Question from K make and this one had six boats. Remember, when you can vote on these questions? Should I have to separate accounts one for personal use and one for networking business purposes? It sounds like a lot to manage. That is, that is a fantastic question. And I know people who do a little bit of both on there is. You know, once you're on instagram for a while and you build an audience and you get known for something or people start, you feel like people start to expect a certain type of photo from you. It could be taken fuel rather restrictive. You might feel like you can't post personal stuff anymore. So if you feel that way, um, yeah, you can create a second account as just your own personal account. For me, it's a lot advantage for me. You know, I always say to people, I'm lazy and I do not want to have to log out of Instagram and log back into instagram toe, put post a different photo, and I'll probably get really confused and post the wrong photo the wrong account anyway. So best not to do that to begin with, but but I feel like this The social media voice that I've created for myself is one that allows for me to still be personable, personal share personal things like photos of myself in the bathroom mirror with my niece, but also these great landscapes and these awesome buildings that I'm seeing. So I feel like if you don't want to do the to account thing, it's perfectly fine and possible and great even to be able to put it all into one account. So that's just a personal preference. Instagram doesn't make it easy right now, because at the moment they don't have ah, wayto really easily log in to do to do like the multiple accounts switching, and you just have to log out completely and log back in. So it's your choice. You had a question and you might go over this so you can tell me, you know, hold my question. But as social media platforms, you know we have the Facebook and all these things for me. Having teenage kids like my kids were super into Instagram. They're like, you know, you have to have this with your business, the data and you know I have this account and it's hard to find followers. But I see, like all my kids friends, I mean, they have thousands and thousands of followers, and I like struggling to get, like, 200. So I guess what I'm My question is like, What is most important? Asked photographers as a as a platform, Because I have, let's say, a huge following on Facebook or a big you know, Twitter. What actually is going to benefit us at the end of the day? As photographers like, where should we put our energies? You know, is it Facebook is an instagram. Can you be taken seriously on Instagram when you know my kids are getting 3000 likes for their bathroom selfie and my stellar portrait has, like, four. Okay, what were the value in it? Yeah, that's a very good question. I'm not I'm not sure if there is a definitive answer for it, though. So the networks that we choose to put our images out onto really depends on sort of where we hope to sort of shift our photographer, focus our photography. Right. So, um, do you think it depends on what kind of photographer you are, right? I travel a lot. I do a lot of mobile stuff. I want more mobile jobs, So I'm gonna focus on instagram. Um, if you feel like you know, if you're a portrait photographer and you want Teoh gain clients in your in your area, I don't know, posting on your blawg and just getting the word out about your blog's through Twitter and through other networks, that might be a good way. It really depends on you and in your needs, So I'm not really sure if there's a specific answer. But what's important to know is that as a photographer, if somebody is searching for you as a photographer, it is imperative to have a presence on different networks. If if they're searching for a photographer and the photographer is not on instagram or doesn't really use it or doesn't really terrible job at it, why would they hire you? Yes, last question. Okay, um, my question is regarding going through, bringing in photos from like, you know, you're DSLR importing him in, like how do you find, like, using that feature and like, what's your kind of work flow, like moving through that one? Because I know that a fantastic question and I have a whole section devoted to that. So I will go into that and a little bit. Yeah, Perfect. Okay, so let's talk a little bit about your social media voice, and I'll quickly touched upon this and then go into sort of workflow. DSLR vis is mobile and whatnot. So what's important to remember when creating, cultivating and developing your social media voice is that it's very important to be authentic, relatable and helpful. Authenticity is the key. It's one of those you know. A lot of people feel like they have to be someone there, not on social media. It kind of I mean, it's a It's a platform that allows for you to do that. You can be somebody. You're not online. Um, but if you're not being yourself, that can be difficult to sustain over time, right? Having I've been on Instagram now since it started, and now it's almost four years old. I can't maintain the spake persona for that many years. I mean, it's it's so hard. Just be who you are. Um, be relatable. Be somebody you would want to follow and on be helpful. I think that that comes along with answering questions that people have questions you don't want to. You know, I you know, I can see it as an instagram user when I go to other people's feeds, and I see that questions are being asked and they're totally ignored. To me, that leaves a sour taste in my mouth when I think about that photographer, these people, your your this authority figure now, because you have a lot of followers, these people are asking you questions and you're not answering them like that doesn't reflect well upon you. So, um, one developing your voice Keep that in mind, try to balance professional and personal. I think that, you know, the what's often said is that the content brings people in, right. My photos are gonna be bring people to my feet. But what keeps them interested and keeps them there is whether or not they feel like they're interested in me as a person as well, right? There could be fantastic photographers who just don't have a really they don't relate to their followers. They don't answer questions they come across is, you know, just not very friendly. Um and I'm not really gonna want to follow them, and I feel like other people wouldn't really want to follow them or stay following them either. So to me, it's really important to have both sides of it, right. Bring them into your photos, but then keep them there with your personality. Engage your audience. Um, I know that I mentioned this in the last section as well, but because it's so important, I wanted to say it again. You know, share stories, answer questions, ask questions. But also, um, once you start to gain a following, people start to look to you a sort of an authority in the in the field. Um, and you should absolutely express your opinions on certain things. But just be mindful that there is a fine line between expressing your opinions and sort of ostracised ing others with having too strong of an opinion. And I've seen that happen on social media. These people, um, aren't very careful about what they're putting out there and and make people upset. And in the long run, that's gonna cause problems. I think for them as photographers will be careful about that. Um, take notice of and recognize your peers. So this is really a big portion of really being able to engage with the community like you want to be a part of it. You want to know? You want people to know that you're paying attention to what's going on, right? What I say and look on this light is that it's not all about you, right? It's like what I was saying. Don't don't just put your images out there thinking that people are gonna care and not give anything back. Right? Um, when you're out there, you're looking at other photographers for inspiration for, you know, to see the trends to see what's going on in the world. Yes, you might think that you're a fantastic photographer, and you probably are. But there are also other amazing photographers out there who are doing really, really cool things and recognize that. Take note of that, share that out, tweet about that, or say hey on an instrument photo. Hey, did you see my friend Stone? So is doing this really cool project on whatever just kind of It's kind of like karma, right? Like but good out, put good out into the world and hope that good comes back to you. right. So two people I follow who seemed to have social media voices that I really like our Jeremy Cowart and Colby Brown. So if you want examples of some people who are they've made it, they've made it in the photography where the world, they're doing some really great things, but they also seem grounded. They share personal information, they share stories, they engage with their audience. Um, and they were just really sort of leaders in the in the community these days. So have a look at their stuff. So this is the most important piece hosting quality content. You want your feed to be a feed that people want to go to that they're excited to look at and that they're even may be surprised by every time you don't want them to kind of get used to saying the same photos from you over and over again. Surprise them, Change things up a bit. Sometimes. The first question that I have here under the section is does the camera matter? So I'm glad you asked that earlier. Um, historically, in the instagram world, there have been two camps of people the mobile only photographers and the photo of photographers who are happy to import photos and from their DSL ours. I think early on there was, you know, because everybody was on a mobile phone earlier and it was IPhone Onley in the beginning. So everybody started on level. Playing ground like that was the beauty of it that we all were given the same tools to create. And we could kind of separate ourselves from the crowd by pushing the limits of those creative tools, right, pushing the limits of the IPhone and creating these really great images. That being said early instagram was also IPhone three g or whatever. I mean, the quality of the photos was just not up to par with what you could get out of a DSLR. You know, I get it. I know, Um, so people then started posting photos, importing photos into instagram that were taken with their DSLR. Um, I think that a lot of people initially I know that when I first started seeing that happen, if I If I was following a photographer that started posting DSLR photos, I would immediately unfollowed them. It was just this very stubborn thing that I had and I know that's not That's not how I feel now. But in the in the early days, it was, you know, there was something sacred about the fact that it was IPhone, Onley or mobile only, and that we were all creating with the same tools. I feel like the introduction of, you know, the ability to import DSLR images in kind of it was a game changer. But as with anything, Instagram evolves, it has evolved into this totally different tool. I mean, when I started Instagram when incident was created, no one could have imagined just scale. So what it would grow to No one would imagine that no one could have ever imagined that people would get hired to post photos on Instagram, that people would quit their jobs to do this for a living, right? It's so different these days. So I personally am mobile only IPhone only for the most part on Instagram. I've experimented with some of the Nokia cameras, but the camera that I have that I carry with me is my IPhone, Um so the for me it's important, Teoh, I'm still I'm trying to be a purist about it and keep my images mobile only. But I see a lot of people, a lot of my peers, especially those who have gone on to do this for a living, switch it up and they're now either DSLR only or significantly DSLR. And and I understand. I think that, um, what is important to us these days is really being able to post our best images where our audiences. So I completely understand those photographers who are creating these great images with the idea Solares, who want to share them on Instagram because they have 500,000 followers on INSTAGRAM and they have on Tumblr. That's that's about where I am. I don't have very many tumbler followers, but I still just put my stuff there because I'm very stubborn about it. And so it's a personal choice. I don't think there's anything wrong with it. I think that sometimes it makes it to me. It makes it harder to relate to sometimes because I'm coming in as a za mobile only photographer, so that's typically what I want to see. But I also want to see really great images, so if you're giving me really great images and you took them with your DSLR. That's fine. That's cool. Do it. Um, what I do want to go into those? Oh, is how you can really expand the capture capabilities of your mobile phone, right? And because because I shoot IPhone Onley thes days and what's? It's easier for me to talk about IPhone things in terms of IPhones, but I know that a lot of these products and accessories will work on other phones, and I also know that there are equivalent APS on other platforms that I may not know the names of. So so keep that in mind when I talk about these things that I'm coming it at it from a knife own background. But it's not IPhone only, but now some of the cameras have WiFi capability, and so so you can actually adds another layer of the ability. Teoh. Send a DSLR image your phone and still have the ability to do right from your phone. Yeah, that's actually a great point. I've worked with a lot of photographers. I do a lot of trouble photography gigs, and I've gone on trips with people who have who are who are DSLR only on Instagram so they're taking photos with their DSLR is like I'm running around all day with my DSLR and my phone trying to get photos on both. And they were just, you know, I'm DSLR only when it focused on the DSLR. They get fantastic images, and they send them from their DSLR to their phone right away. Get them edited. Post them before I can even look at mine. I mean, it's it's It's amazing how quickly some people can work. And, um, I think it was hard before the idea of taking a DSLR photo off your phone or off your camera. Putting it on your computer, putting it onto your phone and then uploading its instagram was such a pain. It's such a hassle, But these days it's not really even a factor. So if you have that WiFi capability, you can just send it right in its pretty seamless. So because I use a mobile phone for all of my instagram images, and I want to keep things varied and I want to push myself and I want to push the limits of the technology, I'm using a lot of accessories. Um, some of the things that I use are listed there. So I do use some add on lenses. I'd like to get, like, a nice wide angle shot sometimes. And so I want to use. And one of those I'm currently using theon tricks. Um, it's ah, it's actually like an underwater housing, but it has detachable lenses, and the quality of the lenses are are the best that I have used. But I know that there are others in the market that are coming out. I know moment lenses seem to be pretty good. They're getting a very good reputation already. Um, so there are different brands to look at, um, tripods. Oh, I wanted Teoh. It's in the back, but I can show you is later if you're interested. And I have a little girl, a little gorilla pod from Jobe that's literally this tall. It's about the size of a chopstick fits in my pocket, and it's the legs spread out in little three legged tripod with a little expanding grip that can hold my phone so I can literally carry a tripod for my phone of me wherever I go. So those a really cool products that you can that you can use. I put in selfie sticks just for fun because I've seen a lot of those recently where people are, um, you know, it's just a way to attach your phone onto a mono pod basically, so you can use them for selfies. But you can also use them for, um, you can also use them for just taking a photo from a higher vantage point. You could even buy flashes for your phone. I have yet to do that. I haven't really done any flash photography with my phone. I do not really use the flash on onboard. I mean, is photographers. You kind of know that onboard flashes questionable, sometimes underwater cases. And the new trend is drones. I haven't done it yet. Have any of you guys done drones? Yeah, what's important here, though, And if you guys air writing stuff down here or at home, this is a list of some really cool APS that I'm using that I know a lot of my peers were using to really enable enable us to capture things that we can't just capture with the native IPhone camera. So for the most part, I'm just going out there and I'm, you know, swiping up from the bottom and capturing a photo using the native camera up. But in certain instances, I want to do a slow shutter shot. Slow shutter up is critical for that. I've discovered this new app recently. I mean, in the last year or so called cortex camera. And I cannot emphasize this one enough. It is fantastic. Cortex camera It is. I'm not. I'm not working for them in no way affiliated with them. But I love their products so much. It is basically an app that enables you to capture photos in low light. And it eliminates noise and kind of sharpens image. I mean, there have been many days where I've gone out and taken photos and gotten far better photos on my IPhone with cortex camera. Then I have with my DSLR somewhat discouraging, uncertain levels. But what it means is that it's really fantastic for IPhone image capture and for sharing stuff on instagram. Um, Visco Cam, you can capture Invesco Cam, and you can separate out focus points. You can lock your focus and lock your exposure separately. Doing average night camera. Average cam sandwiches averages exposures. So that you get a long exposure type. Look to your image, Um, and then hyper laps. Obviously, I'm sure you guys have heard about it. Hyper lapses. The New App that was released by Instagram. It's the first time they've released an app outside of their own, their own out, but basically in an hour and enables you to capture video and then speed it up. So it looks like, you know, a lot of little ants like running around. It's just like everything's at hyper speed. It's really cool. It's really fun. And it has this really awesome image stabilization. So it's almost like you're on one of these awesome city cams and you're just walking with your IPhone. This is pretty cool. Um, doing a time lapse traditional, more traditional time lapse, using an app like laps, it works. And then you can also capture, um, video within a video. Okay, so I want to talk about the power of a good edit. So we have so many tools at our disposal with an IPhone or mobile camera or, you know, even with the DSLR and light room Photoshopped aperture, whatever you're using, um, we have the power So we have to figure out how to use that power most appropriately. How do we want to edit our images so that they can withstand the test of time? That's a big thing, I feel like, especially with instagram and with filters and Visco and all these things. You can make your image look and look a certain way. But if you look at it again two years from now, is it gonna look is awesome. So I pulled some awesome photos of mine from the past. Here's a sunset or sunrise or whatever. A photo that I took maybe three years ago. And I posted it to Instagram and I put the toaster filter on it. It was back in the day when we had to have a border on the images and the toaster filter kind of adds like a little like scratchy. His mishmash are what you call it. Criss cross across image. I look at this now and it looks dated, right? It doesn't. This image is not gonna with stand the test of time. This is another image For maybe two years ago, I also put an instagram filter on it. I think the Loma filter. Um, I didn't need to put the border on, so I wised up at that point and took the borders off. Um, but the filter is so heavy. This was before Instagram enabled us to sort of lower the intensity of the filters that we were putting on. So you know that that that vignette that vignette is gonna kill this image, right? This is not gonna listing the test of time either. On gun, I have this sunset image that I took a month ago or a couple weeks ago. Um, and it's it's one that, you know, I took cortex. I took it with cortex camera. So the people are sharp. There's not a lot of noise in this guy. I edited it, but I edited it very minimally, right. I think for me and I know everyone's different. Everyone has a style, And how you add it is a big part of your style. But for me, thinking about images that are gonna with stand the test of time, I always come back to images that are very minimally are altered. Obviously you want enhance images, you want to make them look better. You want to take advantages of the tools that you have, but also, um, raining in a bit. So this is, you know, I teach a lot of photography classes. I teach how to edit. I teach how to how to shoot, you know, the basics of photography. Everything and what I always tell my students is edited the way that you want it to look. Walk away from it, come back and look at it. Compare it to the original. See the changes that you've made. If you do that direct comparison between original and your edit, you'll see just how far you've taken it. And then because you've been able to walk away for a bit, it allows you to see it with fresh eyes. And nine times out of 10 I tone down my edit. I realized that I've taken it too far, So that's why I never I try not to post on the go. So like, if I'm out shooting and I go somewhere and I sit down or like I'm in the car like that, it and I post right away almost all the time. I'm disappointed with what I what? I've ended up posting because I have just rushed it. I really thought about it. I haven't done that like walk away and look at it even even if it's like five minutes later, That helps. Um so you know, for me, my process is usually look at the end of the day or like first thing in the morning. I kind of look at what I did the day before, edit an image, take my time with it and just kind of keep things pretty toned down as faras alterations. Um, we've been fortunate enough these days to have been given these fantastic new tools by instagram. So Instagram in the beginning was literally just filters You put him on or not. And now they recently fairly recently introduced this whole set of editing tools. So we wanted for years to be able to lower the intensity of certain filters. Now we can. And now we can do things like adjust exposure, brightness, contrast, white balance all of those things right within instagram, we can straighten the photos. Um, there are very powerful tools in there. So if you don't feel comfortable with third party tools, I'd recommend just getting started with the Instagram tools and playing with those to see, to see what you can get to see how you can change your images in ways that you like. Um, that being said, I love my third party APS. I use tons of APS toe edit. I don't all. I don't always use all of them, but there's basically there's a certain set that I tend to use. I don't have all of these, and I don't have all of these APs on my phone because I don't use them. I don't need them. It's not my style. Whatever. Um, but if you're looking for APS, that can help you with basic filters and tones and adjustments like in that sort of thing. Um, Visco Cam, snap seed. After light, lightly mixtures pick FX and even light room Adobe recently released light room for the IPhone, and it's it's pretty powerful. It's really cool and like one of the fantastic things about it is that it allows you to sink to your desktop catalogue. So if you're the type to have to want to be able to edit the same photos on your phone on your desktop and go back and forth, you can do that. That's a feature that I don't personally use right now. I don't feel the need for it. Um, but if if you need it, it's there. Um, there are also other APS. I'm just gonna touch upon them really quickly and then do a demo. You know how I edit the photo? What? My workflow is just to give you a sample. So there's a new app called Screw. It s k r W T. It's a little awkward toe look at little awkward to say, but it's fantastic. It's a perspective correction at. So if you're familiar with my photography, you'll know that I'm very, very specific and obsessed with symmetry, getting my lines right. Like everything going to the corners or whatever. Just getting everything very symmetrical, straight getting the perspective right. Um, but I'm not always able to shoot it exactly right. So we all need help. I mean, I'm sure if you guys are editing and photo shop for light room, you've gone in to do the perspective corrections. So this app basically is the most powerful perspective, crutch and up I have seen for a mobile phone, and it allows you to do like the horizontal skewing the vertical skewing, you know, fixing the pin fishing and barrel distortion straightening. So I highly recommend it. If you're one who likes to have that very precise and needs a little extra help in that department, um, I use it for almost every image I take, even if it's just to straighten. Um, image. Straightener is also a good one, but that's limited to just straightening. But the nice thing about that is that you can tap and do it 10.1 increments at a time so that instead of you know, some maps, you have to take your finger and you have toe try to slide it to the where you need it to be. But when you move your finger, it's it moves. So it's so frustrating. But, um, demonstrators really great touch Retouch is magic, magic, pure magic. I'm going to demonstrate that for you guys in a little bit, and if you haven't seen it, you'll be blown away. It's basically cloning and healing. Done really, really well, um, square ready. I used for cropping to a square because I can make very precise left right movements to get the image exactly where I want it to be because of the lines are so important on some images. Um, if you want to do something like dip sticks or combining images into the same frame, something like dip, tick or pick frame will allow you to do that. If you want to put words on your images over and photo lettering are good APS for that. Remember when I was talking about geo tagging in the very beginning? How it's really nice to Geo tag your images so that people have a way to click in and also way to discover, Um, sometimes the APS that we're using to edit. You know, I might take my photo through four or five different ups from when I capture it to when I post it. So sometimes you know people the apse will change the settings or something. Or I have something set wrong where the Geo data will be stripped from the photo, which is really frustrating, because if I'm in Seattle on, I wanna post a photo from L. A. And I want a geo tag it, I can't. But there are ups like mapper and geo tag. My pick which will allow you to then re add that geo data so you can basically find where you took it on a map and pin that onto your photo and then geo tag your image. Um, juxtapose er and image wonder. Um, some people use those in really cool creative ways, combining you know, the edits on different images, you know, But it basically allows you to do layering and masking and allows you to combine images. You can put somebody's head on another person's body. That type of thing on Ben Guerrilla camp I put in there that's more, um, that might have been a better fit for the other section of my presentation. That's basically I use that floor if I'm taking self portrait in. Not like I'm gonna hold up my camera and take a photo that way, if I put my phone on a tripod gorilla Campbell, allow me to take a series of images so I can set it to take 300 photos if I wanted that many photos. But if you're doing self portraits, you're doing Self Portrait project. It's really hard to just set a timer run over, stand there and then like, run back and check it and do it over and over again. If you have it. If you have really can you could just have it take a bunch of photos. Um, it's kind of like doing interval timer on a DSLR. So my basic process and the basic differs depending on who you are and what feels good for you. So I'm talking about this in terms of of my own images, I select my images. I select the one you usually take a bunch, and I select the one that I want to edit. I pull it into a straightening or perspective correction app just so that the basic groundwork for the framing of the images set before I start, um, I pulled into an app like this. Go test some cultures, decide what I like, and then I make you know, decide which filter I like. And then I make the tone and contrast adjustments. So, um, that might mean putting a visco filter on it and then taking it into snap seed and then adjusting in there, and then I crop it to a square. If it's not something that I have to be very precise about. I'm happy to do it in snap Seed or Visco. If it's something that I want to be very specific about, I will do it in square ready. And then, um, I might do a little touch retouch If there's something that I don't really like about the image or want to remove or what not And that that obviously could be done before I crop. It could be kind of done at any point. So that's just the way that I normally do it. So I want to show you how I edit photos. I have a sample photo that I'm ready. Teoh, um, edit with you guys. I have an image that I have chosen as one that I'd like to edit. So I'm gonna open it in in disco because Visco is typically worry, like to start to see about getting nice tones and whatnot. I forgot that you got to see all that stuff to, um, beauty of live creativelive. So I have this image that I will import in two. Visco. The reason it's telling me this is because I captured it in cortex, camera and cortex, I guess captures in a much higher resolution than the normal camera, which is good and bad. But Visco always tells me that it needs to be size down. So I have my image, and I usually kind of come in and kind of put different filters on it. I'm not really sure if you can see the subtleties. Yeah, I'm going to see it. So say that I want to dio, um, let's just say I want this very basic black and white image. Um, you can change the intensity of the filter. So say I want to do Yeah, that looks about right. I'm just doing a very, very rudimentary job here. So say I like that I You can actually do a lot of the other editing. You can adjust your brightness and, you know, exposure and whatnot in Biscoe. Um, I'm gonna just export it out because I want to show you snap Sita's. Well, obviously, this isn't a new instructional class on how to use these APs. Otherwise, I would go into far more detail just to give you an idea of how I do it, and we'll go, um, snaps it if you guys aren't familiar with it lets you do like an up, down swipe so that you can navigate. So what, you want to adjust and then a left right swipe so you can adjust the intensity of what you're doing. So not sure if this is really a great at it, but we'll go with it. I'm gonna export it out. I kind of bypassed the screw option, the perspective. Correction. So let me just do that really quickly, even though I think this image is mostly OK. But it's slightly, maybe slightly, cricket. So I might, you know, can you see how it's straightening when I pulled that? So let's just say that straight. So then I say that to my camera roll, and then I want to do a quick crop to square say, that's That's pretty good. I usually look at things like, you know, it is a center line centered not quite on the top, but, like do the bottom lines meet the frame at the same spot evenly across the frame, basically, So let's go with Let's just let's just go with that and the last thing I want to show you for this photo. The reason I chose this photo is because I wanted to show you Retouch, retouch cause touchy touch is amazing. So I like this image, But I'm really bothered by the fact that can you see that extra power line up there So touch retouch. I'm a huge fan of very clean images. So I'm very careful about my edges and having extraneous things and my images, so that really bothers me. So I'm gonna just take the tool in touch, retouch and select it and press play, and it just like magically gets rid of it. And I mean, this is like a very, very basic example of it, but, I mean, that's even more powerful than what light room could do. A couple years ago, before light room and introduced, you know, they had the clone stamp tool he could only stamp in circles. You didn't You couldn't drag it in a lion. I think this is far more powerful than light. Room was even so that when I saw that that was like a game changer that was life changing. So even things like a mirror selfie with, like a dirty spot on the mirror. I could fix that right, because those things really bother me. And I think that over time, you know, the build up those of those things kind of contributes toe, sort of how clean your feet looks and how satisfied you are with that. So Okay, um, that was very fast. I know, but I'm gonna go back into the slides. But the final image that you come out with should be a representation of you as a photographer. What's really easy to get swept up in is all the cool filters there are out there. But one of the problems with that is that you end up with all these photos that could be taken by Joe. Could be taken by Sam. Could be taken by Peter. Who knows? Because they all use Visco m five on it. Right. So what? I recommend the reason I do my filter first. A lot of people adjust their tones in their brightness, and then they put a filter on it. I do the opposite because I wanna pick a filter whose tongues that I like and then make it mine. Right. I tongue down some of the colors and the huge shifts and whatnot and then just really make it something that I'm happy with. Um, so just be careful that your work doesn't look like a visco shot. Right? So, um, so in the end, I know you know, why do followers matter? I mean, obviously, obviously we we want to be noticed by people. Gaining followers is a way of really validating our work. It's a way of sort of establishing, establishing ourselves as authorities in the field. Um, and it really enables you to take your audience to a global level, right? You're posting on instagram. The people who are following you on instagram might not live in your city, state or even your country. Right? Um and that really enables you to expand your client base to a far whiter level. I mean, you condone you can push your photos and share your photos with the world in a way that you were never able to before. Um, and then as a working photographer, if that's your goal, it's a great way to convert that from followers into business. So when all of sudden done quick wrap up, when all is said and done when it comes to instagram, um, and really cultivating your voice and the way that you want to use the platform, you really have to pick and choose the pieces that you feel most comfortable with. I don't even do all of the things that I told you about, right, just cause I can't there's there. Everybody has a limit and everybody's limits are different and everybody's interests are different. Everybody's patients for certain things is different. So, um, find what you like. Find what you feel comfortable with. Take a platform that you want to devote your time to and really dedicate yourself to that. Dedicate yourself to building the audience and that voice. Remember that it takes time and patience. It really doesn't happen overnight. It's not something that you can say, you know, Hey, by the end of the month, I want 1000 followers and not really have anywhere to start And our strategy, Um, but But stick with it over time, really engaged with the community. That's like a huge piece of it that I can't stress enough on. This is this is something that I really like this really, and this is like a really important piece for me that social activity without content does not hold great does not hold any value. Sorry And likewise, content with no activity doesn't either. So it's not all about putting your content out there and not engaging. And it's not all about engaging and not posting anything right. You have to. It has to be a balance of both for people to really want to follow you and find you as a find you to be a leader in your industry and somebody they wanna follow. Fantastic. Another amazing thank you so much questions everyone. So everybody out there. Be sure to keep voting grabbing Mike if you have one in the chat rooms, but let's see how many we can get through. So this question is from Super Diva. Is there a way to view Instagram in categories? So say, I can just see my close friends photos when that's all I have time for. So when you're talking about that curate and commenting, yeah, unfortunately, no, there's not. I think that that's that's something that's a feature that Twitter has right when you can make lists and only view by list. Unfortunately, Instagram doesn't have that right now. If anybody instagram is watching, maybe that's something that you want to think about for the future right now. Actually. Honestly, the best way to do that and I know that I'm said I'm already too lazy to do this is to create a separate account. That's one way to do it. Great. Awful. Okay. From T o Brooke of says, great workshop. I have 37, instagram followers. So great job on guy. Tried to keep up with the comments on my pictures. Do you thank everyone in your feet? And if not, how do you choose who to respond to you? Because we talked about engagement. Um, when you've reached a certain level of following, you're getting so many comments in that you it's it would be impossible. Teoh answer everybody to say thank you to everybody. And you know, it's something that we like that I've sort of built up to. And I got to the point where I was like, I can't thank everybody. I don't have enough. They're not enough hours in the day for me. Teoh spend on Instagram, right? Like I need to work on you have a life. I need to do my own thing. I can't be on instagram all day, so I don't think everyone I think that there are occasions world do a post and the caption is, Thank you, guys for all of your support over the years, I really appreciate it. I read. I do absolutely read every comment. Um, and I try to answer every question. So if it's something that you guys have a question about posted as a question on Ben, that is more likely to get a response. But, you know, for the most part of people are saying, Wow, nice photo, Good job. Awesome. That's not really something that I have time to answer, even though I definitely appreciate getting that feedback. Um, I do, however, say thank you when somebody takes the time to write out of really kind of like a long thoughtful comment or make makes a comment. That's just more than just cool. It could take a question from in here quickly. Another class. But how do you capitalize with in the end? Is there a quick question today? How do I capitalize? Yeah, if that depends on the person and what the industry is, I think that, you know, there there are instagrammers who were being approached by businesses because of their followings. So they have a large audience. It's kind of like the Blawg world where these bloggers built a huge audience and so suddenly, for that instagram er to endorse a product sort of gets it out there. You know, people you know, raises brand awareness, gets people interested in the product, that sort of thing. So that type of thing is happening. Instagrammers getting hired to, you know, I get hired to go travel and do these tourism board gigs. People might see a portrait photographer's work and then, like what they do and then reach out and hire them. You know, that sort of thing. So it really depends on the the photographer. Awesome. Okay, one more quick one. This is because we've got a lot of wedding photographers out there, And so, uh, Laura Latimer says if you're a wedding photographer, would you recommend instagramming on Lee about amazing things from weddings? Or do you use Instagram again to show that personality and post all kinds of things that you're doing? And CEO, I would absolutely, absolutely do more than just wedding photos. I mean it. Instagram serves as your portfolio, but because of the nature of Instagram where it's really just instant sharing Utkan really put your personality out there so I would say definitely posts. Um, great wedding stuff, portfolio level work, but also behind the scenes is really fun or something. You know, this beautiful sunset that you saw on the way home from the wedding? That type of thing. Keep it, Keep it mixed up. Keep keep it personal. Fantastic. Well, let's remind everybody again where they can follow you on Instagram. Okay? I'm Peak Atran on Instagram and Twitter and my website is he catch on everywhere. So that's p k E t r O N.
Ratings and Reviews
Great class as she goes through the main points on what followers look for and how to improve the quality of your Instagram. The class is super short so it's an easy watch. The tips are easy to remember too. This class is great for someone who's looking to cover their bases on Instagram from content, hashtags, engagement to photo editing.
A really great compact overview of Instagram delivered with charm and authenticity. Pei covered all areas with a light touch and subjects were very easy to understand without getting bogged down in technicalities. For a short course she packed in a great deal of useful and finger tip motivating information.
Student Work