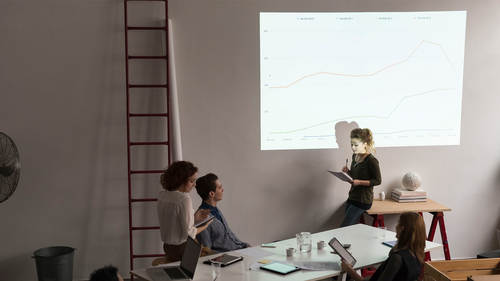 Lesson Info
10. Integration
Lesson Info
Integration
We now need to do some kind of integration. Which is to say we need to carry it beyond that actual intervention. 'Cause the learning takes place in the body we're gonna do something called a noticing debrief. This noting, noticing debrief helps anchor that behavior. So when you do that here's what I notice as your coach, but when you do that, when you speak more slowly, what do you notice? And once there's, once there's a noticing that happens here it gets more anchored and they can carry it forward. Oh I notice when I speak more slowly I have a stronger sense of control over my language. When I speak more slowly I'm less, actually less nervous even though I thought it would be the opposite. When I speak more slowly I feel much more grounded. When I speak more slowly I can organize my thoughts so much better and actually say what I mean. See that. Here's what I notice, I'm more awake, when I speak more slowly I'm actually more awake to what's going on in the room. And that's the stuff,...
that's the juice we want our clients to take forward with us. So we're gonna attach that new behavior to the positive struggle articulation like I mentioned before. When you do that you are and when you do that behavior you are and here's the impact that it, that it has. You wanna land that coaching in the present and the future and that's what the noticing debrief does. When you do that what do you notice? They can articulate that, they're gonna take it beyond that 45 minutes or half hour or half a day they spend with you on into the future.
Ratings and Reviews
Dia is a MASTER at this stuff. If you work in communications, and it is your job to help others be better communicators you are going to want to get this course. I took one simple concept that Dia presented, and later that afternoon found myself using it with AMAZING results. Your clients will thank you.
I was absolutely blown away by this class! Initially I thought that the content might not apply to me because I'm not coaching others on speaking. But what I learned from Dia is that regardless of the type of coaching you do, it's all about loving the client first. By showing up from a place of love, putting my own agenda and ego aside, I enable them to step into their power in a much greater way.
Student Work