How to Prevent Aches and Repair the Body of a Career Creative
Aaron Alexander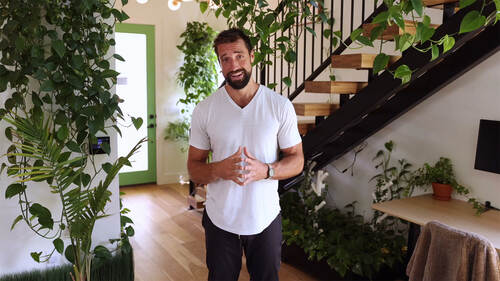 How to Prevent Aches and Repair the Body of a Career Creative
Aaron Alexander
Class Description
AFTER THIS CLASS YOU'LL BE ABLE TO:
Understand the connection between your body and your creative potential
Overcome back pain with simple stretches
Optimize your home office for your mind and body
Travel smarter when you have to be creative on-the-go
Use simple tactics to relieve stress on your body and boost creativity
ABOUT AARON'S CLASS:
Stop sacrificing your body for the sake of your craft.
Whether you've been internalizing stress, lugging around heavy camera gear, or hunching over desks, your creative body could use a break. Movement coach and therapist Aaron Alexander shows career creatives how to realign and repair their bodies using:
Breathwork
Meditations
Yoga flows
Mobility exercises
Self-care fundamentals
Holistic lifestyle hacks
This accessible step-by-step guide shows you how to relieve aches and pains, build strength and flexibility, realign your posture, and become more in-tune with yourself. The healthy creative is an unstoppable force. Get aligned and tap into your potential.
WHO THIS CLASS IS FOR:
Career creatives who put in the hours for their art
Makers who use their bodies to create great things
Humans who want to get rid of pains and increase creativity
ABOUT YOUR INSTRUCTOR:
Aaron Alexander is a celebrity movement coach and manual therapist. His approach blends Eastern philosophy with Western mechanics to help you leverage the power of your senses and body language to feel more flexible, creative, and confident. 
Ratings and Reviews
Student Work