Manage iPhone Storage
Cielo de la Paz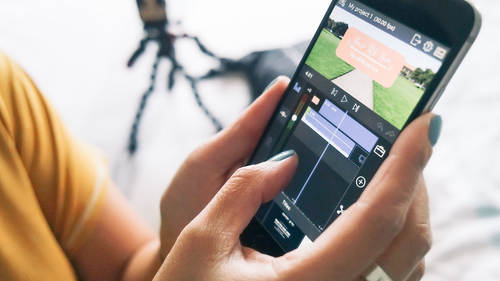 Manage iPhone Storage
Cielo de la Paz
Lesson Info
8. Manage iPhone Storage
Lesson Info
Manage iPhone Storage
I want to show you how to manage all of these things, all of the storage that this is going to be taking up on your phone because I know some of us still have 64 gigs right I think is the minimum. And this can, I mean I have created a lot of these projects and you can take up a lot of space. So what I typically do is I archive them and I export them out to my Dropbox. So what does that mean. So, let's go back into this icon here and see this Project Archive, so let's tap on that. So again, where you want to save your Project Archive. Let's say Dropbox, that's where I put everything. So here, this is really important. So where it says include full original media, or just trim media. So what this is doing is basically saying if I choose full original media, it means everything that is included in this project. So remember I had that one minute piece of footage, and we only pulled out two seconds here, three seconds here. If I select full original media, it's going to include that whole o...
ne minute. It's not just going to include the trimmed, which is great because if you decide to edit this again later, you have that footage to play around with. So I'm typically selecting full original media, which can get pretty big, but that means if I decide to import these, so we can archive them, we can't import them, I have all of those videos, photos, it's all there. So you can choose that, but if you just want to select trimmed media, so it's basically just going to include the two seconds from here and there and it's not going to include the whole clip. And the file is a lot smaller. So what I actually pick is full original media and then it'll tell you about how big it is and then when I export, I have a Dropbox folder called, LumaFusionProjects, and then I'll name it something that makes sense. So you see I have like a ton of projects that I've saved. So then you can just export it. I won't hit export but then it'll just start saving it and then it's off in your drive. So then after you do that, you can actually leave this whole thing if you want and then you can bring it back later. So let's say-. So let's go back to the projects. Let me tap that. So here, all these icons here, we can trash this right now by hitting trash can. It's gone, but it's saved to our drive so it's fine. So let's say I wanted to bring in a project that I've worked on before that I archived, I just tap on this icon here. Import. So let me go back to the top. Okay, so then you can pick where you want to import them from. We're going to pick Dropbox. I'm going to pick LumafusionProjects. And then these are all different projects I have. So it imports it in and you can edit it as if you never took it off your phone. So it's really super cool. I love it, it saves-. Like some of my projects are 10 gigs. It's just, you don't want to keep that on your phone, it's a lot. Okay so that is how you export. Any questions before I move on. Yeah. So let's say you did all this and you want to go back and change something. How do you know how to get to the transition, how to get to the clip, and how to get to- Because it seems like it's all in one piece. Yeah, so you can zoom out. Let's zoom out so we can actually see each one. So, here, see the purple thing. That is a transition, and we can edit that still. You know, you can go in and out and then for this video clip you can still edit that and then the title, I tap that and I can still edit that. It just looks like it's all one piece because I totally zoomed out, but you can zoom in and it's all still there. Did I answer you? Okay, cool. Another question is, when you brought in your logo, it has a transparent background, so is there any restrictions with that? Do you have to do it another way? Or how did I get it to be transparent? No, no. Or like what can you bring in? Yeah. So that is a PNG file. So that's why it could be transparent. I mean you can bring in a JPEG, whatever, you can place it on. Thanks. Sure. One question from my mind, just about audio. Yeah. This is particularly about editing, by getting good, clean audio of like an interview, you showed a couple clips of an interview. What do you use with your mobile setup for doing audio. That's a whole nother class (laughs). Yeah, that's always the biggest problem. I get asked this a lot. There are different ways depending on, in the interview setting, I like to use a Lav. And there's, Road had some good ones, it's called the Smartlav Plus is a Lav and it's made specifically for a smart phone. And then there's actually an adapter, so sometimes you want to monitor the audio, so the adapter called the SC6L. SC6L allows you to plug in to your lightening port on your iPhone, right. And then you get the Smartlav Plus, which has the headphone jack ending, you plug it into that. And then that SC6 has another output so you can monitor and make sure your audio is right. So there's multiple ways. And you can get mini shotgun mics but for interviews I typically like to use lavs.
Ratings and Reviews
really liked the instructor; super clear and went at a good pace that meant you could follow instructions but also not get bored! Have been trying to get my head around video editing for ages but its hard to find clear instruction and guidance; the discovery last month of 'Creative Live' and its classes has totally de mystified the whole process! Feeling excited to try this out myself now - when i feel i have it nailed will try to remember to post some work in here to show my efforts!
Excellent class but I wish it was longer. I learned so much! Cielo is a natural when it comes to the great work she creates, as well as teaching others. I couldn't recommend this class more!
Great instructor and great class. She really breaks it down so you can grasp the small steps that lead to the end result.
Student Work