iPhone Filmmaking: From Shoot Through Edit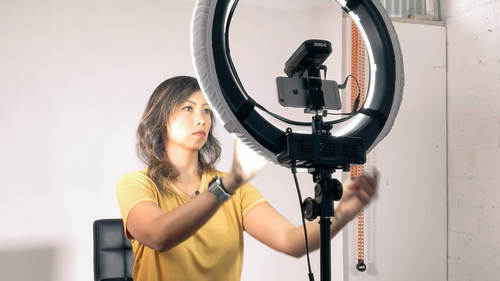 iPhone Filmmaking: From Shoot Through Edit
Class Description
AFTER THIS CLASS YOU'LL BE ABLE TO:
Create a story arch for your film
Set a shot list
Know what and how to use the right gear
How to capture an interview
Get supporting b-roll
Edit your story into a film
Add a voice over
Export and share your video
ABOUT CIELO'S CLASS:
Who says you need expensive video gear to create movie magic? In this course, Cielo de la Paz breaks down how to capture effective and high-quality films with gear that can fit in your pocket. She'll walk through the importance of pre-production and crafting your story ahead of your shoot. She'll demo a variety of gear and explore the technical side on how to get the best shots. Cielo will cover how to capture an intimate interview and overcome the challenges of audio. By going in the field with Cielo, she navigates real-world scenarios and demonstrates how to problem solve and prioritize your shot list.
Cielo will then take you back in the studio and walk through the best video editing apps out there while explaining how to piece together your story into a cinematic success. There is a lot of magic and ability in the camera that is always with you, learn to use its capabilities to capture and create cinematic stories for yourself and your clients.
WHO THIS CLASS IS FOR:
Beginner-Intermediate
People interested in making videos with their phones
Beginner filmmakers
SOFTWARE AND GEAR USED:
iPhone, LumaFusion 2019, Filmic Pro
ABOUT YOUR INSTRUCTOR:
Cielo de la Paz is a San Francisco-based mobile filmmaker and photographer and founder of TheStoryographist.com. With her mobile videography and filmmaking courses, Cielo has taught thousands of individuals to tell their stories – using nothing but their mobile phones. Cielo currently teaches courses on iPhone filmmaking and videography at Stanford, and globally at government agencies, conferences and private firms. Her work was featured in Apple's Shot on iPhone billboard and TV ad campaigns and featured in publications such as Business Insider, USA Today, National Geographic, and House Beautiful. Her work has been awarded the Gold Cannes Lions Award, as well as honors from Mobile Photography Awards and iPhone Photography Awards (IPPA).
Reviews
Being a beginner in all things video, watching this live class left me excited to try out a lot of things on my iPhone, not to mention I learned loads. Cielo showed us the full process from shot listing to gear to preparing the shoot and then shooting and editing, which was very enlightening, also I want to thank the people who were on the chat, because sharing tips and tricks was great too! Thank you for the awesome work!
I watched live version of this class and I found it very inspiring & Cielo a very straight forward teacher which will help for a better and a quick understanding! Thank you!