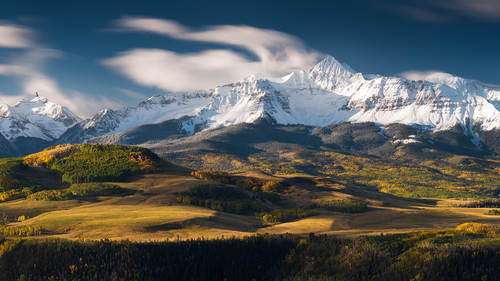 Class Description
Good landscape photography begins with a passion for the great outdoors. Let Marc Muench show you how to capture the beauty of the scenery you love – in a photograph.

Marc is a third-generation photographer with a deep understanding of the magic and technical complexity of landscape photography. In Landscape Photography, he'll teach you the skills and insights essential to memorable photographs of the natural world. Marc will help you:
Develop your eye by connecting with your subject
Execute great images in the field
Improve your post-production process through Lightroom
Marc will teach his approach to, what he calls, the Creative Trinity of Photography: composition, subject, and light. You'll also learn how to improve the quality of your shots through Technical Trinity of Photography: ISO, aperture, and shutter.
If you've been struggling to take photographs that adequately represent the beauty you see around you, join Marc for Landscape Photography and learn how to translate that scenery into a photograph. 
Reviews
This was my first class with Creative Live and also my first exposure to landscape photographer Marc Meunch. I've been a photographer for many years, an educator in science and technical fields for more than two decades, and a lifelong learner of the craft of making photographs. I am pretty picky when it comes to educational resources and when it involves recommending something that I want to reflect my own standards of excellence. That said, I came with an open mind, with some expectation that I would learn a few tricks, but also with the understanding that after spending thousands of hours in books and online courses as well as direct workshop and tutorials from a range of photographer workshops, Adobe training, KelbyOne and other professional organizations, that some of what I'd hear would be stuff I'd already known. My first impression was positive, as I think Creative Live did a good job explaining the purpose, intent, and scope of the workshop, as well as giving me a good idea of the speaker's credentials. As the session begin on Day 1, I was immediately impressed with the quality of the technical aspects of the live feed. It was like I was there. The sound quality was outstanding. The video streamed effortlessly and I only have wireless access to the Internet. I'm not on high speed wired cable. The bandwidth can fluctuate, yet it worked extremely well. The speaker, Marc Meunch, was relaxed, engaging, professional, and possessed such a comprehensive and deep understanding of the topic that I felt extremely lucky to have been told about this workshop. I don't think I've ever been able to watch someone who was so masterful in their presentation, so thorough in their organization and outline, so enthusiastic about their work, so passionate about the craft of landscape portraiture, or so articulate and engaging with the audience; at least in the realm of Photography. I'd jump at any chance to listen to Marc Meunch again; and especially to attend one of his outdoor workshops. One of the unique aspects of this workshop was that Marc uses some video clips from his outdoor workshops to illustrate what he's talking about in the classroom. Very effective. And the slides he chooses to share are effective and easy to understand. It's very inspiring to watch Marc present ideas and illustrate them through his own work, showing before and after and alternate compositions to demonstrate the point he's making. Day 1 was so good that before it was over I'd already purchased the two day workshop. I was that certain it was worth the cost. Frankly, I'm not sure I'd find a class like this for under $100/day. This is a pretty good deal. Day 2 was equal in usefulness and inspiration as Day 1. The discussion of gear selection and scouting techniques along with the introduction to his Lightroom and Photoshop workflow was very helpful and would be especially apropos to someone getting more serious about their landscape work but not very experienced with Lightroom or Photoshop, even perhaps a little intimidated by the prospect of needing to learn those two software giants, because Marc shows the power and easy of learning them. I was pleased I was able to attend and even more pleased I can watch these over and over and study points I didn't quite grasp the first time through. I highly recommend this course. The viewer will be inspired and encouraged as a result. Marc doesn't make it look easy; rather he makes landscape photography look fun and exciting and worthy of the effort and time to find ones own style and vision, clearly imparting the practical how-to's to aid each person in their own journey to make it more enjoyable and satisfying.
I don't like writing reviews. Seems like everyone just wants to hear that everything was... awesome. So, let me try to be specific about what I liked: I thought that the concept of the creative trinity was brilliant. I thought that Marc's presentation on composition was the best I've ever seen. His ideas on having a theme for shooting was inspiring because it was simple. He also had some great tips on light. The other thing I appreciated about Marc's presentation was the wide variety of locations shown and his knowledge of them. I also am always interested to learn more about the people that have inspired presenters. Sometimes, it feel like CL classes are aimed at the lowest experience levels. But, as someone else said in review... there is always a nugget or two and review is beneficial. I wish Marc was more animated. He's obviously very self contained and reflective -- gotta be who you are, right? I have purchased Marc's class, the Shive class, and Art Wolf's class. All have had different benefits. I wish they would do others and take complexity up a notch -- specifically, helping others understand the planning necessary... how they find reliable contacts to guide them and what those things cost. How they are transporting all the gear they carry. More specific information on permits, camping gear, dealing with adverse conditions, etc. And, more information on how they get different images of frequently photographed locations.
I happend to stumble upon the course by an email. I clicked on it and realized that Mark had come to my town (Sitka,Alaska) to do a trip with my good friend. So I thought I'd watch a bit. After awhile I realized this is good, way good. So I shot a lot of that day just eating it up. The director would come on every bit and say there was a show price. I thought well I'll just watch. Then on the second day he did some things that the announcer said he had never seen. I thought the same thing. So I bought. I have been shooting for 40 years and I still LOVE to learn. A noted psychologist said "We are happiest when we are learning" and I couldn't agree more. Thank you Creative Live for offering these courses. I live on an Island in Southeast Alaska with 14 miles of road. BUT I can be a front row student with some of the best teachers in the world. Thank You! Also a Huge thank you to Mark. It takes a ton of time to do this, and Im sure you get tired of the same questions again and again, but it truly changes the lives of us who love this type of life.