Nature and Landscape Photography
John Greengo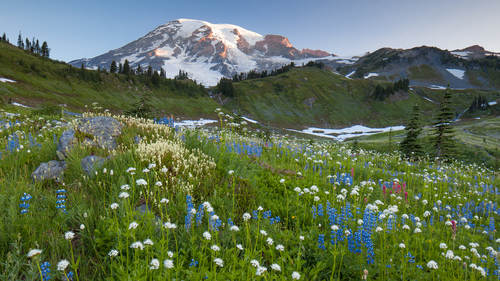 Nature and Landscape Photography
John Greengo
Class Description
Short on time? This class is available HERE as a Fast Class, exclusively for CreativeLive subscribers.
Beautiful landscapes are all around us – they are a joy to experience, but a challenge to capture in a single photo. In Nature and Landscape Photography, you'll learn the essential tools and techniques for taking photographs that reflect the splendor of landscapes and the captivating details of nature.
In this class, award-winning photographer John Greengo will use illustrations, animations, and photographs of destinations from around the world to teach you the thought process behind great nature photography. You'll learn which gear is suited to the environment you want to shoot and how to plan for ideal light and composition. John will help you master exposure and focus so you get a better shot in camera and improve your edits by taking you through hands-on photo critiques.
From complicated cameras to challenging environments, several obstacles stand in the way of you taking a photograph that reflects the landscape as you see it. This class will help you take nature and landscape photographs that reflect your unique perspective.
This course is part of the landscape tutorials series. 
Ratings and Reviews
Most of nature's beauty has been photographed by lots of people over the years. However, nothing compares to actually visiting famous places, buildings, mountains, etc. and taking your own photographs. John Greengo provides the necessary equipment information, photographic principles, and techniques in a manner which inspires you to put in the extra effort to take the best nature photographs that you can with the gear that you have. His unique illustrations, actual real life photographs, and easily understood explanations are top notch. I highly recommend this outstanding course. I have several of John Greengo's photography courses, and I highly recommend them all. His vast experience with film and digital photography, gained through traveling and working with some well known photographers, gives his courses a unique perspective.
I love this course, John. It is one of my all time favorites. First of all I loved your effort scale. I knew as soon as you went through the scale that you are a guy that I want to listen to. To me, the effort part IS the fun part of photography. When you asked the question about one wish ... the first thing that came to my mind was that I wish I had more time for photography. I like the technology, but I do not wish for any special powers. To me, that would take the challenge away. Photography is wonderful because every subject challenges the photographer to get the angle right, the light right, the settings right ... I love that challenge. I think you do too, John, and that is why this course is so special. The attention you pay to every detail comes from the drive you have to meet the challenges with every thing you've got. That is why your class is so special. Your work ethic is exceptional. SandraNightski
While delving more thoroughly into Nature and Landscape photography in a smaller format, John Greengo provides us with an amazing companion to his outstanding courses Fundamentals Of Digital Photography and Travel Photography. Here he gives us another necessary treatise to study before packing our gear and heading out in a car, a plane, a boat (or just for a long hike), and it's as entertaining as the others. Thank you again John Greengo and Creative Live for these expert and brilliantly illustrated programs. I just hope you keep finding more subjects to photograph and provide the instructions for.
Student Work