The Inverse Square Law
SLR Lounge, Pye Jirsa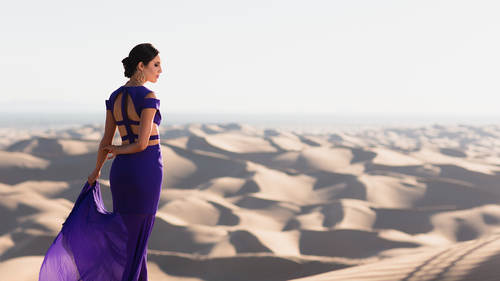 The Inverse Square Law
SLR Lounge, Pye Jirsa
Lesson Info
20. The Inverse Square Law
Lesson Info
The Inverse Square Law
the inverse square law. When we think of learning flash, we think, Oh, my gosh, I gotta learn about these ratios an inverse square line. Look, people make this thing out to be so much more complicated than it actually is. But it is important to understand. And I'm gonna explain to you the Onley piece of this that's important in layman's terms, or rather, pi man's terms, because I'm a layman, and I appreciate when people explain things to meanly mast herbs. All this is saying the inverse square law simply means as your light gets further from your subject, you lose light that was so incredibly simple. As the light gets further away, I'm losing like, Wow, that really makes a lot of sense. But the only caveat there is that you're losing light at a quicker rate than you might think you are. And this is what most people think. If I move this light, let's say this is that one foot right now and here's my subject. If I move it to feet away, then I get half the amount of light. The only thing ...
that the members lost stating is that you're losing, actually, Mawr then the amount of light that you think. OK, I'm gonna explain to You'll even understand the math after this. But that's a simple as what ISS now in practice. What this means is basically, it's really most applicable when you are, I mean, not only when you're moving lights in relation to one subject, but its most applicable when you're shooting a group of people, more than one person or more than one type of subject. So I haven't example here. Now our subjects are roughly kind of one. Let's just assume that they're kind of one foot apart. It's really more like six inches apart. But let's assume is one foot apart. If I place the flash really close to their heads, let's say that I placed the flash one foot away from her head. Then let's say daughters two feet and let's say Dad is three feet. I'm losing light, okay? And I'm losing light at a faster pace that I think. OK, so by the time that light reaches the daughter, I've lost more light. I've lost a lot of light, and by the time it reaches Dad, I've lost even more like what ends up happening is Mom is really bright daughters in the middle, and Dad's really dark. All this means is when I'm shooting a group, the larger the group that I want a light. If I want even lighting on everybody that I need to move the light further away. Okay, Unexplained. Why Right now let's actually talk about the formula for just one moment. Why is it called the inverse square law? I hate Matt. I absolutely hate math. So when people said you gotta learn the inverse square law, I was like, No, I don't man, I don't need to learn any math. But then when I actually learned I was like, Oh, that's really actually quite simple. What is inverse? It just means you inverted right. You flip like instead of having to its 1/ instead of four. It's 1/4. Square simply means you're squaring it, so you flip it and square it really simple. The formula is you're like intensity is equal to one over the distance squared. This is where people kind of get it all confused. Let's assume that one foot one foot for my light source. I'm getting the exact amount of light that I want. We're going to say that it's 100% like, really, it's not 100% because I'm losing light between this and one foot. But let's assume that one foot I have 100% of my desired amount of light. Well, we talked about it. You're losing light faster than you think you are. So a two feet. My intuition says OK. At two feet, it's double the distance of one foot, so I have 50% power. No, it's the inverse square, so I take one over two, and two squared is actually four, so 1/4. That is the amount of light I'm left at two feet. So from one foot to two feet when I double the distance and this doesn't matter if its feet or if it's meters, whenever you double the distance, you actually drop much further. So from 100% I dropped a 25% power. Now, from let's say, from two feet all the way to four feet, I would think that from two feet to four feet well, it's four feet is double the distance of two feet, so I'm gonna have half the power. I'm gonna have 12.5% power. But no, its again. Any time you double the distance, you cut it in 1/4. So at four feet have 6.25% which is 1/4 of where I was at at 25% of two feet. This is all the inverse square law means is that you take the distance, you square it so at one of one doesn't my full power. This is where I have my full setting at one a double that distance. It's 1/4 at three feet or three meters. Whatever you're using to measure, it's now 1/3 squared. So 1/9. That's my power left, which is 11% at four feet or four meters. I'm at 1/4 squared, which is 1/16 power 1 25th power 1 36 power. Every one of these has a corresponding percentage. Now I'm getting I'm getting 2.78% of that original 100% at one foot compared to at six feet. So the light is falling off at a very dramatic pace. But here is the part that should make sense to you from one foot to six feet. This light fall off is incredibly dramatic. Look at us. We're going from 100% down to 2.78%. Okay, we're losing the majority. 97% of our light is gone, but from six feet 27 feet, the difference there is only 0.6% from seven feet to eight feet. The difference There is only 80.4 point 5%. So what happens is is the further from the light source, the less fall off you're actually getting. And that's why, let's say, when we're talking about the son, the son well, is how many billions of miles away from us. Even though I'm standing, let's say I'm standing one mile closer to the sun and somebody else in relation to how far that light is A way that one mile difference between me and another person in relation of sun is nothing. So the amount of light that I'm getting worse, the amount of light that is reaching them is identical. It doesn't really make any bit of difference, but with a flash that's placed relatively close, that distance would make a difference we're gonna show you that in practice. So what are the takeaways? Inverse square law. Simply put, you're losing more light than you think you are. As you move the flash away from your group or away from your subject when you're lighting a group, if you want even light from left to right or from right to left, you need to place a flash further back so that everybody is at a roughly and approximately same distance to the light source. And then you'll get even live on everybody if the distances between one are different than that's where it's gonna change. And if you want to know, the math will simply take. The intensity is equal to one over the distance squared. So the distance from life Source square that's it. That's it. Now we're gonna show you what it is in practice, and hopefully, by the end, this is gonna make so much sense. I'm like, Oh my gosh, why didn't anybody to say that? It just your life gets less powerful more quickly than you think it does. I don't know why anybody said that, but I'm saying to you now let's go the next with you
Ratings and Reviews
The best class for understanding light and lighting there is bar none. Pye is an excellent teacher and the quality of the material provides for a rich and very informative experience. Pye breaks down the fundamentals in easy to digest packets and then elaborates as needed. If there is one class that you watch this is it! Worth purchasing and saving for future use. I would also HIGHLY recommend downloading the saving the PDF of slides that accompany the videos. Again, and can't say it enough, this is THE BEST video to lighting on Creative Live. A must watch for the novice and the expert.
This is the best thing that happened to me since I've been into photography. What a lifesaver. Unfortunately I already payed for some courses that are not Pye, but Pye just nails it. Amazing, and kind of a life hack. Thanks again :)
Pye...it was well worth your b.tt...Great training. I have learned some key lighting techniques from this training. His voice and training is clear except for his attempt at making jokes and singing...you should hire a new script writer for your Jokes...ha ha ha ha. With that said, if you are not a professional in lighting, you do gain a lot going through this training from front to end. Remember this is lighting 101 so don't expect too much...you want more technical and complexity, wait for Lighting 201, 301 or 401 ...
Student Work