Lighting 201
SLR Lounge, Pye Jirsa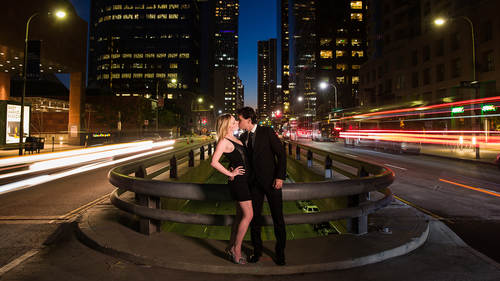 Lighting 201
SLR Lounge, Pye Jirsa
Class Description
Lighting 201 builds on the simple foundational tips on effective exposure techniques found in
Lighting 101
. Lighting 201
comprises 10 hours of education on advanced, off-camera flash lighting over nearly 20 different shoots. You will learn just how much can be achieved with just one inexpensive off-camera light source.
In this course, Pye Jirsa of SLR Lounge
give you tips on how to:
Use light manipulation to turn extreme lighting situations like the midday sun or the night sky into stunning background imagery for portraiture.

Develop a sense of placement strategy in shoots with complex lighting and limited, portable gear

Composite images in post-production to achieve the best possible light
Lighting 201
will also help you develop fluency in using the right light modifiers for the job, whether they be speed-lights, strobes or main-lights. Lighting 201 also features an in-depth exploration of the mechanics of professional lighting gear and step-by-step walkthroughs of the gear setup for each shoot. 
Ratings and Reviews
Pye is a god. His teaching style is really engaging, breaking down everything you could want to know about each example in a fun yet detailed manner. The course is absolutely jam-packed full of great information and fantastic inspiration. This course, as well as Lighting 101, give not only a perfect foundation for anybody learning about flash from scratch, but also have more than enough tips and advanced techniques in them to help experienced flash users seriously up their game. Cannot recommend it enough.
I'd like to say thank you to SLR Lougne, Creativelive and especially Pye for creating this wonderful Lighting series. Pye has a great sense of humor and he is also a great teacher. He expains everything in tiny details. I love his creativity, all the tips and dedication. Recommended!
I'm watching this live and am seriously considering buying this course. I really like the examples and all the information. Pye is super generous and easy to listen to. I also appreciate the talk about gear and am happy that Pye is giving us options for different price ranges. Thank you, Creative Live.
Student Work