Perfect Camera Exposures for Every Situation
Jared Platt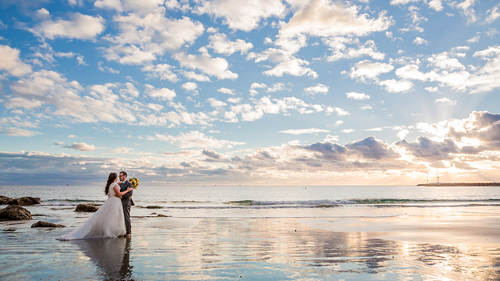 Perfect Camera Exposures for Every Situation
Jared Platt
Lesson Info
3. Perfect Camera Exposures for Every Situation
Lesson Info
Perfect Camera Exposures for Every Situation
I've pulled a bunch of images of the original files and stuck him on a card so you can see what they look like here and see what they look like here. So we're going back to our trees really quickly, and we're going to go into the develop module so you can see the blinking light. You see the red lights there? Okay, so now you can see where I'm getting my over exposures, and it's just in the clouds, right? I'm not getting in on the trees, right. And as I go through these images, you can see that I've got Mawr clipping and then less and less I just bracketed down and then suddenly they disappear. So the question then is what's the proper exposure? Is the proper exposure? See, that red blinky is they just came in. So do I go one down and then that's where I want to be. Because now I've got perfect white. I have no over exposures in the cloud, and I've got the trees. Is that the perfect exposure? Or someone might say, Well, that looks more accurate. So the more accurate exposure would be th...
e perfect exposure because now I've got rich green trees and I've got nice, fluffy clouds with some grey underneath them and with some white tips on him. So that's the right exposure, Right? So what we need to do now is we need to look at these exposures inside of our camera. So this one is labeled, uh, Let's see. Hello. Find out what this is. Ah, File number 89 to 5. So what I want to do is I want to show you these inside the camera because they look very different inside the camera. So let's scan through and find our files here with the trees. There we go. And I'm looking for 89 to 5. Is that what I said? There we go. Look at that. Okay, so let's go side by side and look at these blinking lights versus Can you even see those? The other ones Look there. Those two little tiny blinking lights in the clouds. Right? So there's a difference between that. And what you see here on the camera, which is the tops of every single cloud are blinking. And that gets back to what you just said. You're absolutely right. You are not looking at that. I'm shooting raw. This is a raw CR two file. Ah, Nikon A B in any F file. It's inside the camera. It's raw. I'm looking at not the raw file. I'm looking at the J peg that was spun off from the raw. So what happens is the camera takes a picture in raw, and then it makes a J peg for you to see on the back. And then it reads the J peg and makes a hist a gram to show you what the J. Peg looks like. You never actually get to see what the raw image looks like in a hist a gram on your camera. And so this hence to Graham, opening this history ram that we're looking at the r G and B and the and then in the full hissed a gram, the tonal history. Um um, those air looking at the J peg and so they're inaccurate. But fortunately, they're inaccurate. Uh, they're too cautious. So because what happens, this is a raw image. It's got this much latitude. This is a J peg. It's got this much. Actually, it's got this much latitude. So you've got this raw image and a J peg version of that raw image. And because you've added contrast to the image and you've limited the contrast on the total range the tonal range that you can have in the J peg, the clipping happens faster because everything happens faster cause you've squished it, right? So the event from black to white is real fast, whereas on a raw the event from black toe white happens slowly over time. So you're gonna have less contrast here. More contrast here, meaning mawr quick exposure. Blowouts here less here. You've got a lot more time between white and blow out in a raw image. So it's to your advantage. So if you're looking at a new image in your camera and you see it blow out if you go 00 no. There's a There's a little bit of blinking in that sky. I gotta stop and back off. Well, if you do that, you're gonna end up instead of it. This exposure, you're gonna end up at that exposure. So if you took the bright photo this this photo right here on the right, that's the photo that you saw in your camera and you saw the entire clouds were like blinking, right? You saw this blinking in the sky. Knew it? Oh, no, it's overexposing. And so you backed off to this photograph like you went down about a stop stopping the third. Something like that. Well, now it's a lot darker now. That's not to say that this is the wrong exposure. I'm just saying that when you think about what you're seeing in your camera and what's blinking at you, that's a warning, and you still got some time to go. So here's the assignment. All of you have to take this down. Everybody, those of you here in the studio and also those of you out on the Internet, you have an assignment. The assignment is to go outside when it's not raining. You know when there's like sun and clouds and you know shadows and go to the most extreme, um, latitude problem area you confined. She's gotta have nice dark shadows and nice bright highlights, especially if you have, like sun striking off some windows or some chrome on A. If you got a really fancy car with some chrome, you know, or whatever, go photograph the car cause You'll have chrome striking the sun, and so you want the most exposure latitude variance you can have. So that's really wide latitude issue. And then what you want to do is set your camera on a tripod and you want to expose all the way down to the point where you can't even see the car. It's so dark, completely black, and then you want to go up 1/3 to stop and just brightened, brightened, brightened, brightened, brightened until it's so bright you can't even see the car so that you have every shot that your that you could possibly make of that image. Then you want to go through and you want to compare what you see on your camera. So you're gonna sit here like this with a camera in one hand on the computer here, and you're gonna go through the raw images and watch the blinky lights here, and you're gonna go through here and watch the blinking lights here. And at one point, if you do this several times, you're going to start to realize what your camera is telling you now the translations going to start happening and you're gonna go Oh, when my camera blinks x amount, I can still recover it. So my camera has about a stop and 2/3 before I can't recover it. That's what I know about my camera. So we talked well together now. And every time you get a new camera, you have to rediscover that camera and figure out what it is. It's telling you when the blinking lights come up right? If you get to know your camera like that, then you can start to work on issues. So we're going to show you some issues. Now let's go into a circumstance where we're taking and these air portrait's that air taken with no flash. So there's no flash. There's no augmentation of light. It's just there out out there, right? And so I'm looking at Let's just look at this one here, Okay? So this is the final shot to New York City. Love the shot. I'm gonna reset it so that you can see what it looks like before I do any work to it. Do you see how much exposure latitude I have now? I'm doing black and white, which is a little bit less. Um, it's easier to deal with the black and white. It's like the old adage if you can't fix your photo turn into black and white, right? But I did it in black and white, not because it couldn't fix it, but because it was New York, and I kind of feel like it should be black and white. So we did like all these black and white shots. But you can see that there's a law of overexposure in this file. Now. When I was looking at it on the camera, how much overexposure to think there? Waas. It was all the way across this whole sky. But I knew from my experience with my camera and with light room that I could recover that. And so then when I come in, I could just pull See that and there's still nice information up here in the clouds, and it's nice and just kind of milky white. But it's good. See how that there's a snow ice slow transition between the blue and white, so everything's fine with that file. But I could have if I had said, well, there their faces or a little dark, And so if I had gone in and photographed it so that it was brighter, right? So that their faces were the correct exposure. Then I would have had no information in the skies, and I would have lost some of the buildings as well. And so what I did is I said I want all the information and I wasn't looking. A lot of people say, Well, I shoot it perfectly for the person in the camera so that I don't have to do any post production, right? But that's the wrong way of thinking because you're images aren't any good. Yeah, you got through really fast, but the images weren't very good. And so, in my way of thinking, I want to have all of my highlights and all of my shadows under control. Sometimes they're highlights you don't care about. That's fine. Let him blow. But if you care about the highlights and you want to sky and you want it to look nice, sometimes you have to say, you know what? I know what I can recover. So I'm gonna recover this and then I'm just gonna brighten up the shadows. So in this case, I'd bring the highlights down that recovers the sky and then I take the shadows up and that brings in their faces. Then if I want to keep it in color, I just change the color balance. Or if I want to go to black and white changes to black and white, start playing with the file. But the point is, is that I have all the data available toe work on it. If you don't have the data, you can't play.
Ratings and Reviews
Jared provides very clear, very specific suggestions on how to make the best use of your camera's histogram. The only suggestion that I have to improve the class would be for him to talk about the basics of the histogram first: what it is, what it shows, how it works. He gets there, but you have to wait for it. Overall, a useful class about an important photographic tool. Jared's photos do an excellent job of illustrating his points.
Finally I found a class focused on understanding and explaining Exposure. With so many examples and visual aids, Jared does an excellent job of conveying his ideas and concepts. This class absolutely filled in the gaps of my understanding on how to correctly compensate the camera's exposure settings to achieve great pictures. He also is an awesome instructor. I rate the course 100%. Not an expensive course either.
Great class! Very clear and straight to the point. There is a lot of incorrect information related to histograms out there, but Jared explained perfectly! I recommend doing the assignment he suggests with your own images (third lesson), this really helped me to understand what my camera´s "proper exposure" is. A real game changer! Thanks!
Student Work