Balding Considerations
Lindsay Adler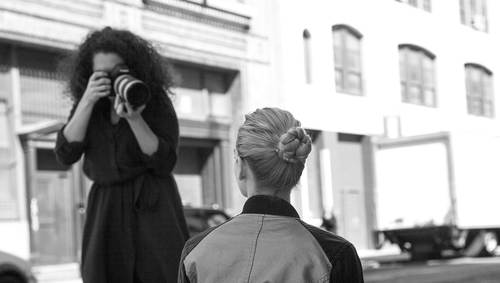 Balding Considerations
Lindsay Adler
Lesson Info
31. Balding Considerations
Lesson Info
Balding Considerations
Bald or balding, you know. Anywhere in the process here. Okay, so, posing. If they're balding, avoid too much chin out and down. It's drawing too much attention to the top of the head. Makes sense, right? The next part is going to be your camera angle. You guys get like this is starting to be the same thing over and over again. You're kind of understanding. The camera angle there, avoid too high of a camera angle. You get up too high, it draws too much attention. Does the same thing there. So basically, eye level or lower. Chin neutral or a little bit up. Next thing you wanna do is choose a longer lens. If I decided, for whatever reason, I wanted a little bit higher camera angle, using a longer lens would be more helpful than a wider-angle lens. For the lighting, remember how we did the big forehead shot before? The same thing, you don't want that light too close, 'cause it's gonna give you a big shine on the top of the head, and then it'll be darker. So that contrast is gonna draw a l...
ot of attention. But in addition here, so about those hair lights. It's not necessarily going to be appropriate, and probably draw too much attention. So if you've got a room light or hair light on someone, it just puts a big shine. Now, some people are rockin' the bald head, and you wanna see the shape or the outline, that's fine. I'm talking more about the people who don't really wanna come to terms with it. They don't wanna, they're not rockin' it. So, just don't draw attention to it. But the reason we usually add those room lights and hair lights is separation from the background, right? We don't want them to blend in. Well, I'm not saying your subject should blend in. Actually I'm gonna show you a couple ways so that they are separated from the background. Let's see. Liquify, the only thing Liquify is gonna do is if it's just receding and you wanna bring down the hair line a little bit, but there's, you know, if it's bald or balding, it is what it is. You can also contour, darken down a little bit if there's a shinier part of the head or something that's a little bit lighter. And also, totally shiny head, blotting powder, blotting papers, HD powder, still totally applicable. Don't tell them to wear a hat. If they brought one, shoot it, but don't say bring one, 'cause I mean, some people don't care, and it looks good.
Ratings and Reviews
This class was amazing! It was great seeing a demo class with real people. As a wedding photographer that specializes in offbeat/non traditional couples, it is always good to see how I can enhance all my clients beautiful features, and make them feel their best and confident when I am taking their photos!
I was so excited to get the chance to learn from Lindsay live, and this course did not disappoint! The techniques she shared were insightful and straightforward. I felt like seeing them on different subjects throughout the day really helped to cement the concepts and grow my photography tools to bring out the best in those I'm photographing. I'm not a studio photographer, but the ideas apply in natural light as well.
Great class! Impressive amount of tips on posing, lighting and photoshop techniques , a real good no nonsense approach by superb teacher. Numerous amounts of thumbs ups
Student Work