Create Art Through Photography
Art Wolfe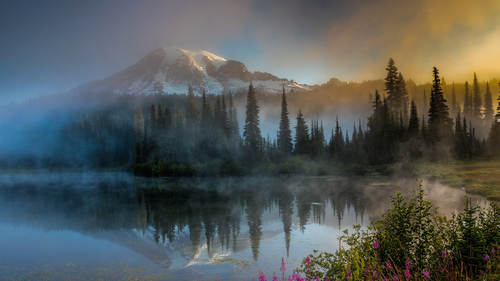 Create Art Through Photography
Art Wolfe
Class Description
Photography is more than just a click of the shutter as it can create a statement or evoke a feeling and thus becomes a powerful art form. Internationally acclaimed photographer, artist and educator Art Wolfe joins CreativeLive to teach creative professionals how to see and make art in exciting new ways. 
In this class Art will share:
How to maximize photographic opportunities while traveling to unique and beautiful photographic destinations.
The best ways to take those special images efficiently. 
His favorite technological advances and how he uses them to enhance his creative vision. 
As a special segment, Art will preview how knowledge of art history provides a creative foundation and show students how to apply these principles to enhance their own compositions. He will also include a live critique of student images and, using Adobe® Lightroom® CC, will guide students through the editing process to transform the images into stronger artistic statements.
Class Materials
Art Wolfe eBook Bonus Material
Ratings and Reviews
Thank you, Art Wolfe and Creative Live for this outstanding and astounding invitation to open my eyes and mind to a new way of thinking based on classic elements of design. This set of video lectures is a rich feast for the brain and heart willing to consider change. Art explains the elements of design such as texture, line, etc., and then shows how he has applied those basic principles. He explores metaphor, ambiguity, graphic design and negative/positive space--all with eye-popping examples. Wolfe takes us through the galleries of the Impressionists, Abstractionists, and Pop Artists to show how visiting our local art museums with a photographers eye can teach us to see in new ways. I love the way he shows, for example, a Mondrian or a Jackson Pollack or a Hokusai painting and then segues beautifully into examples of his own work inspired by those greats. Never does Art lose sight of the mission he has in this series, which is to inspire serious-hearted photographers to rise to new visual heights in their own work. He has a way of seeming to say, "Look. If I can do it, you can do it. Here are my secrets--let me break them down for you." To me, it was a privilege to take this class--my brain is exploding, and I'm itching to get out and shoot! Thank you so much, Art Wolfe and the Creative Live team--you are both amazing! Sandy Brown Jensen Eugene, Oregon
After watching Art Wolfe's presentation for just a short while, I have an almost irresistible urge to pick up my camera and get out into the world to look for the abstracts that can make stunning images. His body of work is simply stunning, and his verbal patter is mesmerizing. He proposes to find beauty in decay, and to train our eyes to see what others overlook. This is not a technical class, and there is no discussion of gear or camera settings. I found it very inspiring, and his ideas will surely help me to overcome the lethargy that has overcome my photography hobby.
Wonderful lecture with tips and tricks of how he shoots, what gear he uses, suggestions for comp, and samples of how he processes a RAW file in LR. Art was just as awesome as I had heard he was in person. I'm a professional photographer and definitely came away with many new tips, perspectives and inspiration to see your image differently and to look closer at the less obvious scene. Thank you Art for sharing your talent, its so very much appreciated!!
Student Work