Photoshop Finishing Touches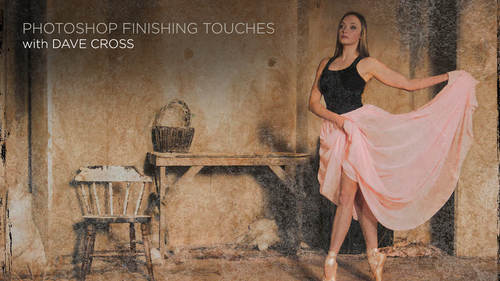 Photoshop Finishing Touches
Class Description
Learn how to create awesome Photoshop effects and open yourself up to a world of creative opportunities with
Photoshop Finishing Touches
! In this class, Dave Cross will teach you the many exciting ways you can use Photoshop to improve, polish, and add pizzazz to your images. Adobe Photoshop CC is a vast and powerful program and Dave will introduce you to a full range of creative techniques. Everyone from beginners to more seasoned retouchers will learn easy and impressive ways to enhance images using Photoshop Creative Cloud. 
Unique borders
Frames and edge effects
Overlay textures
Artistic finishes 
Dave will also show you how to make colors pop, color grade your images, and improve your portraits with quick and effective retouching methods. Best of all, Dave will demonstrate how to achieve these results in very flexible and reusable ways. There is so much to learn about Photoshop – it is impossible to discover it all on your own. Join Dave Cross for
Photoshop Finishing Touches
and master his favorite methods for adding polish and interest to photos.
Reviews
I like Dave's teaching style: methodical, well-organized, VERY knowledgeable, interesting, relevant, and delivered with a really good sense of humor (he's a very snappy dresser, too!). Most of all, his lessons are most useful in teaching me how to save time processing my photos in a NON-destructive way and with a stream-lined workflow. This particular class is not only versed in technique, but I LOVE how he encourages creativity through experimentation and "playing" and pushing the envelop with the program. that is not as scary as it sounds because Dave is all about working with smart objects, smart filters and other such ways designed to save us from destroying our photos or work that has to be redone or scrapped because we went down a road of no return.
Dave has a brilliant (as well as humorous) way of teaching and I always learn something new from him. I have purchased many of his previous classes and love every one of them! Thank you for another great course!