Lens Considerations: Minimum Focus Distance
Khara Plicanic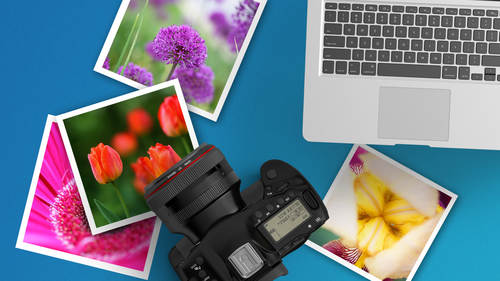 Lens Considerations: Minimum Focus Distance
Khara Plicanic
Lesson Info
23. Lens Considerations: Minimum Focus Distance
Lesson Info
Lens Considerations: Minimum Focus Distance
Okay, another thing that you wanna think about when shopping for lenses is the minimum focusing distance. Now sometimes, I mean for a lot of people, it doesn't really matter, you know. The minimum focus distance is gonna be like, I don't know, 18 inches or something, unless you're shooting macro stuff you may not care. But if you are trying to shoot a lot of macro close up stuff then you're really gonna care about what the minimum focal distance is, because that's what macro photography is all about, is you wanna get up close, you wanna be able to get in there and get some nice photos. So what does that mean, macro? A lens is generally considered macro when it has a magnification of at least one to one or more, so that means that whatever it is that you're taking a picture of will actually be recorded on the sensor in real life size. So it'll be at least that size or even bigger. So that's what macro means, and then you just want to check out the minimum focal distance so you can make ...
sure that you can get close enough to get what you want. So the macro lens that I have is a hundred millimeter lens and it has a maximum aperture of 2.8 which, when you're shooting macro lens, F2.8 is more like F-20, I mean its like, so shallow. The depth of field is so shallow its really hard. I use it when I shoot ring shots for my clients and I can't shoot at F2.8 because its like, the prong will be in focus but even the stone right behind it is out of focus, its so shallow. So I usually end up shooting at like, 5.6 or eight and even then the back of the ring will still be blurred already. So its incredible what it does to your depth of field. But its a really fun tool, and also, just so you know, if you buy a macro lens it doesn't mean you can only use it for macro photography. This is a hundred millimeter lens and I can use it as a portrait lens or anything that I would normally do with a hundred millimeter lens. Its just that this lens has the ability to focus very up close which would enable me to take macro photos of rings, or flowers in this case, or dew drops, or whatever. You may find that when you're shooting like that that you want to switch to manual focus on your lenses because its just too hard, the camera kind of still goes a little cross eyed when it tries to focus up close, and also because the depth of field is so shallow its just really hard. I end up, when you do macro photography, I feel like you really have to hold your breath and take a lot of shots to try to buffer your focus because its just such a shallow range. But its a lot of fun, its a lot of fun to play with and see what you can get. Yeah, so that's that. But I also want to point out that the manual focus on the lens is different than manual shooting mode on your camera, sometimes people get confused. You can be shooting in manual mode and use auto focus on your camera which I highly would recommend, but in cases like this when you're working with a macro lens you might want to switch your lens, there's a little switch right on the lens itself to switch to a manual focus. You'll just save yourself some headaches. Any questions on lenses? Focal length? Macro stuff, the maximum aperture situation? What makes a lens expensive, I guess? Sometimes people might ask, "So really, like, what is that?" Aperture and focal length are gonna, if you want a fast lens with a wide aperture its gonna cost you. And the more focal length you want is gonna cost you. And then if you combine a lot of focal length with wide aperture, oh. (laughs) That's gonna be expensive. But, you know, if that's what you're into then you may feel like that's really gonna be a good investment. I've noticed that you use mostly Canon lenses but I know there's other manufacturers or any, besides price, any other reason to go non Canon or non Nikon. Yeah, that's a great question. I think if, you know, if there's a different manufacturer that makes a lens in a focal length that maybe Canon doesn't, like some Sigma or Tokina or whatever, there's a lot of different other brands that make lenses that can work on Nikon or Canon or whatever, you just have to specify that you're getting a Sigma lens with a Canon mount or a Nikon mount or whatever. They might just have a lens that has features that you like better, or there's all kinds of companies that make what I would consider novelty lenses or just kind of more for fun and play lenses that do some goofy, you know, like a fish eye lens has as very unique aesthetic to it. I've done portraits with fish eye lenses before which have been kind of cool, but they're not, you know, the everyday choice for a portrait. But you know, if someone makes a unique lens that maybe Canon or Nikon doesn't, that would be a reason, or price would be a reason maybe, but there's other lenses that they just don't make. Like there's Lensbaby lenses are fun lenses that can really distort your images and give you some cool effects, and Nikon and Canon don't make those. So you know, its totally worth checking around and trying to find other fun lenses that different companies might make. And the Lensbabys are fun, you can really get some cool blur effects and kind of dream like things, and they're, compared to buying a 51.2 lens they're much more budget friendly. So I think that would be something to definitely check out as well. Good question. Anything else about the lenses? Yeah, another one? Yeah, I just remembered, on my DSL there's actually a manual and auto on the body and there's a manual and auto on the lens for focusing, and I was trying to figure out why would they do that. Yeah, I'm not sure, I say consult the manual for that. I feel like I had, I feel like I knew that at some point and now I'm just drawing a blank. 'Cause I've had that same question and I don't remember what it was, I don't remember. I'd have to look it up too. (laughs) So thank you for highlighting that fact, Jose. (laughs) But the lens is going to refer to the focus of being driven auto or manual.
Class Materials
Bonus Video - Shooting In Natural Light HD
Ratings and Reviews
Khara is awesome! She really breaks down how the camera works, photography terminology, and technique. She does it all with a fun and entertaining personality and really makes it easy to understand what you are learning! I love this course!!! So worth it!
Loved this course and have recommended it to a friend who is looking to purchase his first DSLR. This course is perfect for beginners or someone who is self taught and who has picked a few bits up along the way; Khara then puts all these little bits of information together. I feel like the pieces have come together for me and I have taken my best/favourite photographs after watching these videos. Thank you CL and Thank you Khara x
I've taken a number of excellent courses from Creative Live, and this very thoughtfully organized, well taught class took me from "I love photography but I'll never get how to do it" to "wow I get it!" It created a huge shift (finally!) for me. There is an intelligent simplicity that really does make for lightbulb moments. I'm extremely grateful for this class. Now I can go back and watch the others courses again and they will make much more sense and I can apply what I learned here.
Student Work