Building Intimacy On Set
RJ Bruni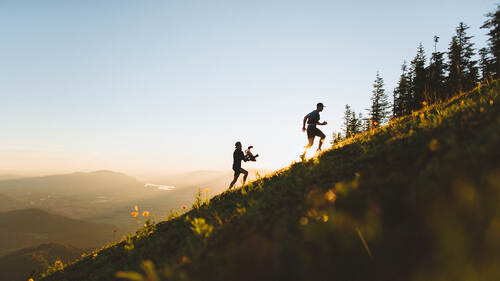 Building Intimacy On Set
RJ Bruni
Lesson Info
20. Building Intimacy On Set
Lesson Info
Building Intimacy On Set
(gentle music) Okay, welcome to part two. Now is when we put all of that hard work and all that time that we put into pre-production, and we bring that all to life. Everything that we have planned now, we're taking that to the field and we're executing it at all. During this process, I want you to not leave anything on the table. Everything we have planned, I wanna see everything executed. So let's get into it. The first thing that I want to share that'll help you while you're on set is the idea of building intimacy. We wanna build intimacy with not only our talent, but our whole crew, everyone on set. We want to build an incredible experience for everybody. Think of it like you're going on vacation with your best friends. Over that time, you grow way closer with all those people, and then you have to look back at this beautiful experience later. They have all these memories. That's what we're trying to build. Think of this production, think of this set, like you're going on vacation...
and you're about to build some incredible memories. That's what we want to replicate. Obviously, we're not going on vacation. We're gonna be working very hard, but we wanna look back at this process and we want everyone to think, wow, that was an incredible experience. Everyone I worked with was so encouraging, so good to work with, and we got an amazing product together, and we worked really, really hard and we hustled together. That's what we want to come away with. This approach will make for a much better product, and you'll have a network of people that are willing to work with you again. The bulk of this part of the workshop is gonna be spent in the field where you're gonna see the production come to life, and I'm gonna be sharing all the tips and tricks that I know when it comes to shooting a short film. During this production, we're trying to build a film that is slow and intimate, and is a beautiful, intimate look into the life of Kathy. And it's important that our set reflects that as well. How everyone is feeling on set is going to be reflected in what we capture on camera. So it's important that we build a set that is slow and relaxing and intimate and our actor, well, in this case, our talent feels that way, and it makes sense. Vice versa, if we're after to make a film that is a little bit more high pace, high energy, it's okay that our crew and our set has a little bit more energy and excitement to it. So for this project, we kept our crew pretty small so we can have a little bit more flexibility in creating a slow, intimate experience on set. For example, if we're throwing a party, we're gonna invite some people over. We have a couple options. Option number one, we get the wine out. In the background, we have a little bit of a jazz music playing, and we're setting the stage to create a slow, peaceful night of conversation with friends. Vice versa, we get the cocktails going, and we get the dance music going, and we're setting the stage to party, pretty much. And we have to create our set in the exact same way. So, if we're after to make a film and create an experience that has lots of energy, let's just make sure we bring that energy. And if we're after something a little bit more slow, a little bit more peaceful, a little bit of a dive into someone else's world, and we want to just keep that minimal distance from them, and that's what we're trying to do in this film, then we're gonna make sure we want that reflected on set. Regardless of the energy, there's a few things that we can do to build intimacy with our crew and our talent. First, I like to sit down with all the crew members, one-on-one. Let's go over their role, their expectations, what we want it to feel like on set. And I also like to ask them what can they do to step up their game on this project? What's one thing that they can do that they haven't done before that makes this project better than the last one? Sometimes, all it takes is just a little bit of a push from someone to make sure that they're doing their best job possible. Next is talent. We've actually done a lot of this work to build intimacy beforehand. We've gotten them on the phone and the emails, and we've asked them questions and gotten to know them. That's huge. If we don't know who they are, how are we supposed to make a film about them, or even have them involved in the film? So to build a little bit of intimacy, it's important that we actually start to build a relationship, and we've already started that process. To take that further, as you're gonna see in the field episodes, I always allot time just to chat with them before we start shooting. We cannot just immediately show up and shove cameras in someone's face. Let's just take some time, walk around the locations, talk about the project, talk about how everyone's day is going, and just start to build that relationship. And even while we're shooting, let's just build the relationship. If we're curious about something, curious about them or their family or anything, don't be afraid to ask. Let's not just treat them as talent. Let's treat them as people. So when we're on set, sometimes things can get a little bit stressful. Maybe a piece of equipment broke, or maybe we're chasing light, and we're in a time crunch. And whatever it is, sometimes, there's moments where the pressure is building to get the job done. In those moments, it's important that we keep the morale of the team high. It's never worth getting snappy with people, or becoming quick and giving short answers just because we have to be quick and efficient. There is times where we don't have all the time in the world to explain every single detail, and that's totally fine, but let's make sure we do it in a respectful way and we keep the morale of the team high. Everyone's happy. Everyone's there to do a good job. The minute we start getting snappy or quick with people, it's not worth it. I've been guilty of this in the past, and it's something that I've realized and worked on. It's like, it's not worth it. We're gonna get better products if everyone's happy, doing the mission together, in the pressure moments together. We talked about this in part one a little bit, but this idea of pumping people's tires is very important, especially when it comes to talent. Sometimes, we're working with talent that have never been on camera, they don't know what's proper, what's right. They don't know if it makes sense that we're doing a ton of takes, if it's their fault. It's important when someone's doing a good job, that we tell them that they're doing a good job. Even crew members, everyone on set, let's make sure that people know they're doing a good job. If everyone's happy, if everyone's encouraging each other, it's again, gonna make for a better product. If we follow all these tips, I can guarantee you we're gonna create a beautiful, intimate experience on set. We're trying to build memories here. We wanna come away from this experience with everyone so excited about what we created together, and years later, we want everyone to think back on these moments fondly, and be like, "Man, that was so much fun building that piece of art together, and everyone had a great time and everyone did it as a team together." The talent, the crew, the director, everyone, we want this to be a beautiful, intimate experience with everyone. And we want everyone to get to know each other even more deeply.
Class Materials
Live Lesson: Feedback and Q&A Session with RJ
RJ's Final Film | SHARED EARTH
Ratings and Reviews
I LOVE this workshop - I have been wanting to film my own 'home life' movies as I am a photographer but I wanted to add even more memories. This workshop has added so much value to how, why, when, and what the process is of film-making for film-making. Thanks to RJ for sharing all his amazing information while being clear, precise, and informative. I am excited to film my next 'home life' film!
Great insights into Rj's process. Really enjoyed it all. Rj is smooth and easy to learn from. Loved the "in-field" BTS and going thru the motions live. Looking forward to more material.
Really informative and inspiring. One of the best video tutorials I have watched.
Student Work