Difference Between Good and Great: Pre Production
RJ Bruni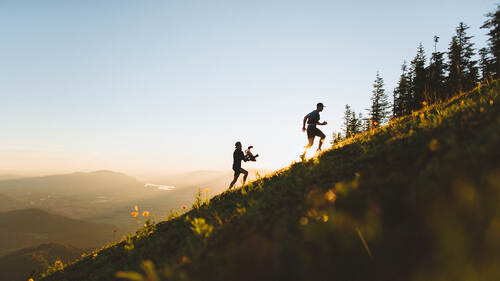 Difference Between Good and Great: Pre Production
RJ Bruni
Lesson Info
15. Difference Between Good and Great: Pre Production
Lesson Info
Difference Between Good and Great: Pre Production
(short mysterious music) So we know what our story is and we're starting to get excited about a few ideas we have. At first, it'd be really easy just to start planning dates, showing up and shooting, that will create good work but it will not create great work. What we're about to learn is the difference between good and great. Planning our whole projects and scenes beforehand will develop new ideas as we start to go down the journey and give us such a good idea about how we need to approach each and every scene. This is such a crucial part in the filmmaking process. And it's so important that we don't skip it. We cannot just show up and wing it because we'll have no idea the pacing of each scene and how we want to approach our camera movements, our lenses, our wardrobe. We'll have no idea unless we plan everything beforehand. So this is very, very crucial. So when I got off the phone with Kathy, I had a few more questions sitting still. And like I said earlier, we have to keep diggi...
ng deeper and deeper. We think we know someone's story and then we just ask one more question and we realized there's even more elements than we realized. So I sent her an email with a few questions. These questions can be added to or taken away depending on your project or what you even know of the person. But these are a few basic ones that I always start with. So here are the questions. How would you describe yourself? It's really important to get their point of view of how they see themselves. What is the element of your story that you would like to be portrayed in this film? It's really important that we get them invested in this film. Like let's make something that they're proud to be a part of and proud to show and hopefully proud to use for their business. Or if they're just an individual, they're just proud to show their friends and family. Do you have any locations that mean a lot to you? This could be anything from a house they grew up in, or if they're a hockey player, maybe it's an old hockey rink, it could be anything and it also could be nothing but it's important that we ask. What are the largest personal hardships that you've gone through? It could be a life event, mental health, physical health, self doubt, losing a friend. Like we mentioned earlier, it's important that we don't just show the good in their life, but what it took to get them there. Usually there's some sort of hardship that they overcame. So just diving deeper into that is super important. Hardest business hardship to overcome? So for Kathy, she runs her own ceramic business. So maybe there's a time in her business that, you know, things were a little bit tougher and she had to go through some hardship and adversity. So it'd be great to know. Next question is who are the closest people in your life? Most people's stories aren't just individualistic and it's important that we showcase the important people in their life or the people that were a part of their story. Are there any key light bulb or turning point moments in your story that allowed you to pursue your passion? This is another question where there might not be an answer for, but it's important that we ask. We might learn more information about maybe there's a time where they could have gone left or right and their career could have been completely different. If you had any major accomplishments or awards? Sometimes that's good to know, and we can add that to the film. Describe your craft and style. Once again, it's important how they see themselves, their craft and their style. What drives you and gives you purpose either in life or in your craft and what do you enjoy doing besides your craft? That's great, those are a few questions that I usually start off with. And depending on the story I'll add or take away depending on what I know about them already. So let's get into Kathy's responses. How would you describe yourself? I am a ceramic artist that works with local clay. I'm pretty ambitious, I would say. Thoughtful and grounded. Okay. That's great to know. What is one element of your story that you would like to be portrayed in this film? I've really like to make objects that are meaningful and have substance and a story to tell. I'd like that to come through in the piece. That's super cool. Just to know that she's also a storyteller in a completely different way and that these products are more than just a product that looks cool and actually carries a story is definitely something that I also want to come through in the piece. Do you have any locations that mean a lot to you? The river, Fedder and Sherlock, the garden and the studio. So those are great. Those are already spots that I had in mind but she's on the same page. What are the largest personal hardships that you've gone through? Recent death of a family member, her sister-in-law. So this is something I'll have to dive deeper into with her. And we may or may not include this in the film depending on how relevant it is to her story and her career and her art, but definitely something we're gonna touch on in the interview. And yeah, so just see how this affected her in her life. Hardest business hardships to overcome? Kathy's response is there's quite a lot of failure and unpredictability when you work with clay, lots of good life lessons there. So that's super cool. That's definitely an element that I would love to showcase in the piece. Definitely have a scene that just touches on the failure and the life lessons that's learned through that failure. I'm sure there's still days today, even though she's been doing it for so long where something doesn't work out the way she had planned. I would love to know how that affects her and her work. Who are the closest people in your life? She says my family, my husband, and my three kids, friends and fellow artists. The clay community is actually super tight and generally supportive. That's super cool. I definitely want to include her family and her kids. Maybe not fellow artists. It might get a little bit complicated but that's definitely an option that we can explore. Are there any light bulb or turning point moments in your story that allowed you to pursue your passion? I think travel's been really important in my life before I did post-secondary, I spent about five years traveling. Many of those were solo trips. I worked with lots of interesting jobs including at a gold mine in remote part of Australia. Those years gave me confidence that I could do whatever job I set my mind to. The turning point to work with local clay was a contract with Urban Outfitters. I treated it like a grant and took time to research local clay. Around the same time, I went to Indonesia where we visited remote weaving villages where all the plants for fiber and dye were grown, harvested right there in the villages. That was another thing that sparked my interest in using local materials. So this is super cool to know, I had none of these details before, and you'll see, later on, when we start to break down our project, how I integrate a couple of these ideas in the final film. Have you had any major accomplishments or awards? In 2017, I was awarded designer of the year by Western Living Magazine in the maker category. I've been featured in several books and magazines, including Uppercase, the Golden Mail, Western Living, Galleries West and House and Home. So super cool. She's got a ton of awesome awards. I'm not sure if that's an element I'm going to portray in the story but at least we know, and we have the option to include it. Describe your craft and style. Minimal, textured, layered, subtle, and thoughtful. This is a really good one because often I like to match the style of the film slightly with their own style of their craft. So now that I have a good idea of how she sees her craft and her style, now we can match things and make creative decisions based on that style. What drives you and gives you purpose in life or in your craft? I wanna put work out in the world that is accessible and relatable to people, that has purpose beyond just a pretty object. I like the idea that the things I put out to the world will give users a moment to pause to consider where it came from, how it's made and hopefully will ultimately spark your connection, the human connection to the natural and material world and to each other. I'm also thinking about the legacy I leave for my children and generally how I can pave the way and open doors for others. That's a great answer and will be a massive part of the film. I mean, what gives her purpose will hopefully inspire other people and they'll be able to reflect on what gives them purpose in their life or their work. So that's definitely something we'll include. While I was reading this, I really connected with the idea of connecting to the natural world through these products. And that's an element that we will definitely play with in the final edit. What do you enjoy doing aside from your craft? Apart from work, I enjoy running, gardening and good conversation. Awesome. So something I learned here is that she's a runner and likes running. That's super cool. And definitely something that we can integrate into the edit. Not everything needs to be her just working with clay. It's cool that we get to know this person as just an individual who likes multiple things. Maybe we'll get her in the garden. Only seeing them do their craft is an unrealistic point of view. Describe any ideas you have for this film. I think it could be a really simple story of an everyday object, a plate that involves nature, hands, tools and natural elements to make a useful object. I picture shots of dig in the clay, the shovel, boots, material, as it is in nature. A bit of how it was formed, by the melting of glaciers in the river valley, 10,000 years ago. In the studio, mixing clay, drying boxes, pug mill, hands, hydraulic press, kiln, glazing, et cetera. Garden, harvesting veggies, chopping, plating up food. Cool. So it seems like we're on the same page with what we want seen in this film. One element I would love to ask her more about is the melting glaciers in the river valley, 10,000 years ago. So that's something that I didn't know formed the clay that she's working with. So I'm probably gonna call her later and we can dive deeper into that element. For the most part, we've got some similar ideas here and it's all kind of stacking up.
Class Materials
Live Lesson: Feedback and Q&A Session with RJ
RJ's Final Film | SHARED EARTH
Ratings and Reviews
I LOVE this workshop - I have been wanting to film my own 'home life' movies as I am a photographer but I wanted to add even more memories. This workshop has added so much value to how, why, when, and what the process is of film-making for film-making. Thanks to RJ for sharing all his amazing information while being clear, precise, and informative. I am excited to film my next 'home life' film!
Great insights into Rj's process. Really enjoyed it all. Rj is smooth and easy to learn from. Loved the "in-field" BTS and going thru the motions live. Looking forward to more material.
Really informative and inspiring. One of the best video tutorials I have watched.
Student Work