Director's Chair: Day Three
RJ Bruni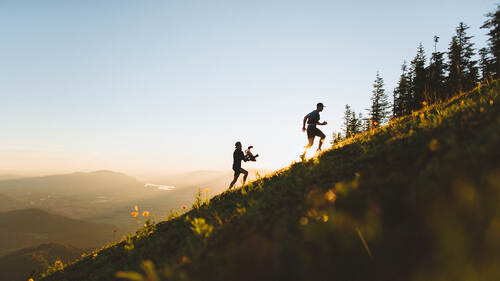 Director's Chair: Day Three
RJ Bruni
Lesson Info
24. Director's Chair: Day Three
Lesson Info
Director's Chair: Day Three
(calm music) (birds chirping) So here we are, day three of shooting with Kathy. First two days have gone super well, even better than I could have hoped for. And this is the last day. So this is our time to get everything that we need to get. It's our last shoot, and I'm pretty excited. We have some awesome stuff planned. Shoot number one, we are going to be shooting with her family in the garden. So it'll just be gardening and collecting some vegetables for their dinner that we're gonna shoot later on the evening. And it's kind of playing off the whole theme of being connected to the land and eating local. And then we're gonna go for a walk with the family, just show some family time, and then we're gonna shoot Kathy preparing a little bit of food, and then we're gonna see the whole family eating a beautiful meal off of the plates and the cups that Kathy has made, obviously with the clay that we captured earlier on in the week. So this is the part now where everything that we've sho...
t comes back around and tells the whole story. So I'm pretty excited. We have a beautiful evening, we've have a lot of overcast, so it's nice that we're gonna have this beautiful sunset tonight. Sometimes it's rare in DC that we even get a sunset. So it's nice to have a beautiful sunset in this film. And that's what we wanted. We wanted the family outside, enjoying a beautiful summer evening. We want to be magical. So a beautiful golden sunset really plays into that. And I'm glad that we got it here. So obviously that was planned for as well. We shifted the days a little bit, so we made sure that we were gonna get it. So, pretty excited for the day. Let's get into it. (birds chirping) A lot of our footage so far has been overcast. So it's good that we get a few establishers of the property with obviously a new day, beautiful sun. So we kind of need to make some new establishers. So first, I'll just gather some shots of the trees, or her house, or the studio again, just to start off basically a new day here at their property. Shooting on the 35 millimeter right now, I don't need to get super tight, I just want something that just feels like we're there with them. And a 35 millimeter on a super 35 millimeter sensor, is about 50 millimeter, which is kind of what our eyes naturally see and feel. So it'll give a good feel today with the 35 millimeter that we're kind of just with them. And we're just another member of their beautiful evening. Can see the, in this shot, the Pro-Mist is doing its magic. We're getting some beautiful, soft flares. The flare is just, take up more of the screen. It's not as harsh, bleeds into the rest of the image and that's thank you to our Pro-Mist. So we're just about to get started. Kathy's just getting some stuff set up, but we set up this, well, I didn't set it up. Kathy and her family set up this beautiful scene here where they're gonna have dinner outside tonight. You know, this is something where, you know, it is realistic that they would have dinner outside in the summer. Usually it's not in this exact location, it's around the corner, kind of under their gazebo, but this is much more of an aesthetic spot, especially under the trees here with the lights coming in. So I wanna encourage you. Don't be afraid just to even if something isn't 100, 100% realistic, don't be afraid just to kind of push it a little bit further and create something that's just a little bit more aesthetic to what we're going for. Even the gardening. Like they might not be gardening all together all the time. Usually it's probably just a couple people from the family, but for this scenario, it makes sense for them to be as a family doing something. So don't be afraid to curate a moment that may not be 100% realistic, but is 90% realistic. And then from there, we can just document it. (gentle guitar music) So if you... What do I do now? What's that? What do I do now? (faintly speaking) So for this scene, the sun's coming from over there and it looks so good, especially when with the Pro-Mist filter it just softens the highlights. It bleeds the highlights into the shadows. We can get some really cool flares. So I'm a big fan of shooting against the light and have them backlit by it. That's kind of my style that I like to shoot by. Obviously we can't do that in every scenario. There might be a shot that's not backlit and that's really fine. But for the most part in the scene like this I'm kind of hoping to shoot towards the sun. I like the look of it. So right now, I'm not doing a lot of directing. Mostly just, we did the work to set up this scene. That was the hard work here. Now, I'm mostly just hoping, stay quiet, stay in the background, and just capture what's happening more so than directing exactly what I want them doing. Yeah. It's working so far, and we're doing some natural moments. That's what we're wanting here. This lens is great. 'Cause I am able to run around, get some wides like we just got, but also get a little bit closer, get some close up on, then picking and whatnot. For moments like this, the 35 millimeter's a great lens. Look at there. (leaves rustling) (birds chirping) Let them move. (leaves rustling) (faintly speaking) (calm music continues) So a scene like this, really just wanted to capture the essence of them, gather berries and peacefulness. So it's important to get good at tracking focus 'cause that's constant racking focus is they're going, picking berries, and then putting in the basket. It's constantly bringing that focus away, too close. So it's just a skill to just constantly be practicing. And I don't get it perfect all the time, but the more you practice, the more you can just nail that shot. We can see it. (calm guitar music continues) (faintly speaking) I want some more. (camera clicking) So we are coming into one of the last, well, the last major scene of our film where we have Kathy coming and serving the plates and we're gonna see the plates being stacked and then put on the table outside and the lights just coming through beautifully right now. Honestly, we couldn't even have planned up this good. Timing is awesome. This beautiful sunset happening, overall, just a really magical feeling scene. And I want that to be enhanced. I don't need it to feel rugged. I want it to feel almost seamless. So I'm gonna toss it on the Movi. So we're gonna get some beautiful footage. And I have this one shot in mind of Kathy having the plate stacked, me just falling right beside her, as she begins to walk towards the table, I'm pretty excited to see how that looks. And after that, I'll probably toss a 50 millimeter lens on and just get some really tight shots of faces laughing, enjoying the meal together. And then that'll be pretty much the climax of our film. So yeah, we're gonna toss in the Movi and we're gonna get that kind of feeling of magic peacefulness from the smooth motion that this is gonna provide. This is a rare scenario where I go auto focused, just because I don't have anybody rocking focus. Instead of holding them perfectly like this, just have 'em a little bit like that so I can see them. Okay. Yeah. Kind of like that. Yeah, there we go. Is that okay? That's perfect. Okay, ready? And then walk a little slower? And, yeah, just a little bit action. (faintly speaking) (faintly chattering) Thank you girl. That first take was perfect. I just want some cut ins now. So I'm gonna get a little bit tighter on the 50. I was so fired up on that. The plates look stunning. Okay, Kathy, and action. (faintly speaking) (birds chirping) I'm so excited with how this is looking. Both shots. We save our movement and our beautiful perfect stabilized movements for stuff like this. And we really just want, we can amplify the scenes more when we, not everything is perfectly smooth, when we do use it, it just amplifies the emotion 'cause it stands out more. It's just contrast is so important in filmmaking. (gentle music) (faintly speaking) You guys just now just act normal as if we were not pointing cameras at you and do whatever you normally do. (faintly speaking) (faintly chattering) (gentle music continues) We have this shot of the whole family, oh let's get off, and it could be my final shot. So I'm gonna do it. I'm gonna have moving, moving backwards. It'll give the impression that we're, as the viewer and the audience, we're leaving the scene, and we're leaving the family, I guess, alone to eat. And yeah, if we were going in, it would give them the feeling that we were moving in but this is probably gonna be our last shot. So I'm gonna be moving backwards for that reason. (blows air) How do you breathe? (laughs) (everyone chattering and laughing) (gentle music continues) Pretty much got everything all through video. So now I'm just messing around, getting some stuff on 16 though, you know, it's fun just, now I'm just capture the memories. Just being here, get some behind the scenes of Graham and no one here. Now it's just the fun part where you can just, yeah, mess around with different mediums and you know, shoot some Polaroids for them to have and stuff like that. You never want to regret not getting something. So, you know, it's best to leave it all in the field. Everyone ready? And three, two, one. (camera clicks) (faintly speaking) Look to shoot something with those photos you have. Oh yeah. Yep. I'm not sure, did you take them out of any sort of album or something? It'd be cool if like we were flipping... Oh. I brought one that we can like- Yeah. put them in. No, I did pull 'em out of an album. Okay, cool. Yeah. You know, one easy option is just to scan the photos, and have these photos pop up on screen, but I think it'd be cool if we did a really tight closeup of just a photo book being flipped. Thought it could look pretty cool. So we're just trying that now. Just tryin' to get steady tripod shots. Okay. So let's do that. And action. (camera clicking) Cool. I actually like this one too. (camera clicking) (faintly speaking) This is our last shot. We hopped in the studio one last time. We're pretty happy with what we got tonight, and the last cherry on top here, so, pretty excited. This is the one scene where we've had to bump our eyes. So up a little bit to 1600, but should be fine. That's it. We did it. It's a wrap. Nice work everybody. Wow. Graham killed it. Kathy, that was tons of fun. Kathy. Yeah, that was good. Yeah. That was incredible. (calm piano music) We are officially wrapped on the production of this project. I'm so excited how all the scenes turned out. We did all the planning beforehand. We got excited about what we were gonna shoot and then everything fell into place. The exact way we planned it. Plus some, you know, after this, it's a daunting task. We have all this footage that we have to collect together to make a cohesive story with, but you know, we're up for the challenge and we're pretty excited. I wanna leave you with one biggest piece of advice here, is just the idea of leaving it all in the field. We only have a couple opportunities, a few shoots to get everything that we want to get. And if we end a little bit early or maybe we get a little bit tired or fatigued or uninspired near the end of shoots, it can be easy just to call it quits, but you know, okay. Everything that we need and then sit back for a little bit, enjoy it. Think about what we have, and then, you know, maybe change your medium up. Maybe get some more photos, maybe just sit there and have a conversation with your talent for a bit. And maybe you'll get inspired in a different way, but if you have any ideas during production or even before production, make sure everyone is executed. And then we leave everything on the field. If we have to end a day a little bit later and we're tired and we have nothing left in our brain capacity to be creative that's usually how it goes. So if you're leaving a day and you feel like you have more left in the tank, I would say try your hardest to leave everything, all your creative energy out in the field. (birds chirping)
Class Materials
Live Lesson: Feedback and Q&A Session with RJ
RJ's Final Film | SHARED EARTH
Ratings and Reviews
I LOVE this workshop - I have been wanting to film my own 'home life' movies as I am a photographer but I wanted to add even more memories. This workshop has added so much value to how, why, when, and what the process is of film-making for film-making. Thanks to RJ for sharing all his amazing information while being clear, precise, and informative. I am excited to film my next 'home life' film!
Great insights into Rj's process. Really enjoyed it all. Rj is smooth and easy to learn from. Loved the "in-field" BTS and going thru the motions live. Looking forward to more material.
Really informative and inspiring. One of the best video tutorials I have watched.
Student Work