Handheld vs Stabilizer vs Tripod
RJ Bruni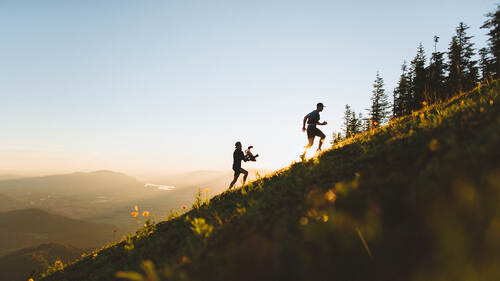 Handheld vs Stabilizer vs Tripod
RJ Bruni
Lesson Info
8. Handheld vs Stabilizer vs Tripod
Lesson Info
Handheld vs Stabilizer vs Tripod
Handheld versus stabilizer versus tripod, what's better for you? The camera movement that we choose controls the energy for our scene. If our camera is shaky and rugged, it's gonna feel a little bit more intense than something that's very smooth and peaceful. I can tell you right now, I use handheld 90% of the time. For me, I feel like it's the most natural movement. If we're walking down the street, our eyes aren't staying perfectly level, they're bouncing up and down. And I think handheld represents that the best. Also, if I'm trying to add a little bit more of intensity or a little bit more energy, I can add intentional shake to my scene. And if I'm trying to keep the energy neutral, I can keep it pretty still. Handheld and stabilizers are the movements that I choose the most. Imagine filming a dancer, their movements are very smooth and graceful, and a stabilizer would be perfect for representing that. Opposed to shooting a boxer where their movements are very bouncy and a little b...
it more rugged, you can get up in their face with handheld and kind of replicate their movements. Lastly, we have the tripod. The tripod is the support that I use the least. If the energy is neutral or peaceful, I'll throw it on a tripod. Or if I'm shooting an interview, often it will be on a tripod. Tripods are also great for shooting details in a room or a scene. Shooting maybe something like a picture on the wall or a plant, tripods can be great just to showcase those details. So remember, we have to choose our support wisely based on the story and the energy that we want our audience to feel. Let's go into the field and I'm gonna show you a few examples using all of these support systems. Okay, so we're over here in the field. We have a few friends and a fire set up, and everyone's just hanging out. We're gonna shoot a four, five shot sequence. And I'm gonna do it three times, once on handheld, once on tripod, and once on stabilizer. And you're gonna see how all these different scenes, even though the compositions are the same, how these different techniques are gonna change the emotion and what the audience feels. I'm excited for you to see, let's get into it. Zach, what I'm gonna get you to do. Yeah. And we're gonna kind of try to do this the same thing three times. I'm just gonna get you to walk past. Yeah. That's first, I'm gonna (indistinct) you to establish a shot. You kind of come across the camera. Yeah. Then I'm gonna follow behind you, Okay, and then I'm gonna get one shot of you axing a piece of wood. Yeah. And then I'm gonna get one shot of you putting the wood in the fire, and then one shot of you guys chilling. So pretty basic. So if you wanna start up here, I'm gonna get you to go down there. Okay, so first we're gonna start with handheld. This is gonna be a very more rugged field and pretty natural. It's gonna feel like we're immersed there just with the natural shakes and whatnot. We're gonna do a couple shots following Zach to the fire. And then once he gets there, we're doing shots of him chopping wood, putting wood in the fire. And then we're gonna replicate two times over with the tripod and the stabilizer. Action. (soft music playing) Cool, thank you. Now let's get, I'm gonna follow behind you, Okay. So if you wanna start up here, perfect, and action. Okay, so what we're gonna do here... Yeah. Is just kinda get a shot of you chopping some wood. So we'll get you just kind of just put the wood down. Yeah. And then kind of, we'll just we'll start with putting it down in an (indistinct), Okay. And action. Awesome. You like that. I didn't even know it was gonna be that quick, that was so good. (chopping wood) Let's do it one more time. (chopping wood) Awesome, Okay, get nice and close to it like you just dropped it. Maybe have the ax in your hand and put it down. Awesome, I'm gonna take a look at that. Awesome, I like that, cool. Okay, ready? Action. Okay, so now we're gonna do the scene again. This time, we're gonna do it on a tripod, it's gonna make for a pretty neutral feel. And it's gonna let our subjects do all the storytelling. Action. (soft music playing) I'm just gonna get you to start right here and then walk right past, Okay. And action. Cut. (indistinct) We're just getting a tripod shot here midway through the scene, and it's looking good. Zach's doing a good job. Okay, action. (chopping wood) Yeah, and action. Perfect. Okay, ready? And action. So for the last time, we're gonna use the stabilizer here. We're using the Movi Pro, but you could use a Ronin or any stabilizer you have access to or even a glide cam or city cam. This is gonna create more of a dreamlike, smooth, perfect feel. So we'll see how it stacks up to the rest of them. Action. And action. Okay, Zach, you ready? And action. (camera snapping) Perfect. (camera snapping) (upbeat music playing) So we're all finished up shooting. And I hope this gave you a good idea about how different support systems and movements can generate different feelings within a scene. If this scene was a part of an actual film that we were using, we would've decided beforehand, what's the feel and story of the scene? And then we would've chosen our shots and movements accordingly. So for this one, we just wanted to use an example how it can feel very different. Neither way is right or wrong, it just has to match our story that we're going for. So next time you're planning your scene, decide what the story is, what the feel is. And then, you can get a good idea of am I gonna use a stabilizer? Am I gonna use a handheld and keep it steady or even go shakier? Or am I gonna use a tripod? Neither option is right or wrong, it just has to match your story.
Class Materials
Live Lesson: Feedback and Q&A Session with RJ
RJ's Final Film | SHARED EARTH
Ratings and Reviews
I LOVE this workshop - I have been wanting to film my own 'home life' movies as I am a photographer but I wanted to add even more memories. This workshop has added so much value to how, why, when, and what the process is of film-making for film-making. Thanks to RJ for sharing all his amazing information while being clear, precise, and informative. I am excited to film my next 'home life' film!
Great insights into Rj's process. Really enjoyed it all. Rj is smooth and easy to learn from. Loved the "in-field" BTS and going thru the motions live. Looking forward to more material.
Really informative and inspiring. One of the best video tutorials I have watched.
Student Work