Mood Boards / Pitch Deck
RJ Bruni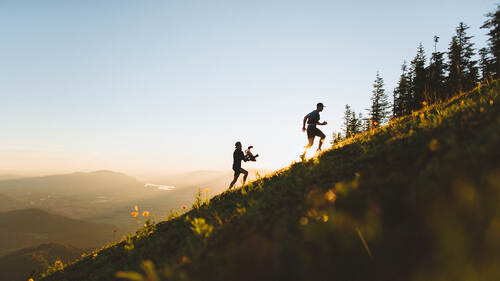 Mood Boards / Pitch Deck
RJ Bruni
Lesson Info
18. Mood Boards / Pitch Deck
Lesson Info
Mood Boards / Pitch Deck
(gentle music) So now that we have tons of info about our film and all the tools we need to keep planning our film. Now we're gonna create a creative deck and mood boards. We'll use a creative deck for not only ourselves but everyone involved in the project. This is so everyone's on the exact same page as far as the creative side goes and even some of the logistics as well. Let's start with the mood board. I'll use mood boards in a few different ways. First, is just to get a good idea of color and tone for a film. If our film is gonna be cooler or lots of blue tones, I'll find lots of images that reflect that feeling properly. And vice versa, if it's gonna be a little bit warmer I'll find images that are a little bit warmer. Another way I'd use it is to get different inspiration or ideas for different compositions, different lighting techniques, or even lens choices. This is something that we can even look back to when we're in the field if we need to get a good idea of what shots we...
're looking for, or it could even be a bit of a storyboard for us as well. Last of all, I'll use it in a bit less of a creative way but more to just showcase the subject of our film. So in our case, if this is a film about ceramic art we'll showcase some images showcasing ceramic art. I'll break my mood boards down in two different ways, one for a whole film. So we'll get a tone or a feel that relates to the whole film. And secondly, I'll break it down for a specific scene. So before we get to this scene I'll make sure a mood board is made that has the color feel, that has shots, and also a few ideas of what our subject is. The biggest resource I use to make these mood boards is a website called Shot Deck. Basically this company takes screen grabs from all the biggest Hollywood movies, old and new, and they put it on a website for our disposal that we can take and use in pitch decks. So this is a super cool website. It's pretty much brand new. Actually might still be in the beta version but I've been using it for about a year now, and it's been a game changer. It saves so much time. So let's get into it. So here we are in shot deck. As you can see, you can already sort it by recently added movies or trending movies, or even sort it by your favorite director. So let's click on Wes Anderson. And we can see tons of frame grabs here that are from Wes Anderson movies. Super cool. In this case, I'm gonna create a pitch deck for a color of our film. And I chose the colors mostly blue and green for our film. So I'm gonna exit outta here. And we can actually sort by color. We can either go cool, or we can either go blue. I'm just gonna go cool and see what we get. So instantly you can see that there's a bit of a feel happening, and this is getting close to what I would choose for our film. So if I scroll down, I'd probably use maybe this shot. I might use this 'cause I like the colors, almost replicate what I want to in the studio. Something like this, very nice and soft and blue. I like as well. I actually really like this as well. That could be a really good example of the tones that we're going for in the studio. So I would go down here, I'd make a new deck. And then I would slowly add shots to that deck that I would want to put in the mood board of this film. I also said one of the colors I wanted was green. So I'd probably go into the green section. I really like this at the forest. This would replicate the trees really nice. And probably these two would look really cool to put in there as well. So I would mainly add those. And then later you can see how I'll put it in my pitch deck. So I've already put together a few mood boards that I wanna use for our film, and I've gone ahead and put it in a pitch deck. I'm excited to show you this pitch deck and it'll give you a good idea of something that you can put together that fits your style of overall filmmaking, as well as the style of the film. Let's get into that. So right now I'm gonna show you the pitch deck that I put together in Adobe InDesign. I exported it as a PDF and I opened it in Dropbox. Whenever I send out a PDF I always send it in a Dropbox link. That way the link will stay the same and I can actually update the PDF and upload new versions of it without the link changing. So if I need to make any changes it'll just be updated for everyone who has that link. It's much easier and cleaner than sending PDFs in an email that constantly get updated and people are just gonna have multiple versions of that same PDF. So here we are, let's go full screen. So first we have our opening page. It's important on these pitch decks that everything just looks cohesive and fits the style. So if we use images that don't have the right color or feel of the film usually I just put them in black and white. So here we actually have an image of Kathy that we have on the opening page. Little bit about Inmest, some details there. And then our working title, we don't have a title yet, but maybe we'll change that later. Next, we just have a little bit about what the film's going to be about. Like I said before this could be something that companies might wanna get on board with as sponsors, so it's good to have lots of breakdowns and any information that they might wanna see. Lots of images here. And then we have a bit about Kathy, this is for our own reminder, as well as a reminder of anyone on set. Next we have a little bit about Inmest. So just on the creative side of things, you can our demo reel and learn a bit about what we're about. And now we're starting to see all the details that we put together in the last episodes. So here we have the creative details about the project. Really cool image of Kathy mining for clay. Here we have the team that's gonna be involved in the project. Like we said before, it's good to have some nice images. So maybe some people haven't met and this can put a face to a name before they even get on set. Then here's the first mood board that I put together. For this pitch deck I just put together a couple color and feel mood boards, but on top of this before we get on set I'd probably put together a couple more mood boards just for the specific scenes that go into more specific details of composition and maybe lens choices as well. But here we have the first color mood board and this color was the blue collar that we chose for the film. I'm really happy with how it turned out. Here we have, you can see a little cabin in the woods that would almost even replicate Kathy's studio. And then just some really cool interesting lighting that all matches and it gives us a good idea of how we can approach our film. And then second we have the green color, this will more replicate the scenes in the forest where we're gonna be surrounded by lots of greens. And I'm pretty excited about how this looks and it gets me excited to go ahead and start shooting. Next we have just our scene breakdowns. So here we have scene one. I like to think of this creative deck as a mood board as a whole, so every page has a feel that relates to the film. So it's not just those separate mood board pages it's the whole creative deck as a whole, so it's important that we're sprinkling photos throughout. Scene two, nice, awesome photo of Kathy mining for clay again. And here, give people a good idea of our past work. This is the most recent one as you guys saw in the beginning of the workshop, just the portrait film on me, and this will be a portrait film on Kathy essentially as well. So we thought that one would be a good one to throw in there. And here we usually have a production timeline. We don't have any dates planned and set in stone yet, but once we do we'll start to put that in here. And then usually on top of this we might put a budget breakdown if we're getting sponsors involved as well, just a similar looking page. And last of all, we just have the logo. One last image to come away with. So now you have a good idea about how I create my mood boards and creative decks. I hope you can take this template and create something with your own style, and something that suits you and gives everyone a good idea of what the project is going to look like. This is a template that I use that I'm constantly taking away and expanding on always depending on the film. So if a film requires more logistics as far as budget breakdowns, I'll add in budget breakdowns to the creative deck. But I'll still do it in a creative way. I'll add photos that add to our feel and give everyone a good idea of what it's gonna feel like. So everything we do is creative and we should remember that.
Class Materials
Live Lesson: Feedback and Q&A Session with RJ
RJ's Final Film | SHARED EARTH
Ratings and Reviews
I LOVE this workshop - I have been wanting to film my own 'home life' movies as I am a photographer but I wanted to add even more memories. This workshop has added so much value to how, why, when, and what the process is of film-making for film-making. Thanks to RJ for sharing all his amazing information while being clear, precise, and informative. I am excited to film my next 'home life' film!
Great insights into Rj's process. Really enjoyed it all. Rj is smooth and easy to learn from. Loved the "in-field" BTS and going thru the motions live. Looking forward to more material.
Really informative and inspiring. One of the best video tutorials I have watched.
Student Work