Your Purpose in Storytelling
RJ Bruni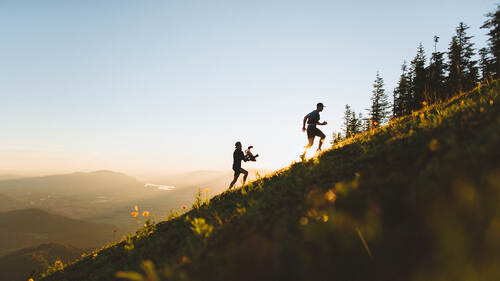 Your Purpose in Storytelling
RJ Bruni
Lesson Info
13. Your Purpose in Storytelling
Lesson Info
Your Purpose in Storytelling
When it comes to filmmaking, it's important to identify who we are as storytellers and what's our purpose. It's a statement that can help link together all of our projects and it'll give us a starting point when we're starting to sift ideas and stories. For myself, my purpose in filmmaking is to make the viewer question how they live and make a positive change in their lives. By telling other people's stories and sometimes my own stories, I aim to make films where the viewer can relate to the main character, see the growth that they've gone through and relate it to their own lives. I do this by always including some sort of struggle or hardship and by the end of the film, there has to be a key takeaway that the viewer can take into their own life. For example, the portrait film that you saw of me at the beginning of the workshop, by the end of that, I hope that you felt inspired to capture your own life on film, so the moments and people around you could live forever. Your purpose as a...
storyteller could be as simple as wanting to inspire people to travel or make someone feel scared or sad or maybe you can create a fictional world that people can escape to. Whatever it is, I encourage you to narrow down what your purpose in storytelling is and it'll help us as we move forward. One last thing is I always hope my films can pass the cry test. What we're here to do as filmmakers is to create deep emotion or feeling within people. So, for me, that means crying. Crying doesn't always have to be sad. Sometimes it can be tears of joy or laughter and sometimes sad and remorse on the other end. But if I've done my job correctly as a filmmaker, I hope that all my films can at least make one person cry, even if it's just my mom. Our purpose statement as storytellers can be changed over time, but it's important to be pointing towards something especially as we narrow down the stories that we're aiming to tell.
Class Materials
Live Lesson: Feedback and Q&A Session with RJ
RJ's Final Film | SHARED EARTH
Ratings and Reviews
I LOVE this workshop - I have been wanting to film my own 'home life' movies as I am a photographer but I wanted to add even more memories. This workshop has added so much value to how, why, when, and what the process is of film-making for film-making. Thanks to RJ for sharing all his amazing information while being clear, precise, and informative. I am excited to film my next 'home life' film!
Great insights into Rj's process. Really enjoyed it all. Rj is smooth and easy to learn from. Loved the "in-field" BTS and going thru the motions live. Looking forward to more material.
Really informative and inspiring. One of the best video tutorials I have watched.
Student Work