Printing Iceland
Alex Strohl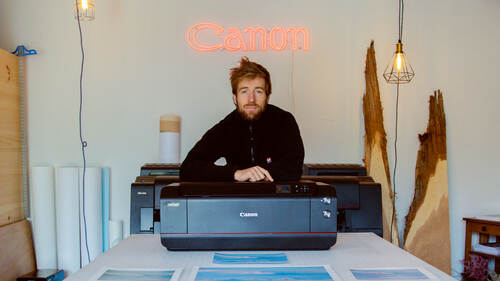 Printing Iceland
Alex Strohl
Lesson Info
11. Printing Iceland
Alex prints a bright snowy image on glossy paper and walks through how to make borderless prints.
Lesson Info
Printing Iceland
So we've done night, we've done day we've done high sunlight. The last environment that I think we should print is snow. So at this photo of Iceland that I think will be perfect in a different paper. Talk about this one. The Beretta honey muli calls it a high gloss. I think it's explosively glossip to me. Just looks more like a luster. Therefore I will use cannons luster paper to practice on it to get my test prints. And then I put the final on this one again. Let's do it. Okay, so we've got soft proofing going on. It's gonna be good on luster. First thing I gotta do is go get the profile for this paper on the website. I wonder if you pronounce hand like that. Alright, just restart that room. It will be good. All right, let's see. It looks like on the profile very similar. A bit more magenta is happening there something I'll consider in my white balance. Okay, so if there is more agenda, I gotta take some out of here till the pretty looks perfect. What is that? Less touch of a little b...
it of worms. But that's not a bad thing. Now highlights. I was looking at the colors first. I always look at the tint. The Hughes. I'm gonna look at the highlights and shadows. Pretty similar contrast. Pretty similar. Alright, let's give it a test run. I have my canon luster paper and a half by 11 as a test print. And uh let's try actually because I have this as a half 11. I'm just gonna do my test print on this. Then we'll go to the bigger size for the final. Then it's even easier raises its glossy this time. It's a little more glass standard. Mhm. Right. Paper good. And then my size page set up U. S. Paper. Okay. South side is good there. I don't need to get so tight. Thank you. Okay, a lot of the paper. It's beautiful. Yeah, smells like glue. No doubt now we print first, desperate on Hannah mule is out. It's looking good. Bit less glass than the actually very similar. More of a textured paper here than the cannon luster. That's where they charge the premium. It's also thicker. It's looking pretty accurate. Again. When you print, you see the It makes you a better photographer. Right? You're seeing the problems here. I'm seeing this vignette that's quite problematic. Versus on the computer. I didn't notice it as much. So I'm gonna address that. And I think we'll be good. Otherwise, it's really close. It's compared to the screen. So obviously compared to the screen, the animal paper is much warmer. You can see it here. So, that's why it just looks as a warmer image even with And you see it even with emulating the profile, calibrating the monitor perfectly. We're still getting discrepancy. That's what you have to do test prints. So I'm gonna cool off the image as well that room and address my vignette probably by cropping it, keep it simple. And I think we'll be in luck. I'm gonna kill it off by a few even more. All right, this is instinct. Again, like editing for printing is very instinctual. And then feeling that this kind of it's almost like cooking. You know, you feel like this amount of salt will be good. I feel like this amount of cold of blue will be good. I know that they'll be like a 20% increase of warmth in the paper. Pretty much otherwise. Greenness is fine. It's actually correct. This highlights looking good. I don't want to touch that. Okay, and now the vignette instead of going correction, I'm just gonna crap just because it actually needs it. I think there's a little too much breathing room next to my reindeer. So Oh no, just do this instead. Gonna have the first reindeer on that line there. That third looking good. This is getting a little in depth here. We shouldn't be doing this for an editing workshop, but this could catch my eye here. It's a little dark. There is dark, dark mass at the edge of the image and that's never a good thing. I'm just gonna get a break. So it doesn't draw my either my eye kind of ignores it and paper will tell us who did well or not. He's making you one too get a bit of a correction here. This pebble. I find this a little bit of snow. I find quite catchy on the print. I just get rid of it. Usually do this on Photoshop lightroom. Does it pretty terribly? Okay. Uh Well there you go. Let's pick a line. Right? Alright I think that does it. Okay it's a very big file so I'm comfortable cropping it in and still doing a 13 19 printer, three D. P. I was shot 50 Megapixel Camera. So Good. More than enough. Okay now let's do this next sample again at 8.5 11. See if we're good and then we'll go to the big one. Second test print is out. I can see the white balance is much better now see the difference we've had on it. Much more accurate now I like the crop too less room up there in the sky that we don't need. It's a different topic but you know we lose some of this and this here. I think it's I prefer this as a crap personally see with the monitor happy with it. Let's make it big now. So I decided to do my test prints on this which is about $2 a sheet versus cannon clusters which is about 50 cents a sheet. Just because I was comfortable knowing that I'll be able to get it right in one or two tries. Do you think it's gonna be challenging images? Like I said you could use a similar paper like the paper the cannon luster. Cannon semigloss to do your experiments for cheaper and then do one test print on this. Save you some money in the long term. Okay now that I have it right on 8.5 11 I can go to the biggest size of 13 by 19. Extreme care with glossy papers market very easy with your nails so nails cut and extra careful clean hands. Here it is. So you wanna be extra careful with semi gloss paper, cluster papers, glasses, papers which can damage them really easy. So This one has no imperfections really. They do but it's good to check it's really like careful. Okay and just to compare this is Canon luster next to it a little cooler, a little less texture but a similar reflectivity to super. It reflects you know it reflects the light the same way. That's why I think it's a viable option to do your test print this much cooler. Okay now let's let's put the right size and page setup a three plus three plus cell size precision work here. Actually even an inch on each side, inch and a half on the sides. The bigger the image, the more room you leave or you can go border less if you want as well. We should do a borderless print. Okay right at the paper profile this time sharpening I'm gonna go high because it's a bigger size again right sizes here. Right profiles. Wait crap printing 13 x 19 Burrito is out and it looks brilliant. See yeah it's so nice to see your photos in print. So it's worth doing the test brands because this is exactly the same because it's exactly the same paper and this is this would have been a $5 experiment versus a $2 experiment. So there you have it. So I've shown you how to do prints with the white border around them the mat. But what if you wanted to do a borderless print? It's not something I do very often because I like to have white around the photo to handle it. And also when you frame the photo it's nice to just have the white there instead of having to go over it. But should you want to make borderless you can definitely do it on that room. So to do that you're gonna have to make some cropping decisions first because you need your file to be 8.5 by 11 which is the size of the paper. I'm gonna be using eight and 11. So you're gonna have to crop your image First things first to the exact paper site. So if your papers and a half by 11. 11 final. Okay once you've done that, happy with the crab you got command print. And then the next step here you gotta be careful is page setup. So we're going to use letter and then here's the catch this us letter and this letter board on this, make sure you get less. And then here That room is gonna suggest you this new cell size. But you see it's still age and 10.68. Can't go any further maxed out. So the problem is here in the margins you gotta get rid of all the margins and that will give you the maximum in there. Now you see there's no margin anywhere and this is truly borderless. So sharpening is standard. It's a smaller photo. Got the right profile, got my paper loaded. Let's print the borderless border Less is out. There's the trick here but we should be using some white gloves to handle this. Yeah, there's the border list. Easy. Yeah it's more or less. I mean that's how you do Borderless
Ratings and Reviews
Thank you. Lots of good information. Well done.
Through and also to the point! Well worth the watch, and I feel confident to print on my own now.
I would recommend it for anyone trying to understand the print process better but, I think Alex needs to work on speaking a bit clearer and maybe slow down a bit when he is moving his cursor around in LR as was difficult to keep up with him and to see what he was doing.
Student Work