Course Introduction
James Victore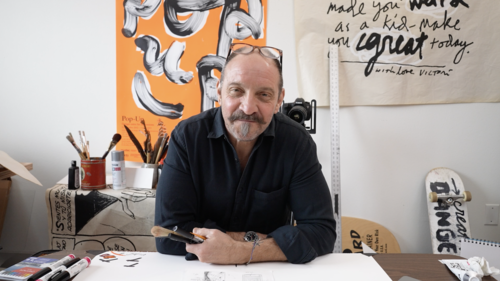 Course Introduction
James Victore
Lesson Info
1. Course Introduction
Lesson Info
Course Introduction
(soft music) Howdy, I'm James Victore, and welcome to my course on tools, basically showing you everything I work, everything I use, all the different ways I try to make a mark, get to the point, tell the truth, put some vulnerability and authenticity into my work. And I wanna just tell you real quickly kind of how I work, even in the sketching process. So this is a layout of six different ideas for the movie poster for Wim Wenders's documentary called the Cave of Forgotten Dreams, about going into the Lascaux caves in France. And just some ideas that I thought would be interesting to portray. None of these gotten used as the final but that's fine. So that we get paid off in just for a lot of like creative go-sees like, "Hey, James, what would you do if?" So here's just some different ideas. And this basically shows a lot of the different ways that I like to play. Like this one, it just says point of light. And I would literally show this to the client, like not finish, not fancy. So...
there's nothing that they can pick on. So it would just say literally a point of light was this one, or this wouldn't be the idea of how wonderful it would be to get an actual bone and paint on it, which I've done before in my work, but to have this kind of beautiful rainbow painted bone, or some fingers holding just a single point of light, a single match. This would be a finger paint mark, right? To kind of mimic these earlier cave markings. But a more contemporary version of it, right? So I was using finger painting, using photography, using painting on an object, This is a Cave of Forgotten Dreams, and this says, a' la Robert Brownjohn, projected typography on a woman's body. So it would be some very crude typography but painted on the human form. Again, trying to bring all the elements of the documentary of the caves together into one piece and just using a play of techniques. I like to work with a lot of tools. I like to paint on existing things. I like to paint on bodies and on myself. So what I wanna do with this course is just show you a bunch of things a bunch of news ways to play, not necessarily to give you this huge arsenal but to invite you to play, and to invite you to to get back to just making, and not worry about the client, and not worry about the end result, and just get out there and make some flaws and make some mistakes, and find that you'll end up making some really beautiful things. So I'm glad you're here. Let's go do this. I'm ready. I'll talk to you there. (smooth upbeat music)
Ratings and Reviews
What a great class! This guy is so REAL, and clearly so excited by what he gets to do for a living! His examples of what can be achieved with simple tools are very inspiring. Mostly, it was his attitude toward creating, and life in general, that truly lifted me up! Yeah, Man, we can use more of that these days! Thanks James!
Wonderful reminder of the "power of the pencil"! I have been drawing since age 3 (maybe 4). I would watch Howdy Doodie try to draw the characters.... and guess what pencil I was given....the old 2HB. Thanks for the reminder. :))
Victore helped me to let perfection go and just listen to the words coming from my heart. This course encouraged me to start my book artwork right after finishing this course.
Student Work