Polishing in Post Part 3
Ben Willmore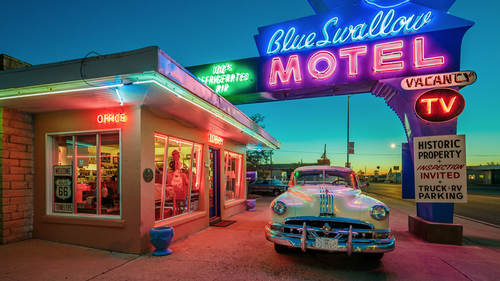 Polishing in Post Part 3
Ben Willmore
Lesson Info
13. Polishing in Post Part 3
Lesson Info
Polishing in Post Part 3
so we've looked at too bright too dark too much contrast not enough contrast and so you get a sense for that it can handle most things but let's look at color a bit and that's where we might talk about the difference between that clarity in saturation in this image it doesn't feel like it's all that colorful it's just not the this uh trees in the pollution which is an area south of the city spokane's right earlier as well south of spokane washington and here I put the sun directly behind one of these tree branches and I often do that when I'm shooting into the sun is so I avoided a massively bright object in the scene I'll just hide it behind a big tree branch and then I can still get kind of the glow of the sun without the actual dot of the sun and in here I think the sky could be a bit darker it would could help because it feels rather white instead of having anything in it so I might bring my highlights down and I might want to see a little bit of what's in the shadows down here I'm...
not certain because the shape of this tree is just fun all by itself I don't know if I need to actually see the detail in it the detail might be a distraction from the shape but let's see what would happen if I took shadows and I increased it I like that or not maybe if I bring it up but not quite that high because I don't need to see the detail in the trunk of the tree so back off on it so there's just a hint of detail in the front now I want the image to be more colorful of two sliders to use to do that and that is vibrance and saturation let's look at the difference between the two the saturation slider will treat all colors equally it will boost every color and equal amount and so I could bring that up in the problem I can run into his there might be one color that starts to become too colorful where just doesn't look right like the orange on the horizon to my eye is starting to look a bit too colorful almost so I could back off on that if I need to but it treats all colors equally so when one color gets to kind of reach its peak you can't go any further without their that's starting to look bad we'll double click on that to set it back two zero let's get a vibrance instead fryer inches quite different instead of treating all colors equally what vibrance does is it concentrates on the areas that are not all that colorful to begin with in it applies less and less and less as it gets into the mork colorful areas in so that way I can boost this up and it's going to be difficult for me to get one area within the image to become overdone because the supplies less and less as it gets into the more colorful areas so once something starts ki coming really colorful and I continue to move the slider itjust affects it less and less and less and so I can push this a lot further than I could the saturation slaughter because it's difficult to get things to be overdone the other thing that it does is it will darkened skies blue things will get darker because usually the skies look better when they get darker and also this will try not to over saturate skin so if you have people in your photograph and you brought up saturation their skin they could look sunburn really fast but if you bring up vibrant instead it tries to protect skin tones so that they don't look overdone that way I could get a nice blue sky green grass everything else without alien looking you know people I sometimes itjust both right now I have vibrance turned up one hundred percent so I can't get it any further so I might need to supplement it with saturation couldn't get it even further in sometimes I will take vibrates and turn all the way down down would mean take the mellow colors and mellow out even more I might do that if I had something that was already really colorful there's ah rose or something in this picture and I don't want the grass and the dirt and the everything surrounding it to compete with it so I bring vibrance down which says take the mellow colors and mellow him out even more so with the simmons show I'm gonna turn preview off and on to see we've done with it and the other thing I could do is see what happens if I shift the color around a little bit we have temperature and tent and if this is the sun and its anywhere close to going down usually be getting some warm colors and if you look here a temperature intent the warmer colors or towards the right side uh these air cooler colors and so if I want to see what this would look like can I make it look more like sunset by pushing this towards yellow or not maybe get just enough for a get a nice blue coming in the sky hey I needed push it towards blue but experiment there may be I want to push it more towards magenta or away from and just see what do you think the person choice your picture not anybody else's then if there's one particular area the photograph that I don't like that's when I go to the adjustment brush and with the brush I can paint an adjustment into an isolated area so I could come in here and reset these sliders two zeros because it's just remembering the sliders I used last and I could decide is there any part of my picture I don't like maybe right where the sun is I see almost like a little hint of red around the leaves and things in the tree looks a little odd and I think that might be from me bringing the highlights down I'm going to bring the highlights up to compensate for that it is paint right there where the sun would go and see if it helps I'm not sure if it will that doesn't seem to be doing much because when I moved the highlights around I'm not really seeing it maybe I want to make that area a little bit less reddish mohr towards some other color so I do the temperature intent say hey make this area a little bit more yellow isthe show if the son is back there and get nice and warm and move it away from that magenta color a little bit and if you could see that as far as I'll turn preview ofthe you see a little bit different color coming in or maybe I want to make it less colorful bring down my saturation sometimes you don't know and use have to experiment and see if you can figure out which slaughter is going to give you what you want but I'm not randomly moving sliders I'm thinking about the highlights that are messed up is it too colorful is that the color itself and I'm going to very targeted sliders in there once you've applied an adjustment toe one area by painting if you want to adjust a separate area all you need to do is in the top up here you have three choices in a default to a choice called ad which means the less next time I released the mouse button and click on the picture shouldn't just add to the adjustment we're already working on or should have race the adjustments like got too much over spray somewhere I could say erase this adjustment when I paint next or if I choose knew it means I'm done with that adjustment I've just put in and I can create a completely independent one so after choosing new I could zero this stuff out and maybe at the bottom I want to see some more detail or less color or something else I just kind of guessed mate what I want maybe I want to bring my shadows up and then I come down here is painted it that's a little extreme what I'm getting butt after I'm done painting it in I can bring it down find tuna decide maybe a little brighter maybe just a little bit less colorful but the difference between vibrance and saturation wass that vibrance concentrates on melo colors that's where most of the change happens and it effects the much less and lasses that gets into the more colorful areas which means usually you can get away with moving it up much higher before he run into issues where a saturation treats all colors equally and if one color starts looking a little over colorful you can't really move in any farther without it messing up that um area also when it comes to color sometimes would take photographs of things and the problem is I don't remember exactly what color this wass was this brownish was this hey into blue was it something else and sometimes it's really hard to remember so if I'm is any kind of seen and I want to make sure the colors look the way they did to my eye when I was there what happens is you're I adjust to whatever color you're in if you go into an office during the day and there's fluorescent lights in the ceiling the first moment you walk into the office your eye might notice that those lights are a different color than daylight you might lose hate this color light in here but then as you sit in that room for half an hour an hour your I adjust in it color corrects the scene for you your camera on the other hand doesn't do that so when you walk up to this scene your eyes automatically color correcting it for whatever kind of light is falling on it to make it look in general natural but your camera's not going to do the same thing there's a way we can get our camera to do that and that isthe with this little thing I have in my hand this is a little bitty card that is gray it's what's noticed neutral gray meaning there's no hint of color in it whatsoever there's no reddish there's no bluish there's no greenish nor yellow no nothing it's just gray it's like quick could be in a black and white photograph where there is no color and it's actually been measured every single one of these they put a little measurement device on and measure to make sure that there's not a hint of color in it so if I take this and I put it in the scene I'm about to photograph and you could get him in various sizes and such this is an old version of the card in a size the size of a credit card ah a newer version would look a little bit more like this one buddy what you put that in the scene and you let whatever light is falling on your subject fall on this card then this card is going to take on the color of the light source just imagine I had a red light ball in my hand right now when the red light from the light ball make this card look reddish same thing is true here in this lighting in this room it's shifting the color of this little card to whatever color the light is that's falling on it so if I include this in my photograph just making sure that the same light that's falling on the subject that I'm shoot shooting is falling on this card then this little card is an easy way to measure what color of light was falling on that scene in to compensate for it just like our eyes automatically d'oh so here's what I would do here I took a picture of this in the same environment where the other photo was taken I'm going to select both of these images have clicked on one already I'll hold shift and get the other one and when I have two of them selected I could go to the file menu and bridge and there's a choice called open and camera because if I double click it's only I think in open one but if I go up here and she's opening camera aw it'll open more than one when you have more than one image highlighted and you choose opening camera the showbiz thumbnails on the left side and if I click on the one that has little card on it I convert you it in right now if I make any changes to the sliders on the right it'll affect on ly the card that's currently selected over here the image that's selected I should say this one or this one but if I hit the select all bun that thing then all of these images would be selected this could be fifty or a hundred pictures I took in that same environment then if I hit select all now any change I make will affect all the images and all I need to do to color correct this image is to come up to the top of my screen where there's an eyedropper tool this one it's not as a white balance tool and I move it on to this great part of the card and I simply click and all the white balance tool does is it looks at something in whatever you click on it assumes should have no color whatsoever so if that thing that you click on looks bluish then it's going to come over here to these two sliders it's going to move this away from blue until the card no longer looks bluish but it's not going to move it so far this is going to start looking yellowish it's going to move it just far enough to absorb the blue if on the other hand this card looks a little bit magenta it will move this slider away from magenta just enough to get rid of that color because if this has been measured to make sure it's perfectly gray then whatever lights falling on it causing the entire scene that's there to shift to that color and we can compensate for it something our eyes do automatically but our cameras don't our camera tries but it's not like your eyes it's not good so I'm going to grab that white balance eyedropper all click right on this gray area and click it just calculated the proper white balance for this incense I had the other image selected at the same time the other image was affected as well and this could be an entire series of images hundreds of pictures I took in that environment they'd all be color corrected now so now even if I don't remember what color this stuff wass it was this color um now you're going to find though that shadows in an image are always bluer then the area's lit by the sun just think about it for a minute the sun is lighting obviously the areas with sunder is hitting and the sun is usually warm it's I don't mean warm to the touch I just mean it's yellowish orange ish anytime you see the sun you've never seen the sun blue right her green you've seen it yellow and orange warm colors the shadowy areas are not being lit by the sun there be lit being lit by the blue sky just the blue sky is lighting the shadowy areas that makes them bluer blue sky light those up and so if what's most important to me in the photograph is what's in the shade I need to get this little card in the shade not in the sun so I might end up taking two shots take one shot with this in the sunny area then go put it in a shady area and take a second shot and therefore I could compensate for either of those two areas but they are going to be different shadows are always bluer because the blue sky lighting them and the and that's why we're getting kind of bluish out here now this isn't the only brand you can get this thing is called a why belle card that's w h I b a l it's just the brand I like what I like about it is it's plastic it's almost indestructible and I can get one the size of those same little things that you have on your key chain that are like for your supermarket you go to the grocery store or your workout club or whatever they all have these little things they want you to have it here on your key chain to check in with you can also get one larger that's the same size as a credit card or business card so you can always have it in your wallet it comes in a little thai vex leave tai vex the same thing that federal express envelopes are made out of um so you could always have one in your wallet so it's really convenient or you can get a huge one and I have one of those old one here they come in plastic bags where if you're going to shoot a huge object like a fighter jet off on the runway this thing is going to be so small you won't be able to click on it but this thing you could put in there and use it instead the prices I looked up prices on these I don't have it in front of me but I think little one like this is about twelve bucks fifteen okay and then the one larger than this it's credit card sized is twenty and the big one I did look of the fifteen twenty bucks for the little dude's and this will be more expensive okay really nice you're going to find the bigger ones have a little target thing on them and if you can't see that in your viewfinder it means you have glare on this it means it's at the right angle to the sun where it's bouncing right off I'm giving you a glare so if you can't see these little target things just change the angle s o that it's not glaring include this anytime you move to a new environment completely different son or different time of day you could pop this in the scene to measure that so if I go from outside teo indoors pop go from one room indoors to a different room that has different kinds of lights take another shot of that and I can quickly color correct things which I think is great so my wife karen loves these because I have this attached to my little pouches that I wear on my waist and so all she has to do is take pictures of me when we're in the field she just goes oh bends in the sun click on then she'll say like walk over there and I'm like what she's trying to take a picture of me in the shade so she could get this off of my a couple questions what's the optimal angle of the card uh the optimal angle is just so you don't get a big reflection off of it because that would cause it to be too bright so it doesn't have to be this early optimal angle if there's a particular light source you could point it towards the light source so it's hitting straight onto it like that but it doesn't it's not overly critical as long as the color of light that is falling on your subject is falling on this so you're going to take a picture of a person just hand this to him and say hold this and make sure whatever light is falling on them if it's two different light sources put it in whatever light source you want to look true you know or good to your eye on that kind of thing great and make sure if you have something like an orange wall or something you don't put it right up against the orange wall where you get a reflection of that color get it where the thing hitting it'sthe light source in the scene it's not a reflection of some big blue wall or orange wall or something because that would reflect into it actually quick question then s I just saw questions somewhere in the chat rooms about gray card so I just want to make sure that people know that what you're holding us is a white balance card this is a white palace card a great card is something designed for measuring exposure and they can sometimes be used for white balance but some great cards are not designed to be color accurate instead they're designed to be accurate brightness wise also what I don't like about most white balance things is they're fragile they're things that could get dirty where you if you wiped if you wiped it off like so for something you'd ruin it because they're overly fragile this is not fragile this thing aiken drop in a public water pick it up in to wipe it off and as long as it didn't stain it and it's fine another option is something called a color check her passport which I have here which has all sorts of little different colors on it and if you want you can also flip this over and there's the grey be careful with this though this is much more fragile I wouldn't want to use this in the rain that kind of thing but this you can actually get software comes with it where it can measure all these little color swatches and do a further adjustment to get the color more accurate if I was shooting products for a catalog or clothing or something like that I would prefer something like this where it's going to do more than just do a generic white balance instead it's goingto investigate more of these colors but this is called a color check her passport it's from x right the letter x and the r I t and so that's another option brought it catalogues that kind of stuff this is nice just in the field to always have with you and all that I like the y belle there is a discount code for the y belle on my website uh it's go to digital mastery dot com and there is a section called resource is I think and in there is a section called product discounts and that's where you can find it I don't remember what the discount is and if you purchase anything through there I do not make a cent hey what he does is he gives me free ones of these like these two I have in my hands which I appreciate but I don't make a cent from your purchase so I got that information they'll need to use the discount code wilmore as your coupon code okay will morrison coupon code it sounds good now remember we talked about shooting panoramas and how we wanted to put our camera on manual focus we wanted to hit the little button on the back to lock exposure so it's consistent well the other thing we need to do is when we're processing those images we need to make sure any process only apply equally applies to all of them so we don't do women in weird ways so here I have a panorama here's what it looks like you can tell it was shot with a long lens because the backgrounds really out of focus and that's hard to do with the wide lens this once taken in africa and I'm going to take those images I click on the first image I hold shift and I click on the last image and I just go up to the file menu and I choose opening camera then I choose the most important picture out of this siri's so I can click through them here and say which area here is most critical and I think it's that guy because he's the guy looking straight at me and so I find that one that's most critical that's the one I'm viewing here on the main screen then I hit the select all button in the upper left and therefore any changes I make will equally affect them all and now I can optimize the image I come in here and say maybe I want more shattered detail see if that brings out his eyes or not bringing out a little bit the trees which might not be as good but that's doing a little bit to the eyes ah I could see if it would help to darken the sky but I don't know if it matters or not I could bring down my highlights yes a little bet maybe a try clarity although with animals and things sometimes it makes it too dark and many areas and I bring up clarity you see how it's kind of you know if you can tell it's making them look almost dirty but vibrance I could make him look more colorful sometimes I'll crank up vibrance before I adjust temperature intent because it gives me a better idea of what's going on with colors just so I can see what kind of stuff on my getting and I try to go for whatever gives me the most variation in color and the most natural color and then I might bring vibrance down because it was too high but bring it way up just makes it easier to see what kind of colors I have within the image but if I had the select all button then this is going to be able to adjust all the pictures at once I can optimize it as much as I care to and then I can stitch the panorama that one thing that I do too the absolute vast majority of images I work on I mean literally ninety five percent of the images that I work on I try to make sure they have a small area of black if they don't have a small area of black they can feel hazy they can feel like they just don't have the good emphasis I don't know the word to use just a good amount of contrast compared to other images that I see and I can tell if an image doesn't have any black by looking at that bar chart there were blacks and left me a little gap on the end that means the darkest singing this image is nowhere near black so with most images I will grab the black slider and there's a way to tell where within your image something becomes black and if you have black at all without even using that bar chart what you do is you go to the black slider you move your mouse on top of it and you hold down the option key just all tum windows I haven't held down right now then you click the mouse button and it shows you if you have any black if all you see on your screen is this you don't have any black move this slaughter to the left darken until you start seeing something show up you see little bitty speck start to show up if the specs are in color you don't have black there yet but we're getting close move until instead of seeing color you see black that's the areas where you have solid black I don't want a large area of solid black on listen doing it on purpose where cem design feature like that image of the red leaves that were backlit with black surrounding them there I might not mind a large area black before a normal file I want a tiny area of black so back off on this may be about there tiny area black on most images that's going to help it's going to give you a lot more contrast in the image when I'm done adjusting a panorama hit the done button and now that image is ready to be stitched we'll talk cover stitching um tomorrow we get into other techniques so if you think about what we talked about here it's really about fine tuning your image in trying to get the most out of it and I find that the more you know about using came a raw the more you'll be able to transform your images from just a raw capture the camera into something that's much more than that in this case it's mainly bringing up the vibrance and adjusting the white balance to make it feel warmer in this image going to hear it's mainly making it more colorful so those little red on oranges come out and they're setting we haven't talked about which khun darken the edges of your picture it's under the effects tab and it's called vignette ng I could bring it down a little bit too dark in the edges with this image that vibrance has brought been brought up quite a bit in fact they'd probably want to do some additional adjustment in this image because the tops of the mountains look blue and that's because the vibrance is making them more colorful I'd probably go of my brush with a saturation turned down and paint over these dark parts in the mountains to pull out a little bit of the bluish look also in this image I'm guessing that uh clarity has been brought up to bring out the little textures in the image this image highlights was brought down to get that skye to go dark and then some contrast tweaking in adjusting the shadows I wanted you to mainly be looking out here and to see the little iss hint of detail down there e did lens correction it did produce a check box for that but you get the idea of how much you transform the image in the before versus the after but it's all the things we just talked about this is actually my shadow right here if you could see me there and I think cnn now but my buddies were hanging out up here bring up your blacks remember if you have a big gap on the left side of your history ram means you have no black bring up your blacks make your mention little bit warmer through white balance and tweak it even more that was me too weak and quite a bit just about every slider in there got moved wow this image has no black innit this image is overly bright so bring down exposure first to make it somewhat normal in brightness then control how much detail you having the iceberg with the shadow slaughter control how much detail you have in the sky with the highlights slider in adjust vibrance to get it to be more colorful you could make those kinds of massive changes so I polish it in post after we've thought about getting an effective composition we thought about you know what lenses we used to pull things far away from us close that kind of stuff we thought about should something being focused or out we've done all that then we're gonna polish it and post what we're going to do tomorrow is tomorrow I'll talk more about different shooting situations that we might encounter like waterfalls and other stuff how how to shoot through ah fences and glass and all that kind of stuff also talk about websites and iphone applications that I find to be overly useful either when I'm in the field or when I'm planning uh you know scouting and in things and we'll talk about finishing things up in photo shop which means here we ve used only one tool which is the dough became a raw but tomorrow we can play with the rest of photo shop to see how can we further refined things and so hopefully you're starting to think a little bit more like a leased this photographer so I think we are yeah for sure hey you just mentioned very briefly you mentioned the iphone because I know a lot of that new photographers these days so we're gonna be delving into that a bit tomorrow not so much for taking photos it's not an iphone ah graffiti class great but mohr of what our cem apse on the phone that it could be useful like they're certain apse for figuring out how much depth of field you're gonna have in your shop and there's a special setting known as the hyper focal distance which can mean you could get what's the closest thing I could get in focus while still keeping the way back and focus in their zaps that can help you figure that out there's absecon figure out help you keep track of locations you want to shoot model releases all sorts of things and we'll look at some of those that I happen to use
Class Materials
Comp Idea Card Borderless.pdf
Comp Idea Cards with Border.pdf
Ratings and Reviews
Ben Willmore's class about Think Like a Photographer is a fantastic class. Ben has the ability that very few people have and that is to keep the students attention and excitement about the topic. I have been a teacher for 38 years and it is a profession that very few people can do well. Ben has nailed this class and I am so excited to take his class. I just hope I will be able to someday meet him and thank him for giving me inspiration to pursue my passion. This is well worth expense and I encourage people to take this class. All the topics are covered from what to look for when taking a photograph, equipment, and processing. Tremendous!!!!!
I am almost finished and this is the most comprehensive photography course I have seen. I have taken some local courses, some other on line courses and hundreds of magazine articles, however Ben Willmore is fantastic. I am a retired teacher of 39 years and Ben has the unique ability that most people do not have to relate all his students. I takes a very special person to be a good teacher and Ben nailed it. I highly recommend this class. Mr. Willmore covers all aspects of photography from the very basic to the advanced. Very well done. My next goal is to try to meet Ben Willmore and personally tell him thanks. Kudos to Creativelive as well.
AMAZING CLASS! I caught bits and pieces of the live stream, but even in those bits and pieces of it, I learned so much! He's a great teacher, easy to understand and great visuals. He "walks around" the subject to give us different POV, tells us the negative/positive/neutral of the photo, and tips. Thank you, Ben!
Student Work