Refining The Composition
Ben Willmore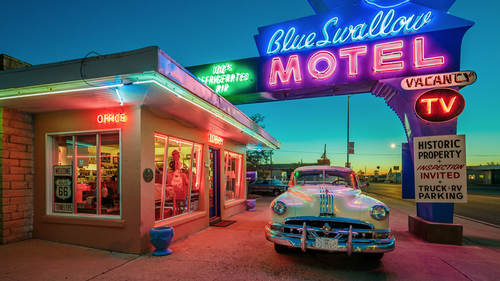 Refining The Composition
Ben Willmore
Lesson Info
2. Refining The Composition
Lesson Info
Refining The Composition
so now I'm going to start once I got my subject I might have framed it in something I may have found converging lines to send me up to it that's everything how does refine the image to really make it my own and make it nice and clean well one thing is we've talked about diagonal lines make things a bit more dynamic more just dramatic you could say well having diagonal lines near the edge of your frame will usually call your attention to the edge of your frame which is fine if there's a payoff there if there was a bunch of flowers down here on the lower right corner of this image than the diagonal line that's there might I might dip down there to see what it is and there be some sort of payoff for going there but otherwise if there's any straight lines in there there at the edge of my frame if at all possible I'm gonna line them up with the edge of the frame and therefore they won't be so much of a diagonal and my eye is not going to be drawn to them as much it'll just calmly go across ...
that and look at the other parts of the photo instead whereas if it's at a diagonal it's something that will pull my eye there if there's no payoff then it feels like wasted energy and the one thing a ce farrah straight lines near the edge of your frame that I almost always think about getting straight would be any kind of horizon if the prize and has ever near the edge of the frame I'm gonna always align it otherwise I'm often distracted by photos where my brain is just thinking why's the camera crooked when I'm looking at something but that's mainly when the horizon is really close to the edge of the frame if the horizon is way off from the edge then I might be able to be acceptable tohave it at an angle but this image has a lot of diagnosis in it it's another one from southeast asia the little boards they usedto walk up onto the boats and the boats themselves gives you a lot of angles to think about but that one at the top the horizon I'm not gonna mess with then you can get way too many angles in your image I try not to overdo it when it comes to diagnose all's I think of it as if the picture itself is the subject it doesn't have that many diagnose in it that's just feels kind of static I might use a composition that gives me diagnosed due to the angle that I'm shooting it at but if the subject itself already has diagonals I'm going to shoot it straight on and so is the subject or the composition not both being dynamic then I'm gonna look at not just the subject that I'm trying to capture but the background everybody will have a different idea when they look at your picture and things that you automatically ignore everyone else is going to see and it's all potential distraction away from whatever it is you wanted them to look at so in this case again and we're in southeast asia found some people playing board game and here though there's a lot of distraction near the top of the frame so if I just recompose to try to clean that up I can get it so people really focus on where I wanted him to look so after I get this shot a lot of times you might think you're done but now I try to look around the entire frame because you're responsible for the whole thing and so what can I do to clean up the rest to really keep people really looking where I want them to if you get all the distraction out then they can't help but look where you want them to and that could be simple stuff here we have some people harvesting I think that's rice in the field but near the edge of the frame this simple little innocent detail is something that's going to make your eye flick up to the edge of the frame just for a second and if there's not a payoff if there's nothing up there that feels interesting then to me that's a waste of energy and so I'll try to recompose and just clean that up that tiny little difference makes it so the difference between my eye flicking up to the edge and in this case my eyes staying where I wanted teo and so I'm always looking all the way around the frame is there any way I can clean it up around the edges I mentioned before about framing things will hear I'm framing a mission in an archway that is above the gate the entrance but one area that really will pull your eye away is if you ever have any diagonals near the corner of your frame in this case both of the upper corners have some diagnosis there it's going to cause your eye to just flick up to the corners to see what's there if there were flowers over hanging in that area or something like that where there'll be a payoff once my eye got there that'd be great but instead once I get this image once I found that thing to frame my subject with I'm going to look around the entire edge and see if there's anything clean up and I'll move around a little bit and see if I can get that to be cleaner here's another example here we're in moscow this is an interest to one of their subways in I like the shape that I have on all of this the curve but if you'll get the corners do you see these diagonals in the corners on both the right and left sides that's going to cost my iittie just flick up there for a moment there's no payoff when I get there so I'm going to recompose a little bit and just clean that up also the edge of the frame can kind of cut like a knife anything that intersecting it is going to be getting cut off and when that's the case in this case I don't think that's a very nice cut off cutting right through somebody's body so I'm going to think about what exactly is the edge of the frame cutting through in is there any way I could make it a clean spot just a very nice things so this I think is a much better shot than this one just because the edge of the frame is not cutting right through my subject here you can cut through a nice places up here the top I'm not cutting halfway through an eyeball or halfway through an ear but down here I am cutting halfway through a hand so that's less than ideal so I try to clean that up and see if there's any other angle I can get it out where the places where the edge of the frame is going through is not half way through detailed area instead it's in an area that is nice here cutting off just the edge of the head on the top of the ad I'd rather get that where this edges a little bit further in where we've completely gotten rid of that little a hint of the background same with up here in the corner if I move the little spit lower and little bit to the right it would clean up that corner clean up the back of the head that kind of thing but really there's a different issue and this one I want to talk about in that he is this guy's head just partially coming out of nowhere if you can't see enough of an object if you only see a little hint but not enough to connect with what is that and where is it coming from then it's just kind of a little chunk of mystery stuff and it's something that isn't necessarily helping the image so in this particular case I think I could have improved this image by either moving to the right or to the left if I move to the left this statue that they're working on would obstruct your view of this guy's head if I could get over far enough where it completely obstructs him and all I can see is the guy that's working on him here that would be cleaner and I wouldn't have this just kind of mysterious weird object coming out or I could move to the right if I move far enough to the right where I can actually see the other guys eyes maybe his nose and I could see how he's connected to what's going on there I think it would be much more successful so I'm always thinking about is there any mysterious weird stuff is there an arm sticking out where you can't tell what it's connected to eyes there a person halfway sticking out where you can't tell where their body is that might just not help the image all that much then I also think about the fact that we have a three dimensional scene but our photo is only in two dimensions and so near and far objects will visually merge where they look like they're one piece if they overlap and so in this case I'm at a temple and this is what attracted my attention and I found this in the background to include with it but I don't think this is very successful where the two visually merged together re composing though if I get it so the two don't visually merge then I think it's much more successful and then I look through the scene a little bit more and notice you see this straight line do you notice that it's just about lined up with the edge of the frame there so it doesn't pull your eye to it because it's not a diagonal sitting there noticed this straight line on the edge of thie uh rooftop lines up with the edge of the frame there noticed that if you look all the way around the edge of the frame it's clean clean except for maybe the tiniest bit right there but I couldn't get anything better you know moving it around don't like this little element near the edge but I guess I could have moved up the little list that further impossibly done that or I'll do it through cropping here again we have this kid look at his head touching that background visually the two start to merge together if I move up a little bit I could get him to separate from the background these are straight out of the camera and this one happens to be out of focus but it illustrates the point that things will visually merge if they end up touching like that and I'll try to keep them separate when I was shooting in this area this was my end result though getting into a different area but you notice there's a guy in the distance here one in the foreground and I made sure they don't visually touch each other otherwise they're going to start to merge before I get into the next section which is how I really evaluate everything that's in the scene and walk through and arrange it do we have any additional questions yes s o yellow jacket says hi ben I'm assuming that when you are cleaning up your frames and re composing are you doing this in camera and then I'll throw in a dent um how much do of small re composing do you do in camera as opposed to a cropping and photos I'll do a lot of cropping and photoshopped like notice this image is not a standard format of that your camera would capture and you'll find a lot of these images ah have been cropped so I'll do that quite a bit you have to think about what your end use is going to be is your end you's going to be a print framed on the wall and if so do you want it so somebody has to make a custom frame because it's an odd shape or is it something where you're going to want them to be able to use any frame because you're using standard sizes and if so you gotta think about that and so can I crop later on in photo shop without having somebody have to use a custom frame too have your image if it's going to be used for publication in a magazine or newspaper I can usually get away with cropping it any way I want because you khun span it across two columns or three columns and it's just khun use however much height it needs but if you think it's going to be used for the cover of the magazine then you only have so much you have a certain format is going to be used for a two page spread you have a very specific size you need and so it really depends I try to clean it up a cz much as I possibly can in camera and if I think it might be used for multiple purposes often times I'll zoom out just a little bit to offer different options for cropping and if it's ever going to be reproduced in a publication in philly entire frame I zoom out the little lisbet because any time it fills the entire page it actually needs what's known as bleed where the picture goes beyond the edge of the page because they print on a larger sheet of paper and then trim it down to the final size so the image needs to go out into that larger sheet of paper so I do think about those kinds of things but when I'm shooting the main thing is I'm trying to get it as clean as I can in camera and if I have a specific use if I print and want him on standard sizes or for publication that I need to adjust my mind set to that for me I usually do custom canvas wraps and that kind of stuff so I can crop anyway I want ben how much editorial shooting do you dio and when you are doing editorial shooting are you also thinking where we're typography may go I don't do a lot of editorial shooting myself myself does occasionally get used in that away but it's not my primary thing my primary thing is more fine art where I'm going make an image and try to get you two to want that and buy a print of it kind of thing but if it was going to be for publication especially that's going to be things like amazing covers or two page spreads that might be used as an introduction to an article then you know thinking about text placement would be very useful so that as you'll see in the next section that I talk about areas like this which is what I would call a neutral area I usually try not to have dominate my image trying to have it take up too much space unless I'm going to be going for publication and they need space for all the names of the stories on the cover of a magazine or the introduction paragraph on a two page spread in the magazine then those kinds of things nice big clean space is ah different thing I'd be searching out in integrating in my friend
Class Materials
Comp Idea Card Borderless.pdf
Comp Idea Cards with Border.pdf
Ratings and Reviews
Ben Willmore's class about Think Like a Photographer is a fantastic class. Ben has the ability that very few people have and that is to keep the students attention and excitement about the topic. I have been a teacher for 38 years and it is a profession that very few people can do well. Ben has nailed this class and I am so excited to take his class. I just hope I will be able to someday meet him and thank him for giving me inspiration to pursue my passion. This is well worth expense and I encourage people to take this class. All the topics are covered from what to look for when taking a photograph, equipment, and processing. Tremendous!!!!!
I am almost finished and this is the most comprehensive photography course I have seen. I have taken some local courses, some other on line courses and hundreds of magazine articles, however Ben Willmore is fantastic. I am a retired teacher of 39 years and Ben has the unique ability that most people do not have to relate all his students. I takes a very special person to be a good teacher and Ben nailed it. I highly recommend this class. Mr. Willmore covers all aspects of photography from the very basic to the advanced. Very well done. My next goal is to try to meet Ben Willmore and personally tell him thanks. Kudos to Creativelive as well.
AMAZING CLASS! I caught bits and pieces of the live stream, but even in those bits and pieces of it, I learned so much! He's a great teacher, easy to understand and great visuals. He "walks around" the subject to give us different POV, tells us the negative/positive/neutral of the photo, and tips. Thank you, Ben!
Student Work