Capturing Variation of Snow Park Action Shot
Corey Rich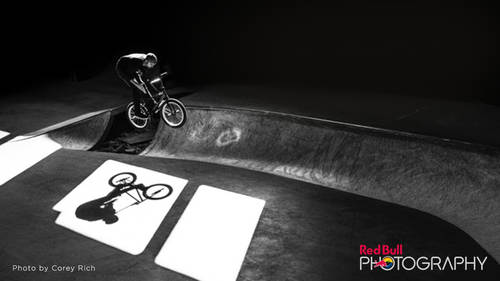 Capturing Variation of Snow Park Action Shot
Corey Rich
Lesson Info
20. Capturing Variation of Snow Park Action Shot
Lesson Info
Capturing Variation of Snow Park Action Shot
(shutter clicking) Cool. And that frame looks pretty good. Alright, (mumbles) gonna be ready when you are. Okay! Why don't we, let me just slide in slightly. I'm gonna actually scoot slightly back. Give me a minute here Bret! (shutter clicking) You're good you're fine. (shutter clicking) Okay, and Bret, let's send 'em. Okay! Let's do it. And this is a bit of a risky shot because he might not even go through my window. (shutter clicking) And I'm cropped. Three, two, one! (rapid shutter clicking) Oh, okay so the disappointment for me is my window is a little too high, like he was right on the edge of the frame in this window so yeah, you can have a look. You know, I think there is kind of an interesting frame here but you can see he's like right at the edge so either need to go lower or frame up higher. You can see that you know there's not a lot of air, he's kind of landing, I mean he's actually about to land on, he's landing his trick at that point so I would say that's a bor...
der line. Oh, you know what, so no, I'm sorry, he's just taking off. We're seeing him leave, we're seeing him actually leave the feature, he's coming right off the lip here. So he's exiting the lip and his trick is actually happening out here so the reality is I should actually be moving... Back on film? Yeah. Let me know when you're ready. Okay, stand by, we're adjusting. So basically I'm gonna go to a safer shot. Like, that was too risky. Yeah. Yeah. Sort of even with Cody going through that window it might not work. And so I think we're getting too much of the lip, like his take off but not enough for the trick so I'm going to go back to my safe zone. Alright. I think I'm going to jump in here. Yeah, yeah, that's fine. I think just make sure you're really out of the landing zone. In fact, I think we need to communicate that there's someone on the knuckle because that could also be really scary for an athlete to see someone, I mean I don't know the context of where you are but that's fine. Cool. I will let you know when we're ready and I'll give you a signal overhead when we're ready. Okay, I'm going to go to a slightly wider lens here. Photographer on your left, (mumbles) there, (mumbles). Okay, I'm switching to something wider. Basically that last shot was sort of a dud. It didn't work. The action happened in the wrong place in the frame so I want to get something that I know will work so I'm now going to kind of a safe shot, going wider lens and sort of move in, just get some feature in the foreground. Okay. Corey, are you ready? I'm ready. Alright, jump when you are ready. (mumbles) jumping. Okay. Okay, we have a descent... Three! Two! One! (rapid shutter clicking ) Okay. Alright. That was interesting what I realized is that Cody is pretty far away from the camera so he is probably 30 feet from the edge that I'm seeing in the foreground so Cody's pretty small in that frame but I think it worked. I would say that it's okay. I'm a little over exposed which is a bummer, somehow my exposure got knocked. (shutter clicking) Okay. Okay. So this is the reality. Missed the first shot, second shot is over exposed, that's kind of the deal is that I would now work this a few times. We're just trying to figure out how much time we have before we actually lose everybody. How did your shot go? He was too low in my frame. I find like too, low kind of on the bottom of it. So let's... Hey Corey you have about 15 to 20 minutes. Okay. To get everybody out of the shot. Great. So my vote would be I would call this I would say you know, this just isn't the angle. If we were going to stay here and work this shot, I would give clear direction to the athletes, I want them moving as far left on the lip as possible at take off. I might even get a ladder so that I could actually elevate myself and put these tree branches more in the foreground. I would correct my exposure so that I'm getting that correct. But I think let's do this, I think we grab our bags and let's relocate to a third position just so that it's a safe shot, we're going to get something that's interesting. Alright. (camera clicking)
Class Materials
Action Sport Photography Gear List
Ratings and Reviews
If you're looking to learn from one of the greats of action photography who also happens to be an incredible instructor, look no further! Corey Rich and his fantastic team will show you every facet of being a great action photographer and they share all of their insights from A to Z. Their instruction is heartfelt and they laid it all out there for everyone's benefit. A huge thank you to Creative Live and Red Bull Photography for bringing this to the world. This is a must have class in your library!
I really enjoyed this class! I am not an "action sports photographer" -- just an avid photo enthusiast, and I found this class highly informative/interesting. Corey has a very down-to-earth quality in the way he presents information... a regular guy, who knows a ton, and is sharing his wisdom. Clearly many topics/tips were off-the-cuff as he ran into situations during his shoots -- it just felt very "real" -- like I was there with him, getting a private lesson. There was quite a bit of info dealing with camera cards/photos/apps that was ubiquitous to any photographer. And then it was interesting to hear about his travel bags and what he brings to shoots (a ridiculous amount of gear, but everything with a purpose). There are hours of on-site filming for an outdoor ski and an indoor bmx shot... with Cory trying/failing/succeeding in many attempts at things -- just like a real photo shoot would happen. His advice for capturing a good/workable shot from the get-go and then spending the time on the riskier/more-creative shots, was solid -- as far as keeping your clients happy no matter what. I was genuinely surprised at how interesting/useful I found this class (being that I rarely take action shots) -- and I'd encourage any photo enthusiast, or person in the earlier stages of any professional photography career, to check out this class. My one piece of constructive criticism for Cory/CreativeLive -- try to represent women? This class only had the briefest of inclusion of females, and left me with the impression (I'm hoping incorrectly), that the world of action sports photography, is a man's world.
Student Work